It's a fitting reminder of what Filipinos are really all about. After a specatcularly-fizzled attempt to rally the usual ocho-ocho "people power" crowd around her "Hole Up for a Cause" spectacle, suspended Cebu Governor Gwen Garcia can only watch helplessly from her "office" in the Cebu Capitol as Filipinos reportedly snap-up hotel rooms in Cebu and throngs start boarding planes and ships to flock to the city's Sinulog Festival. For the real crowds, the Sinulog is where it is happening in Cebu — not on the grounds surrounding its Capitol building.
"All our 39 rooms have been booked since July last year by telelphone or online. Usually other properties near the parade route are the first to be taken up by a mix of guests – local and foreign," said Grace Singco.

Department of Tourism Regional Director Rowena Montecillo said she wasn't surprised by what is notw an annual pattern.

"Most hotels in the city usually get inquiries as early as June from tourist all over the world. They make contact over the phone or through online bookings," said Montecillo.

The event is mounted by the Sinulog Foundation Inc. and the Cebu City government with the DOT helping in promotion.

"We expect to see a lot of new groups coming like Filipino-Americans from California who have Ilocano roots who are coming this year," said Montecillo.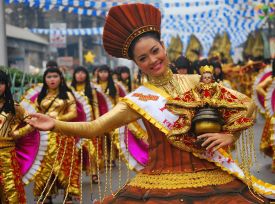 The Sinulog is an annual festival held on the third Sunday of January in Cebu City and Maasin City, Southern Leyte, Philippines. The festival commemorates the Bisayan people's pagan origin, and their acceptance of Roman Catholicism.
The main feature is a street parade with participants in bright coloured costumes dancing to the rhythm of drums, trumpets and native gongs. Smaller versions of the festival are held in various parts of the province, also to celebrate and honor the Santo Niño. There is also a "Sinulog sa Kabataan" performed by the youths of Cebu a week before the parade. Recently, the festival has been promoted as a tourist attraction, with a contest featuring contingents from various parts of the country. The Sinulog Contest is usually held in the Cebu City Sports Complex.
SUPPORT INDEPENDENT SOCIAL COMMENTARY!
Subscribe to our Substack community GRP Insider where you can opt to receive by email our more comprehensive and in-depth free weekly newsletter GRP Mail. Consider also supporting our efforts to remain an independent channel for social commentary and insight by sponsoring us through a small donation or a monthly paid subscription.
Subscribe to our Substack newsletter, GRP Insider!
Learn more
The word Sinulog comes from the Cebuano adverb sulog which roughly means "like water current movement;" it describes the forward-backward movement of the Sinulog dance. The dance consists of two steps forward and one step backward, done to the sound of drums. The dance is categorized into Sinulog-base, Free-Interpretation. Candle vendors at the Basilica continue to perform the traditional version of the dance when lighting a candle for the customer, usually accompanied by songs in the native language.
The good news about Cebu keeps pouring in. Some of them like the hype currently being whipped up by the Philippine Media over the bullish property market there that is being funded by easy OFW money are, of course, short-term hot money fixes. Still, the inflow of OFW cash into Cebu is supposedly a positive trend that describes an aspired-for increase in inclination of OFWs to invest rather than spend and diversify said investments from Imperial Manila; "They are now starting to look at places like Cebu and Manila for their investments because they want the property's value to appreciate. Manila is not desirable for them to live on. That makes Cebu the best option," according to Cebu Investments and Promotions Center (CIPC) managing director Joel Mari Yu.
Cebu has always been an attractive investment region and has had a strong track record of robust growth since the early 1990s. This means that its potential to prosper is possibly inherent to it, perhaps a function of its central location within the Philippine archipelago and the character of its people. These perceived virtues have for some time been made as bases for calls for the province — and the Visayas Region for that matter — to secede from the "Republic of the Philippines" and end a long history of subjection to central government wielded from Manila. Indeed, with its own major sea port and international airport, as well as more direct access to the markets and industrial and agricultural heartlands in Mindanao, Cebu has long been strongly-integrated into the global economy and may no longer be economically- and politically-dependent on Manila for its continued progress.
Considering that Cebu has long been a prosperous province it becomes quite easy to conclude that suspended governor Gwen Garcia is, like most politicians, replaceable. The Siniulog will come and go, and the commercial wheels of Cebu will continue turning regardless. Filipinos — renowned for their collective amnesia — will simply forget the previous and the next politician who presumes to "govern" them considering that there is no evidence of any strong causal relationship between the character and identity of Filipino politicians and the individual fortunes of the average Filipino schmoe.
If the goal is to move on, then the governor of Cebu must move on and fight her personal battles where they should be fought — in court. In this way, she will spare any further disruption to the average Cebuano's business of doing business.
[
NB: Parts of this article were lifted from the
Wikipedia.org
article "Sinulog festival" in a manner compliant to the terms stipulated in the Creative Commons Attribution-ShareAlike 3.0 Unported License that governs usage of content made available in this site. Image courtesy
Cebu Daily News
.]