Let's cut to the chase since the Christmas holidays are upon us, after all: Has anyone noticed that President Benigno Simeon Aquino III (BS Aquino) has been "seeing red" every December since his presidency started?
2010:
Noynoy's beloved Truth Commission got shot down due to unconstitutionality
2011:
Noynoy lambasts former CJ Corona at the National Criminal Justice Summit and fast tracks his impeachment.
Noynoy's government screws up the response to typhoon Sendong big time
2012:
Noynoy's government prematurely congratulates itself on its "improved" response to typhoon Pablo amidst the rising death toll
Noynoy "strong-arms" the RH bill passing (allegedly, of course.)
Noynoy and Mar Roxas go after Pangasinan governor Amado Espino for alleged links to the illegal numbers game "jueteng"
Noynoy and Mar Roxas also go after Cebu governor Gwendolyn Garcia for alleged grave abuse of authority.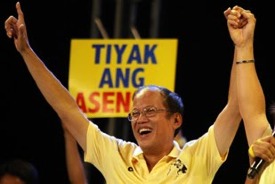 As Ilda mentioned, does BS Aquino have an end of the year deadline or what? Is he trying to use the merry and festive mood of the holiday season as an opportunity to pull off fast ones? Is his idea of ending the year on a good note synonymous with putting his political enemies through hell? In cases when the typhoons hit, is his government, plain and simple, unlucky?
One thing is for sure ever since BS Aquino took office: every time he tries to end the year with a bang, it looks like his government winds up shooting itself in the foot instead.
When the Truth Commission was declared unconstitutional due to its going against of the equal protection clause in the Constitution, BS Aquino didn't see it that way. What he saw was a Supreme Court composed then of mostly Gloria Arroyo appointees protecting her. Forget the incompetence of his own team, institutions be damned, this was but the "last straw" for him and prompted him to go on an all-out war on what he deemed as a "corrupt" Supreme Court.
The corresponding impeachment trial of then Chief Justice Renato Corona was under the guise of "cleaning up a corrupt government", yet the railroading of the impeachment complaint in Congress cast doubt on the means. A process that normally takes about two months or so was completed in a day! And the congressmen were not allowed to read the complaint!
BS Aquino's government eventually admitted that its excessive pre-occupation with Gloria Arroyo distracted it from flood warnings. The government was reportedly aware of the disaster waiting to happen in CDO, but they were hampered down by something. What that something is, is, until today, a big question mark.
Perhaps, as I mentioned above, BS Aquino's government can be considered unlucky, in a way, because when Sendong struck the CDO residents were saying that it was the first time such a strong typhoon hit them. One would think, though, that what happened there would have allowed them to learn a few lessons for other parts of the country outside of Metro Manila, but no. It happened again in the Compostela Valley when Pablo hit, and they claimed that their early warnings were "enough". No sign of the learning curve, is there? So, if a typhoon hits yet another part of Mindanao next year, what will they do differently?
What happened with the RH bill? The Roman Catholic Church just happened to be the next institution to get in Noynoy's way; too bad for them that BS Aquino doesn't take opposition very well. I don't know how many people get a feeling of déjà vu; certifying it as urgent rings eerily similar to "railroading". It's bad enough that the pork barrel is in the hands of one office only, but it reflects even worse on the type of government officials and us that they allegedly had to be "persuaded" with it in order to do their job. The president has shown that he can get things done when he wants them to be. Too bad he's not keen on the freedom of information (FOI) bill, which is actually in line with his calls for government transparency.
The cases that just suddenly came up against Pangasinan governor Amado Espino and suspended Cebu governor Gwendolyn Garcia have prompted San Juan Representative JV Ejercito to claim that the Liberal Party (LP), where BS Aquino and Mar Roxas belong to, is declaring an "open season" on governors who aren't affiliated with them. Cebu and Pangasinan happen to be vote-rich provinces where the ruling governor isn't aligned with the LP. Plus, the midterm elections are coming up in May 2013, which is why Ejercito and House Minority Leader Danilo Suarez think the timing of the complaints is suspect.
I just have a few questions to ask Mar Roxas and the rest of the other people involved with the charges against Espino and Garcia: Do you have sufficient evidence to prove your cases against the accused? If not, you're wasting everybody's time and are only adding credence to the theory that these cases are politically motivated. Why are you pursuing these cases only now, if there was sufficient time to file a complaint before? In Espino's case, Bugallon mayor Rodrigo Orduña reportedly had known since 2001 of protection money being collected from jueteng operators. That's more than a decade of simply doing nothing about it. In Garcia's case, the late Vice Governor of Cebu Greg Sanchez filed administrative charges against her back in 2010. What had BS Aquino's people doing about these cases ever since?
The month of December is usually a festive one, where Filipinos enjoy the Christmas holidays. What BS Aquino and his government have been doing every December ever since he became president is to go after his political enemies and either fumble with the ball, or just show to the world just how not different he is from other scheming Filipino politicians of past.
Unless BS Aquino learns from his mistakes, he and his government are going to keep making the same mistakes same time every year.
Perhaps somebody needs to put some Christmas cheer into his life. He's been giving it to his critics ever since.
Happy holidays, everyone.
А вы, друзья, как ни садитесь, все в музыканты не годитесь. – But you, my friends, however you sit, not all as musicians fit.