What is happening in Cebu? Apparently there is some sort of a lockdown going on complete with riot police and wire barricades in front of the governor's office. Cebu governor Gwendolyn Garcia has locked herself in her office and been there for a few days now in defiance of the suspension order served to her by the Department of Interior and Local Government (DILG) on the 18th of December. This was reportedly as a result of being found guilty of grave abuse of authority in connection with administrative charges filed against her by the late Cebu Vice Governor Greg Sanchez Jr. in 2010.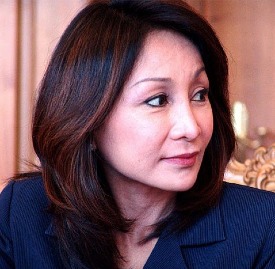 Unfortunately, Cebu City is so far away from the capital Manila that most Filipinos don't even give a hoot about the governor's plight and that of the city itself. The crisis might as well be happening in Mars for all they care. Speaking of Mars, those who do care about what's going on are saying that it was DILG Secretary Manuel "Mar" Roxas who was instrumental in the suspension of Garcia. The terms "power-grabbing", "manipulative" and "dictator" are being thrown around to describe Mar and his boss, President Benigno Simeon "BS" Aquino following their decision to suspend Garcia. Some are saying this because the decision to suspend Garcia is quite suspect as with most decisions that comes out of Malacañang nowadays.
As far as Garcia and her supporters know her suspension is "illegal because it violated the Local Government Code, providing that the Office of the President must decide within 30 days after an investigation of the case." She said that given the rules of prescription, the case has already been dropped. To quote the embattled governor:
"The investigation was terminated on August 31, 2011 so 30 days after that, on September 31, 2011, we should have had a decision. The decision came out on December 17, 2012. That's 474 days," Garcia said."
The timing of the serving of the suspension order is also questionable. Everyone knows that December is the festive season particularly in the Philippines where most people live for hard partying at this time of the year. It seems as though the Liberal Party is trying to take advantage of the jolly season when most people are distracted by the Christmas Carols and horrendous traffic. They could be trying to pull a fast one. They probably thought that since most Filipinos are having a merry good time eating and drinking themselves silly, hardly anyone who matters to them will notice what some say is a "power-grab" by the Liberal Party (to which the incumbent President and DILG secretary belong) from the United Nationalist Alliance (UNA), a party which has a strong following in the province of Cebu.
One just has to ask, is BS Aquino's party trying to beat a deadline? Are they trying to tick a list of people to get rid off by the end of the year? It does look like it especially since the 2013 senatorial election is just a few months away. You have to admire the Liberal Party's tenacity. They plan their move meticulously in advance. It's like the stars aligning so that "fate" will be on their side once again just like in 2010 when the reluctant Senator won the Presidential Election using sympathy votes. Unfortunately for the Liberal Party, their latest move has irked some people even members of the Cojuangco clan.
It's been reported that President BS Aquino's aunt, Margarita "Tingting" Cojuangco, has thrown her support for Cebu Gov. Garcia. She even went as far as saying that "It's very obvious that what they did was for the Liberal Party." You have to wonder again why a relative of the President would say something to undermine him like that. And why would she rather be a member of the United Nationalist Alliance (UNA) instead of the Liberal Party? Shouldn't she be supporting her nephew's party consistent with the spirit of dynasty?
The Filipino people will never know the answer to those questions but the more important question to ask is: Why are there different political parties in the first place? As if one party is so different from the other. They are all the same anyway! They don't make a difference to the plight of the Filipino people. Members of these political parties seem to be just after their own interests not the country's interests. Kung baga, kampi-kampihan lang yan! Loosely translated, the parties just stand for George Bush, Jr's famous mantra: "If you are not with us, you are against us".
Sadly, most Filipinos only care about the personalities behind the political parties. They don't care about political platforms. So if the people don't care, why should the politicians bother to come up with a platform, right? With an apathetic electorate, Philippine politicians don't really have to but what they do need to come up with are election-winning strategies. Bad mouthing and vilifying their political enemies is guaranteed to work all the time.
In another turn of events, aging but not fading political allies led by no less than the Vice President himself, Jejomar Binay, former President and convicted plunderer Joseph "Erap" Estrada and Senate President and alleged Martial Law architect, Juan Ponce Enrile flew to Cebu on a chartered plane two days before Christmas to be by the side of the governor Garcia. Binay is reported to be feeling a sense of déjà vu and is "alarmed that the same political tactics that were used against him by former President Gloria Macapagal-Arroyo in 2007 are now being employed against Garcia."
The Vice President was also suspended by the DILG in 2006 and 2007 for allegations that he placed ghost employees when he was still Makati Mayor during former President Gloria Arroyo's term.
The high drama in Cebu could come to an end soon though since Malacañang has used their ultimate weapon – the "survey". Following an online survey conducted by the Cebu Daily News — said to be an affiliate of the Philippine Daily Inquirer — showing that most respondents support the government's move to suspend Garcia, Presidential spokesperson Edwin Lacierda has boldly called on Governor Garcia to follow the "rule of law" because that's what he thinks the people want anyway. Under the circumstances, the rule of law has become, it seems, the BS Aquino law. Does Garcia have any choice? None really. Not unless these stupid surveys that always work on the gullible crowd get outlawed.
[Photo courtesy EverythingCebu.com.]
In life, things are not always what they seem.