Whereas, there are calls to "educate" the public on the alleged evils of Republic Act 10175 or the Philippine Cybercrime Prevention Act of 2012, it seems those who are making the loudest of such calls are themselves spreading information that may instead mis-educate the public.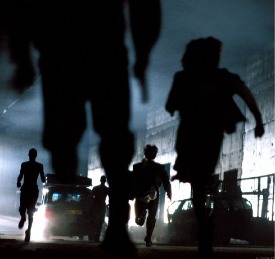 One Twitter user who goes by the name @BishopLuc posted a tweet stating implicitly as fact that the RA 10175 will in effect have legalised monitoring of 'suspected individuals'. This was then retweeted by popular blogger Noemi Dado to her more than 11,000 followers. Pressed for clarification on what part of RA 10175 this assertion was based, @BishopLuc cited Section 12 of RA 10175 which reads…
SEC. 12. Real-Time Collection of Traffic Data. — Law enforcement authorities, with due cause, shall be authorized to collect or record by technical or electronic means traffic data in real-time associated with specified communications transmitted by means of a computer system.

Traffic data refer only to the communication's origin, destination, route, time, date, size, duration, or type of underlying service, but not content, nor identities.

All other data to be collected or seized or disclosed will require a court warrant.

Service providers are required to cooperate and assist law enforcement authorities in the collection or recording of the above-stated information.

The court warrant required under this section shall only be issued or granted upon written application and the examination under oath or affirmation of the applicant and the witnesses he may produce and the showing: (1) that there are reasonable grounds to believe that any of the crimes enumerated hereinabove has been committed, or is being committed, or is about to be committed: (2) that there are reasonable grounds to believe that evidence that will be obtained is essential to the conviction of any person for, or to the solution of, or to the prevention of, any such crimes; and (3) that there are no other means readily available for obtaining such evidence.
The second paragraph of Section 12 clearly stipulates that no content or identities will be part of data collected by law enforcement agencies from service providers where no court order is served for that purpose. And where such a court order is to be issued, three conditions need to be met first.
Funny enough, @BishopLuc carried on and provided further "evidence" that the law is already being "abused" by the authorities. In a subsequent tweet, @BishopLuc cited as "evidence" an image uploaded to Facebook which had been going viral recently. The image supposedly captures comments made through a Facebook account operated by the Philippine National Police (PNP) warning people of the new powers and facilities the PNP will be wielding to apprehend users who use "foul words" against police officers.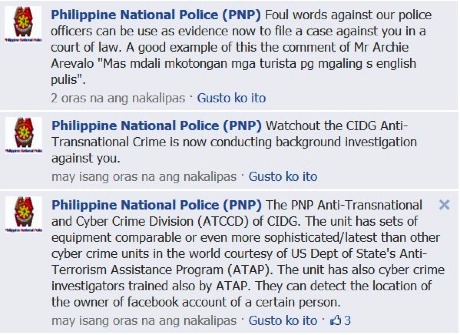 On account of this "evidence" of the PNP's "abuse" of the new Cybercrime Prevention Law being just a digital image, there is no way to determine whether the messages shown in it are authentic. The PNP recently denied posting such remarks on Facebook and clarified the official channels through which it disseminates official PNP communication to the public.
"The PNP categorically denies any official connection to a message which appeared in one particular Facebook account found by many to be offensive, threatening and malicious," [PNP spokesman Chief Superintendent Generoso Cerbo Jr] said.

He noted PNP official statements such as press releases intended for public consumption are published in digital form through the official PNP website or Facebook under the account name pnp.pio.

"Further, said official statements can be released individually to our media friend both in hard and digital copies in the name of the PNP Public Information Office," he said.
The irony that seems to fly over the heads of our would-be online "activists" is that it is precisely this sort of thing — passing off unverified information as fact and propagating unfounded or hearsay information — that measures such as the sections relating to libel within RA 10175, however supposedly flawed this law is purported to be, seeks to mitigate.
Even otherwise highly-educated lawmakers are not above making use of such fear-mongering tactics. Earlier, Senator Teofisto Guingona III reportedly claimed that "If you click like [on Facebook], you can be sued, and if you share, and continuously re-share information, you can also be sued." Not surprisingly, this factoid also spread like wildfire across the social media landscape.
At the core of such fears is the notion that the advent of RA 10175 spells the end of "free speech" in the Philippines. It is around this notion that calls to "action" are being incited. The tagline of a group that calls itself the Philippine Internet Freedom Alliance (PIFA), for example, is "stop cyber martial law". As of this writing a rally before the Philippine Supreme Court is being organised for Tuesday, the 2nd of October. The following is an excerpt from the preamble supposedly guiding this mass movement:
The Cybercrime Prevention Act of 2012 or Republic Act No. 10175 threatens our basic rights and freedoms. This law works against ordinary netizens — bloggers, freelance writers, website owners, social network users. etc. — and disregards, among other things, our right to privacy and freedom of expression.

To safeguard these rights and freedoms, we, the members of the Philippine Internet Freedom Alliance (PIFA), ask you to leave the virtual world for a while, and join BLACK TUESDAY, a SILENT and PEACEFUL PROTEST against CYBER MARTIAL LAW.
Perhaps, rather than make such preambles required reading, people who are self-described advocates of freedom of information should, instead, encourage people to refer to reliable information on the subject and do their homework. Usually it helps to read what remains the most authoritative guide to the subject of Cybercrime prevention in the Philippines — none other than Republic Act 10175 itself which can be accessed here.
benign0 is the Webmaster of GetRealPhilippines.com.