After being exposed to some of the inner workings of Philippine politics and having worked for a string of politicians over the past decade, I've become somewhat skeptical of Philippine political parties — especially new ones.
Old parties like the Nacionalista Party, Liberal Party, Kilusang Bagong Lipunan, PDP-Laban, Lakas-CMD, and others are basically used like temporary addresses. Â My impression could be wrong in certain cases, but for the most part it appears that political party affiliations are treated more like inconsequential details merely used to fill in the blank space in candidacy registration forms.
If you look at the Wikipedia page on Philippine Political parties, you will find a chart showing the evolution of Philippine political parties. Â After more than a hundred years, the number of political parties has grown from one (Federalista circa 1900) to more than a dozen. Â Going through the chart, you'd notice parties popping out of nowhere, parties splitting, and parties merging with one another with no obvious rhyme or reason — like random sub-atomic particles or celebrity marriages and break-ups.
It is only after you're told that Philippine politics is personality based or "Golden Rule" based (he who has the gold or controls the gold, controls the party) that the current number and configuration of political parties makes some sense — but not completely.
Let me clue you in on the current state of general political weirdness:
In 2010, a Presidential Election year, two parties were engaged in one of the most bitter political battles and they were: Roxas Aquino front under the Liberal Party, and the Villar-Legarda front under the Nacionalista Party. Â For the 2013 elections, the Liberal Party and the Nacionalista Part are fielding a common set of candidates for senator.
Senator Koko Pimentel, the President of PDP-Laban and son of the party's founder, is running under the wing of the Liberal Party, while PDP-Laban Chairman, Vice President Jejomar Binay leads the UNA Coalition together with former President Joseph Estrada.
Dick Gordon, Bagumbayan Presidential Candidate, is running under UNA — which as we've mentioned above, is led by Estrada who ousted Gordon from SBMA and whom Gordon paid back in almost the same coin by supporting the unconstitutional takeover led by Gloria Macapagal Arroyo.
Others can probably point out more, but for me, these are more or less the majorly features of this current state of political weirdness.
Enter the "Centrist Democratic Party"
An article on www.interaksyon.com, the news website of Manny V. Pangilinan's TV5 came out with an article bearing news of a new party supporting the candidacies of Senator Chiz Escudero, Senator Koko Pimentel and Presidential relative/Ninoy Aquino Look-alike contest winner Bam Aquino.
The fact that the article was titled "New 'ideology-based' political party launched, to support Chiz, Koko, Bam in 2013 polls" didn't escape the attention of fellow Get Realist Ben Kritz who finds it challenging to use the word "ideology" in the same sentence with "Chiz Escudero".
As for Bam Aquino, well, I almost met him in person back in the days when I was with the short-lived Office of the Presidential Adviser for Jobs Generation (OPAJG) under Cito Lorenzo. Â He was the National Youth Commission Chairman back then, if I am not mistaken. Â The thing is, I can't seem to recall anything particularly outstanding about his stint as NYC Chairman and I should look into that, perhaps, as a way of figuring out why he claims he can be of more service as a Senator.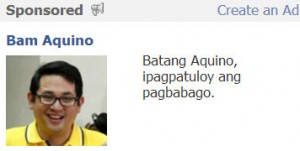 Or, for that matter, why his Facebook Ad claims he can either represent change or continue change when it's pretty obvious that he comes from a clan of oligarchs who has pretty much ruled the country for decades.
The Centrist Democratic Party itself seems to have a pretty good political platform and it seems to say all the right things. Â For one, members of the Anti-Pinoy Community and the CoRRECT community should probably be enthralled that the CDP's platform includes a proposal for economic liberation (junking 60/40 foreign capital limitation), federalism, and shift to a parliamentary form of government.
But here's the thing with platforms, they're basically worthless if they're written out in general terms.
A friend explains, "pag sinabing "provide education to all" sana sabihin how exactly. pag sinabing "by building more schools" sabihin din how exactly considering the current realities like budget constraints etc. the way i see it ang madalas nakalagay sa mga so called platforms na ito are the problems but stated in a way na parang solution. in reality, problems ang cited. what we the voters need to know are the solutions these parties propose to implement if given the chance." (When a platform says 'provide education to all', I wish they'd say how exactly. Â When they say, "by building more schools", they should say how exactly considering current realities like budget constraints. Â The way I see it, what is contained in these so-called platforms are the problems but stated in a way that it appears to be solutions. Â In reality, these are problems, what we the voters need to know are the solutions these parties propose to implement.)
Beyond a specific platform, what I'd train my sights on next is the capability of these people to deliver on the platform and this is where looking at their track record is important.
Of the three people mentioned in the article by Interaksyon, it seems to me that only Koko Pimentel has had somewhat of a history of supporting the idea of Federalism and perhaps even economic liberalization. Â It was only very recently that I actually learned that he was espousing parliamentary shift or a shift from Presidential to Parliamentary form of government. Â In our exchange on Twitter, Pimentel said that he favored a French-style of parliamentary government.
If at all, the article or articles (there is more one version of this article carried by at least two other news websites) seems somewhat like a ploy to associate Pimentel with a popular candidate like Chiz and a favored candidate like Bam. Â It's somewhat like sneaking in vegetables in the diet of a toddler.