Tree hugging and smoking grass probably kills people's brain cells.
Proof of the fact are the greenie, artsie types now celebrating Sting's decision to change the venue of his concert in Manila over the supposed "cutting" of tree by SM Baguio. Â They failed miserably to consider that online activism and concerts use a lot of electricity; in a country like the Philippines which gets most of its electricity from coal and diesel fed power plants, this means the greenie, artsie types are producing more green house gases than the 182 trees would have scrubbed.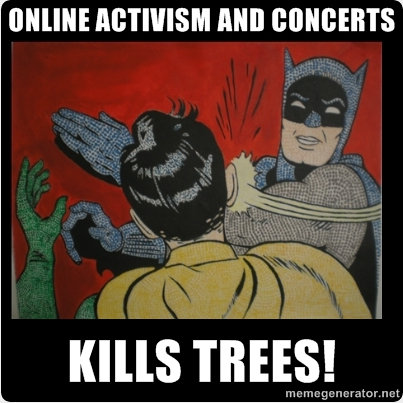 Moreover, it seems Sting got fed wrong information as SM claims that the trees were not at all "cut" but earth balled and transplanted elsewhere. Â The process, it was said, was done with clearance and under the supervision of DENR and the WWF.
And, it doesn't make that much sense at all for Sting to protest the earth balling and transplantation of trees by moving his concert venue to Araneta Coliseum in Cubao which probably has a larger carbon footprint than its previous venue.
Can you just imagine how much traffic the concert in Cubao will create? Not that the place isn't known far and wide for its daily hellish traffic congestion already. Â The thing is, every time there's a UAAP game, traffic in the area probably surges and as a result, the green house gas emissions in the area probably soars.
Just take into consideration that in April of this year, Cubao was among the places noted by the DENR has having the worst air quality among the component districts of Metro Manila.
DENR Ambient Air Quality Monitoring Section Chief Emmanuel Gutierrez said that they are targeting to lower the amount of suspended particulates in the Metro air to 90.

The DENR runs 12 air monitoring stations all over the region. Three of these—in Valenzuela, Taguig, and Ateneo in Quezon City—are able to churn in real-time results.

Air in Pasay Rotonda, Cubao, Monumento and Makati, Gutierrez said, are the most polluted in the metropolis.
Atanacio Salvador, in a previous post, pointed out a couple of facts about the environmental problems caused by the company that owns  the SMART Araneta Coliseum:
SMART's sister company, Philex Mines, has recently been slapped billion peso fines for poisoning a major river system also up north with the breach of its mine tailings pond.
Over on Huffington Post, quite a few people have scored Sting for being hypocritical about his 'green posturing".
Johnnico says:

"I bet his jet and entourage do more damage than 200 trees and a parking lot….lol….such is the life of a modern day human……hypocrisy….and, I like Sting a lot, but, hey, don't go overboard with finger pointing……."

gfe says:

"i wonder what he'll say when he finds out LA cut down trees to move the space shuttle……
horrors"

ProbablyMakesSense says:

"This is odd. 182 trees is not many at all unless you live in Arizona or something.

Also, if Sting wants to make a statement, why play the Phillipines at all in light of the gross miscarriage of justice regarding Paco Larranaga?"

Wakeguy says:

"Oh no!!!!
Does this also mean that Sting will also not be able to perform in LA because the city cut down 400 trees so that the Space Shuttle could move through the streets to its exhibit?!?!

Prettywoman-2 says:

"i hope $ting "practices what he preaches", and donates everything made of wood to his charities that includes any instruments he and his band-mates play music with,……and no more jet-travel either $ting = remember the ~ozone~ !"
I don't know if the people engaged in Project Save 182's online activism have actually stopped to figure out the carbon footprint of the internet or staging a huge concert, like Sting's.
Helen Roberts of Carbonfootprint.com calculates the impact of U2's concerts:
U2's positively Brobdindnagian 360 Tour was not one of Gaia's favorite events. Environmental consultant Helen Roberts of Carbonfootprint.com told the Belfast Telegraph "The carbon footprint generated by U2′s 44 concerts is equal to carbon created by the four band members traveling the (34) million miles from Earth to Mars in a passenger plane. To offset this year's carbon emissions, U2 would need to plant 20,118″ — presumably Joshua — "trees." U2's tour was "dozens of times bigger than that of Madonna on her 2006 world tour," but Madonna had the good grace not to shout about how she was praying for the earth while damaging it.
An article in the Guardian calculates the amount of CO2Â emission produced by the internet:
By Gartner's figures, the world's PCs and monitors are even more power hungry, accounting for around 40% of the total ICT energy demand and 0.8% of global CO2 emissions. If we decided (somewhat arbitrarily) that half of the emissions from all these laptop and desktop machines were down to internet-based activity, and then add on the emissions from the data centres that make all this online activity possible, then the internet would clock in at around 1% of all the CO2 emissions released from burning fossil fuels. Put another way, the internet releases around 300m tonnes of CO2 – as much as all the coal, oil and gas burned in Turkey or Poland in one year, or more than half of those burned in the UK.
Another thing for Sting to consider is that electricity in the Philippine is produced mostly by massive coal power plants and his concert, being a power-hungry event, will probably contribute more green house gases to the atmosphere.