The following is a portion of Bong Bong Marcos' statement in his Facebook account early Friday morning, September 21, 2012. His father signed Proclamation No. 1081, proclaiming a state of Martial Law in the Philippines, on September 21, 1972, exactly 40 years ago.
We cannot change "yesterday" any more than we can foretell what the morrow will bring. However, we can shape our future by what we do today. Blaming others and finding scapegoats are not solutions to poverty, rising prices, criminality, the insurgency, and so on. And too much politics leaves no room for leadership. Sure, there are lessons to be learned from the past and it is obvious that Martial law, and all the succeeding administrations for that matter, was neither "a bed of roses nor a bed of nails," to paraphrase Bon Jovi's lyrics. That's all I will say on the Presidency of my father and those that came after. I will resist indulging in the blame game and continue to look forward . . .

But here's the point: we have got to move on, move forward, and channel our energies in progressive and constructive pursuits, because only then will we see and realize the full potential of our people.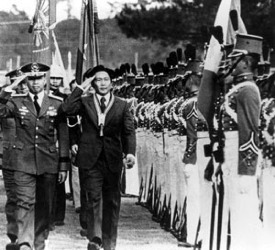 A brilliant example of Marcos revisionist history. The cavalier reference to "all the succeeding administrations for that matter" as "neither a bed of roses nor a bed of nails" cleverly implies that the Marcos administration was in the same league of corruption as all succeeding administrations — nothing out of the ordinary corrupt practices of the Philippine President, if you will.
Lest we forget, Marcos bankrupted the Philippines to enrich himself and his cronies. And every economically productive Filipino has been digging the Philippines out of this abysmal hole since then. According to Transparency International, Marcos is the second most corrupt head of government in the world ever, after Suharto of Indonesia. No other President of the Philippines comes close to that distinction — not even ERAP with his midnight cabinet and harem of high maintenance mistresses or GMA with her partner in crime, the First Gentleman.
Under his many years of dictatorship of absolute control, Marcos and his cronies siphoned billions of dollars equivalent of public funds (taxes, levies, foreign aid, government incurred debt, etc.), bribes and kickbacks (a prime example of which was the highly lucrative kickback per barrel of oil imported by then Energy Secretary Geronimo Velasco from the Middle East) into secret offshore accounts.
Marcos also invested the same ill-gotten funds into various monopolies and vital industries that were created and/or taken ("persuasively" or forcibly) and, thereafter, placed under the control of his cronies, such as coconut (under Eduardo Cojuangco, Jr. and Juan Ponce Enrile), food and beverage (under Eduardo Cojuangco, Jr.), tobacco (under Lucio Tan), banana (under Antonio Floirendo), manufacturing (under Herminio Disini and Ricardo Silverio), sugar (under Roberto Benedicto), pharmaceuticals (under Jose Campos), telecommunications (under Ramon Cojuangco), retail (under Glecy Tantoco), power utility (under Benjamin Romualdez), among others. Hence, the Marcos and the Romualdez families became the owners (directly, indirectly and/or secretly) of the nation's largest corporations, such as the Philippine Long Distance Company (PLDT), Philippine Airlines (PAL), Manila Electric Company (MERALCO), Fortune Tobacco, San Miguel Corporation, newspapers, radio, TV, banks, real estate properties in the Philippines, New York, California, Hawaii, among other holdings. It is no coincidence that in one of her less guarded interviews, Imelda Marcos herself admitted, "We own practically everything in the Philippines."
Yet, after the 1986 People Power Revolution, only Jose Campos, among the super-cronies of Marcos, voluntarily cooperated with the new administration of President Corazon Aquino by turning over Marcos assets in his (Jose Campos) name to the Presidential Commission of Good Government (PCGG). In 2004, after almost two decades of legal battles, under the leadership of then PCGG Chair, Haydee Yorac, we saw the single largest take in the recovery of Marcos's ill-gotten wealth (albeit still a small percentage of the same) when the Swiss government returned US$684 million to the Philippine government.
When the Supreme Court threw out the Marcos heirs' final appeal, ruling that the US$684 million (then roughly P38 billion) of Marcos money recovered from Swiss banks should be forfeited to the Philippine government on the ground that it was ill-gotten, Ilocos Norte Representative Imee Marcos, eldest daughter of Marcos, refused to comment on the ruling and referred all queries about the money to the family's lawyers. Interesting how the heirs keep silent when the truth hits close to home. Even more revealing was the reaction of their lawyer, Robert Sison, who stated, "It's not true that we are blocking the transfer." He also blurted the simple truth when he said, "They can have it." It was a tacit admission that (a) the money was indeed theirs to give away and (b) the amount was relatively insignificant to bother with any further. In short, there's a lot more where that came from.
Recently (September 2012), the PCGG reported that it has recovered close to P94 billion of ill-gotten wealth of Marcos and his cronies 26 years after the commission was established in 1986. Current PCGG Chair, Andy Bautista, said that the PCGG could generate P100 billion this year (2012). Even the late PCGG commissioner, Ricardo Abcede, who was suspected of colluding with Imelda Marcos, expressed that the Marcoses still had P140 billion ill-gotten wealth to be recovered — so this is probably a low-ball figure. Other independent estimates place the Marcos loot at between US$16 to US$32 billion as of 2004 — see this article for reference.
Adding insult to injury is how the Marcoses and their staunchest cronies (Danding Cojuangco, Bobby Ongpin, among others) have mobilized and laundered their vast and collective ill-gotten resources to maneuver perhaps the greatest most brazen criminal comeback of all time by regaining substantial ownership and/or outright control of those vital enterprises previously controlled by the late dictator (e.g., Petron, NAPOCOR power generation assets, Meralco, San Miguel Corporation, Philippine Airlines) right under the nose of every Filipino. How else can one characterize the grand machinations of Bobby Ongpin with the London-based Ashmore Group, Malacanang (during the term of GMA and the First Gentleman), Global 5000 and San Miguel Corporation but a classic money-laundering exercise? Incidentally, that would make two of the most prominent corporate leaders of the Philippines today (Ramon Ang and Manny Pangilinan) the greatest money launderers for the two most corrupt dictators in the world ever (according to Transparency International) and their principal cronies, respectively (i.e., Marcos/Danding and Suharto/Salim). For that matter, how much Marcos funding was given to the latest political alliance from hell called United Nationalist Alliance or UNA, led by ERAP, Enrile and Binay, and peddling the next generation of Marcos cronies (e.g., JV Ejercito, Jackie Enrile, Joey de Venecia, Miguel Zubiri)? It sure appears like an elaborate bench warming prelude to Bong Bong's bid for the Presidency.
But here's the point, Bong Bong: it's convenient for you to move on, when you benefit from all that stolen money; a critical component of moving forward for the rest of the country is the return of all of your parent's (not to mention your cronies') remaining ill-gotten wealth, which is still in your possession, enabling you, your kin and your cronies to (a) engage a battalion of the most brilliant unethical lawyers and fund managers (local and international) to hide, protect and launder your loot, (b) live in the lap of luxury, (c) buy your way into positions of power and (d) continue to spread lies about your father and his legacy.
Oh . . . an apology would be nice but I surmise that would not be forthcoming, when you could just as easily buy the Presidency, and rape and pillage the Filipinos all over again.