Not to put too fine a point to it but Philippine Senator Vicente "Tito" Sotto III is now the laughingstock of the country. His consistent failure to recognise the errors in the way he allegedly lifted material verbatim from several bloggers' works to use in a speech he delivered to defend his position against the passage of the Reproductive Health Bill and his inability to rectify the damage he caused not only to his reputation but to that of the Senate by simply apologising for it has attracted much scorn from the chattering classes.
Tito Sotto, is a product of the system Filipinos built for themselves. As a comedian — a trade where he became a household name long before he started his career in politics — Sotto, along with his partners-in-crime Vic Sotto and Joey de Leon, exhibited a talent for delivering to his audience exactly what they wanted: low-brow entertainment. Sotto was selling a Filipino media staple. Much the same way as Filipinos like rice with their pagpag on their plates, they like Tito-Vic-and-Joey humour with their basketball game on their TV screens. And when when you are selling food (whether it is for the mind or the stomach) to people to whom the concept of "choice" involves deciding to go to bed on an empty stomach (or mind) or not, it does not really matter where said food comes from.
So Sotto took some material from a bunch of bloggers. The question is quite simple:
SUPPORT INDEPENDENT SOCIAL COMMENTARY!
Subscribe to our Substack community GRP Insider to receive by email our in-depth free weekly newsletter. Opt into a paid subscription and you'll get premium insider briefs and insights from us daily.
Subscribe to our Substack newsletter, GRP Insider!
Learn more
So what?
I direct that question not to myself or my immediate community of fellow writers (to whom that question actually does matter) but to the people that really matter to politicians. If a big swath of Filipino humanity couldn't care less about which dark back alley food they are paying good money for comes from why would they care about where their politicians' rhetoric comes from?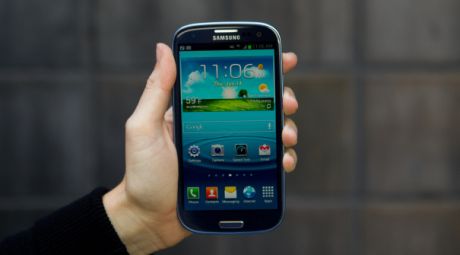 [Photo courtesy CNet.com.au.]
"Creativity is great, but plagiarism is faster." — Ken Ndaru, author
That is a quote that introduces a Fortune.com article on the subject of the recent $1bn tech giant Apple won from a copyright infringement suit it slapped against South Korean conglomerate Samsung over technology allegedly "stolen" from Apple's iPhone product line. While it may have been convenient to simply pin the $1bn malaise on the Big Bad Chaebol, the article goes further to explore what may possibly be the deeper roots of the issue…
It might have something to do with South Korea's education system says Tariq Hussain author of "Diamond Dilemma: Shaping Korea for the 21st Century." "The education system is the cradle of cheating and bribery, one of Korea's biggest diseases," he explains. "Titles count for a lot in Korea, academic titles even more. So given this excessive focus on such titles, there is an incentive to, well, bend the rules, or even cheat. And occasionally these things are uncovered and lead to the demise of the person involved." Plagiarism in all sectors of [education] is rife he adds.
And while that may be true, there is also something to be said about a market so successfully-conditioned by clever state-of-the-art marketing to salivate over iPhone technology to the point of not really giving much of a hoot about where affordable technology of that sort may come from. Indeed, the object of contention, Samsung's Galaxy S III smartphone, unlike works of plagiarism closer to home, is actually a winner as far as its users are concerned…
The "flagship" Galaxy S III smartphone, introduced in June, was particularly well reviewed — CNET awarded it an Editor's Choice rating — and sold briskly. According to Samsung, it took the company less than a month to sell 10 million units, helping vault Samsung — and Android — well ahead of Apple and iOS in this summer's race for smartphone supremacy.
Come back closer to the issue and behold: The same people who incessantly tweet about their "indignation" over Sotto's plagiarism are also the most gleeful promoters of Samsung products and other "must have" gadgetry.
Seems like we all really have a lot in common with pagpag connoisseurs. At the end of the day (with apologies for resorting to that resonant cliché), we all want our "must haves". That unshakable prime mover of consumer behaviour is really a most fundamental of human conditions that binds us with everyone of all walks — whether they be garbage-scrounging street urchins or the most "tech-savvy" of social media mavens. Ultimatey, we are all just sad victims of clever marketing and not really in much of any position to judge people, whether they be plagiarists or sellers of food taken from garbage cans.
benign0 is the Webmaster of GetRealPhilippines.com.