Following a threat from tycoon Manny Pangilinan to leave the Philippines and take with him his money, House Majority Leader Neptali Gonzales II has warned that the Philippines may be in for a crisis of confidence, presumably if this sort of thing becomes a trend…
The House majority leader warned Pangilinan's move would become "a very unfortunate blot in the government's efforts to spur economic growth and investments."

"The steady performance of our economy today is the result of a confluence of factors that a daring investor in the like of Mr. Pangilinan has greatly contributed into," the veteran lawmaker explained.
Malacañang also issued statements urging Pangilinan to re-consider…
Deputy presidential spokesperson Abigail Valte said Pangilinan should stay in the Philippines as the matter will eventually sort itself out.

"We certainly hope this will not be the case, these things sort themselves out (in due) time," she said on government-run dzRB radio.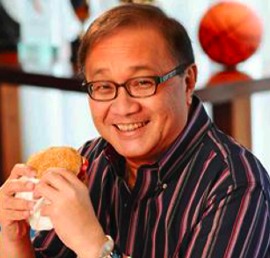 Pangilinan who heads Hong Kong-based investment powerhouse First Pacific Group was furious over being dragged into a controversy that erupted after "Senator" Antonio Trillanes was outed for his "backdoor negotiations" with China by Senate President Juan Ponce Enrile in a Senate session verbal melee last Wednesday. First Pacific is currently staking a significant amount of capital in explorations for oil and natural gas being undertaken in disputed waters off Palawan in Recto Bank near Scarborough Shoal.
Enrile had alleged that Trillanes had seriously compromised the efforts of Department of Foreign Affairs Secretary Albert del Rosario to resolve the dispute with the Chinese government along official channels. Malacañang for its part had distanced itself from Trillanes since.
Already, Pangilinan had reportedly withdrawn support for his alma mater, the Ateneo de Manila University over "irreconcilable differences" relevant to aspects of his personal views and the corporate position of his firm related to reproductive health and mining activities in the Philippines.
Despite recent "news" that the economy of the Philippines is expected to post strong growth in the near-term, the country has long been a consistent development laggard when compared to other countries within the region. While other southeast Asian countries have made progress laying the groundwork for sustainable development by focusing on expanding their capital bases and boosting infrastructure spending, the Philippines remains dependent on consumption propped up by remittances from its vast force of Overseas Foreign Workers (OFWs). At least 10 percent of the value of the Philippine economy is accounted for by remittances coming from OFWs.
The Philippines has struggled to compete in key industries even with its peers in the Association of Southeast Asian Nations (ASEAN). Last Friday, Isuzu Philippines had announced the most recent of factory closures in the country citing high costs as the main reason for the pullout…
In a briefing, the Japanese carmaker's executives said the company may stop production next year, as local assembly costs $1,800-2,000 more than in Thailand.

Shutting down the DMax assembly line, which produces 3,000 units a year, would displace 30,000 workers in the parts business. Isuzu Philippines sources a fourth of its parts from the local market.
Yet, many Filipinos seem to fail to grasp the dire future they face if they continue to fail to deliver a convincing value proposition to investors, both foreign and domestic. A recent Facebook post by noted "journalist" Marites Vitug of "social news network" site Rappler.com typifies the arrogant position many Filipino "activists" take…
It's okay if [Pangilinan] makes his threat a reality. No one is indispensable, as the late publisher Raul Locsin used to tell us.
A certain Gerry Cornejo placed a comment on the above post saying "good riddance to you MVP, the noveau-pacman, engulfs and devours everything in its path…" Another commenter, Ed Tadem opined in his comment, "Let him go back to his Indonesian employer and ex-Suharto crony family. He hasn't founded anything of worth in the country; he just takes over existing companies."
For now, we can only wait and observe whether things, as presidential mouthpiece Abi Valte says, will eventually "sort themselves out".
benign0 is the Webmaster of GetRealPhilippines.com.