Even as the country mourns the death of Department of Interior and Local Government (DILG) Secretary Jess Robredo in a plane crash this week, some questions are starting to emerge. An observation made by a certain Adolfo Mortera re-posted by Showbiz Government covers most of these questions in summary…
[Philippine President Benigno Simeon] Aquino has micromanaged Sec. Robredo's case, from Day 1, to Day 4 today, up to the airlift of Sec. Robredo's remains to Naga City airport. He supervised the search and rescue operations, and was the first to get Abrazado's testimony, whose whereabouts now are unknown to most media persons. He also personally updated Atty. Leny Robredo, the late secretary's wife, on each detail. Did he also do the autopsy? There's no media report an autopsy was done. DZMM mins ago reported Mar Roxas as saying the bodies of the 2 pilots can't be found, contrary to his earlier report this morning. What really happened? Meantime, the yellow ribbons they are now waving seem to have covered the many unanswered questions. Yes, this president has never been so busy. Why?
Some people have also speculated on the suspicious circumstances surrounding the way Robredo's aide Jun Abrazado "survived" the crash. One of them is Nemesio Antonio Jr in an article on his blog Danger Signs. Some questions he poses among others:
(1) Initial reports stated that Abrazado suffered a fractured arm during the accident, yet situation spokesperson at the time Mar Roxas reported that "Abrazado swam out of the plane's cabin upon regaining consciousness and not finding Robredo."
(2) Abrazado reportedly related how he observed that the plane was broken into two after the crash. But having reportedly lost consciousness after the crash, how did he know this?
(3) How did Abrazado lose sight of Robredo so soon after regaining consciousness?
But Philippine politics cannot be escaped — even in death. Rappler.com reporter Natashya Gutierrez tweets on location in Naga City: "A city in mourning. Yellow ribbons all over the city for Robredo." Was Robredo part of Aquino's laban? It would seem so, considering that even the gate of his residence is adorned with yellow ribbons…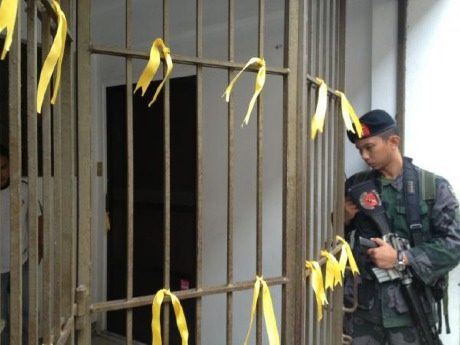 [Photo courtesy Showbiz Government.]
…which leads us to the obvious question (as already stated in the caption accompanying the above photo, though this may have been made before news of the recovery of Robredo's body came out): "What is the significance of the yellow ribbons adorning the gates of Secretary Robredo's residence?"
One commenter coined a term in apparent response to the question: necropolitics.
According to news reports from more traditional sources, Robredo's remains had been returned to his hometown in Naga City only "a few hours after technical divers found and recovered his body in the waters off Masbate." From there, it will be made available for public viewing. There is no report of any autopsy being performed nor any plans for one in the future.
Senate President Juan Ponce Enrile also raised an important question…
"Why use a small plane like that to travel at night? It is a no-no," Enrile said.

"I do not know his advisers in the Department of the Interior and Local Government but when I was in the Cabinet and I had to travel at night, I have to make sure the plane was adequate for travel and small airplanes traveling over bodies of water is inadvisable," said Enrile who served as defense minister for more than 10 years during the Marcos regime.
It is indeed tragic, as his death seems to have been one that could have been prevented. It was an absolute waste of a good man's life. Secretary Robredo seems to have been a well-loved politician and government official. He was a high-achiever, having received many distinctions and was first elected mayor at the young age of 29. A tribute published on The LaSallian, school paper of De La Salle University where Robredo graduated with a degree in Mechanical Engineering sums it all up:
Jesse Robredo is known as the man who reformed Naga, the man who stood up to institutions, both in administration and corrupt giants in local government. Through his reformist approach of Naga City, he was made Secretary of the DILG, a task heavy in his heart, but a Cross that he bore, nonetheless. And he bore it well.

He was an administrator with integrity, a humble engineer and loving father who never forgot where his loyalties lay — to his country, his family, and the dream of clean local governance. May his efforts, quiet but strong, be remembered and emulated by his alma mater, DLSU, and the Filipino people.

You will be surely missed, sir.
benign0 is the Webmaster of GetRealPhilippines.com.