Apparently emboldened by the rising anger over the man-made nature of the massive floods that devastated much of Metro Manila last week and increasingly loud calls to rectify the problems related to it that politicians had allowed to fester for decades, President Benigno Simeon "BS" Aquino III has issued a strong mandate for decisive action to be taken. Public Works Secretary Rogelio Singson on Monday echoed this directive when he announced his latest marching orders from the President: "I just received instructions from the President that if push comes to shove, we will have to blast these houses if the residents do not leave within a certain period." He was referring to various illegally-built structures in and around "waterways and other danger zones"…
Singson said last week's flooding proved the need for government to set a deadline to remove settlements from danger zones and that 195,000 informal settler families would be forcibly relocated if needed.

"They have to be removed," Singson added.

Of the target families, some 125,000 families live along waterways in Metro Manila and another 70,000 around Laguna Lake.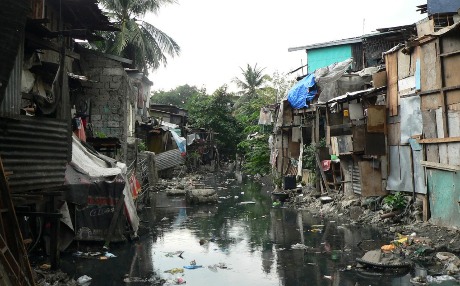 Squatters, also known by the politically-correct term "informal settlers", and the illegal structures they erect, have long been seen as the single biggest urban blight that contributes significantly to the problem of flooding in the Philippines' wretched capital. Add to that too all the other illegally-erected structures of businesses backed by local politicians, such as the fish pens that proliferate all over Laguna de Bay. In both of these, we have before us the mother of all low-hanging-fruit solutions that President BS Aquino's achievement-starved government badly needs.
Indeed, all these being illegal, there is in principle no legal impediment to a bit of state-sanctioned violence being applied for a change. There really is no reason why government forces could not just simply "blast" them literally out of the water.
Perhaps, making Metro Manila a difficult place to live in for impoverished people might force Filipinos to think twice about summarily setting up camp there. Simply enforcing the law may instill the sort of resourcefulness and enterprise that have long eluded Filipinos and, instead, force people to live off the otherwise rich land of these volcanic islands.
At the root of the problem, as most Filipinos are already aware of, is the country's enormous population. This little complication is what makes otherwise obvious solutions languish in the monumentally convoluted chatter that characterises the national "debate". Yet it is a well-known reality that every additional Filipino born is a macro-economic liability. The law of supply-and-demand is very clear about how enormous numbers spell certain devaluation.
Perhaps, in these floods, nature is telling us something. In that light, history has some stories to tell. A series of epidemics known as the "Black Death" that swept across Europe over the latter half of the fourteenth century decimated its human population. In England, a population of 6 million was almost halved by the pestilence. The aftermath of that devastation yielded an interesting outcome, however. Peter Ackroyd, in his book The History of England – Foundation describes what happened…
Yet the pestilence had slow but permanent effects on English society. The shortage of labour [as a result of the population decline] had the immediate result of increasing both the level of wages and the chances of employment. The phenomenon of the landless or impoverished peasant wholly disappeared. But the rising demands of the working people who had survived, their worth now doubled by the epidemic, provoked a reaction from the landowners and magnates. The knights of the shires, in particular, perceived a threat to good order.

An Ordinance of Labourers was passed by a parliament in 1349, forbidding employers to pay more for labour than they had before the pestilence. The same Act deemed that it was illegal for an unemployed man to refuse work. The measures were not realistic. Many workers and their families could simply move to another district and to a more generous employer who was willing to ignore the law. Some migrated to towns, for example, where there was great demand for manual labourers such as masons and carpenters. A ploughman might become a tiler. More than enough work was available.

[…]

Many younger people now possessed their own holdings of land. And the best land did not remain vacant for long. There had once been too many farmers and labourers working too little soil, but now they were dispersed over the countryside.
Interesting bit of history there, ain't it?
If you think about it, Manila's squatters occupy precious land and overrun and utterly devalue the city's labour market — all without paying their dues. Indeed, Manila's legitimate taxpaying residents effectively subsidise their continued residency in the country's premier city yet, at the same time, suffer the effects of the degradation these "informal settlers" subject the city environment to. Where is the justice in that?
benign0 is the Webmaster of GetRealPhilippines.com.