I confess that I didn't have many friends in my pre-school childhood. I've always been more of a homebody; preferring to stay at home and read books rather than get sweaty and dirty with the other kids in the neighbourhood. I do understand how it's like to play kids' games, though, having tried it every once in a while in the past. Usually the games are of a kampihan (team-oriented) type. You team up with some kids and play against the other kids in games like patintero and tamaang-tao (a variation of dodgeball). The playground will then be full of noisy kids taunting each other, but then, most sporty children's games are like that. That's what comes to my mind whenever I hear words like kampihan, especially when it's coupled with jeers and taunts from opposing sides; childish.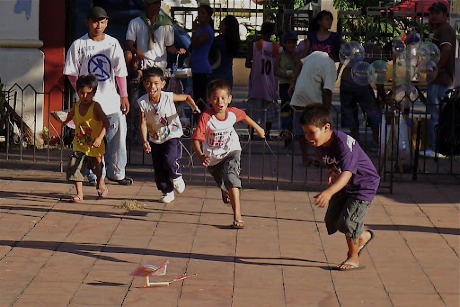 That's when it occurred to me that such concepts are not limited to your local playground. Just look at your TV or your daily newspaper. It's full of noisy little brats taunting each other in a nationwide kampihan game; Philippine politics.
As discussed by several preceding articles, Senator Aquilino "Koko" Pimentel III officially severed ties with the United Nationalist Alliance (UNA) party. Pimentel simply had to make his decision as flashy and conspicuous as possible through several interviews, earning the attention of many Filipinos. Pimentel recently stated that it was because of Miguel Zubiri's inclusion in the UNA senatorial slate that he decided to leave the said party.
Just like in your good ol' kampihan game, the good senator Koko is declaring that he's probably switching sides, and he just had to be as noisy as possible for everyone to recognize that he's calling it quits with UNA (and maybe make UNA feel guilty in the process). Meanwhile, the other team joins the fray, spearheaded by our beloved chatterbox, President Noynoy Aquino.
The man who has declared war on corruption is welcoming into his fold with open arms another man who says he cannot campaign in next year's senatorial elections alongside an "election cheater."

Malacañang aides on Friday said President Benigno Aquino III would "graciously welcome" Sen. Aquilino "Koko" Pimentel III if the head of the PDP-Laban party decided to join the ruling coalition's senatorial slate in the 2013 polls.

(Source: Link)
With a pretty suspicious introduction, the article narrated PNoy's intentions to welcome the deserter in his team to add more insult to the other party in a somewhat indirect way.
"I'm sure the President understands the sentiments of Senator Koko regarding the inclusion of several questionable personalities on the UNA slate which go against his principles and values," Mr. Aquino's political adviser Ronald Llamas said in a text message.

"So I think the President will graciously welcome Senator Koko if he should decide to join the administration ticket for 2013," Llamas added.

He said that Mr. Aquino—who has vowed to weed out corruption in the government—and Pimentel shared the same advocacies and principles, "especially against electoral fraud," and on the need to promote "a more credible and transparent electoral system."
Very subtle, PNoy and friends. Real smooth.
Meanwhile, Koko went on regarding his decision to leave the UNA party (which involves Zubiri), stating the following:
"I really cannot run with him because on the issue of election fraud, we are like light and darkness. But it's only on the issue of election fraud. I'm not claiming that I am of superior quality or anything."
Alongside his not-so-subtle attempt to obtain the higher moral ground without providing a factual basis, Koko also shared his sentiments regarding the risks of leaving the said party, and the probable voting patterns of his supporters.
Pimentel acknowledged he could lose next year's elections. But the first-term senator, who is also talking with other political parties, said he would not regret his decision to quit UNA even if he would lose the "combined" endorsement of the three popular leaders of the coalition.

He was referring to Estrada, Vice President Jejomar Binay and Senate President Juan Ponce Enrile.

"Realistically speaking, some people were happy with my decision and some people were unhappy. I'll definitely convert some into voters and I'll also convert some into nonvoters," Pimentel said.
All of these seem to bring me back to the good ol' days. Kids are all around the place, taunting and teasing each other during the game, bragging their respective advantages towards other players (if there are any) and a whole bunch of stuff that adds to the noisy atmosphere of a classic children's game. Then there's a kid who throws a tantrum because someone he hates managed to join his team. And then he had to leave, stomping his feet to attract attention amidst the jeers from both sides, while subtly trying to make his old allies feel guilty for hurting his feelings. And then the game will slowly descend into nothing more than a trash-talking session, where the spectators bet on who screams the loudest.
Philippine politics is no different. What we have is nothing more than a fancier version of a kampihan game, a bunch of kids taking sides and switching sides while pelting snide remarks and taunts at each other, in the guise of being "principled." Philippine politics is just a game, where there are players who are pikon and just had to attract everyone's attention to make sure everyone knows he's upset. It's just a game where kids persuade other kids to join their side and turn against the other. And then there will be the spectators who cheer for those who are the most noticeable.
"Senator Koko is like his father, both of them are principled … both of them are straight," Archbishop Emeritus Oscar Cruz told reporters, referring to former Sen. Aquilino "Nene" Pimentel Jr.

Sorsogon Bishop Arturo Bastes said Pimentel made a "good decision." "It's a sign of protest against cheats," Bastes said on the phone.
I'm not quite sure why Archbishop Cruz chose the word "straight," but anyway, we also have the other spectators in the little game; the voting population who are also rooting for the ones who are intimidating; basically those who are making the loudest noise in the game-turned-into-trash-talking nonsense. Hey, Koko said it himself. His changing sides alone will change the way Filipinos vote. He might gain and lose support simply by switching sides.
And that's how things work here, folks. It was never about credibility or intelligence or personal accountability. It was never about justice and honesty and dedication. It was just a political kids' game. Some will team up to take on another team, they will tease each other, and everyone will base their votes on this scenario. Who's the noisier one? Who makes the most fuss out of things? Perhaps we should root for him!
As benign0 said in his article:
Where are the platforms of these candidates? Do these platforms even matter? Are these platforms used to keep track of the actual performance of a politician over the course of his term?
Then again, who needs platforms when we're simply playing games like patintero and dodgeball? The only thing that matters is who wins, and who gets the most attention. That's Philippine politics for you; full of personality and hubris, completely devoid of substance. So if you're feeling nostalgic about your childhood and you want to watch a group of kids knock each other out, just check the latest news in our national politics. I mean, what's the difference? It's just a kampihan game with a bigger playground, played by a bunch of children in formal attire.