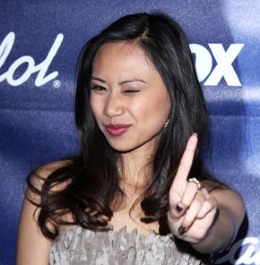 Not yet confirmed but veteran stage performer and singer Lea Salonga has given the nod to American Idol runner-up Jessica Sanchez as a candidate for a possible reprise of the role she first played 23 years ago. Sanchez is rumoured to be in the running for the lead character Kim in the anticipated film adaptation of the Broadway hit…
"If she's the one that they've chosen, or she's somebody in serious consideration, then that's a good thing. We all know she's talented, we all know she's actually quite beautiful," Salonga said in a taped interview aired on "24 Oras," July 2.
For her performance as Kim, Salonga won the Olivier for Best Performance by an Actress in a Musical for the 1989–1990 season. From its original London home, Miss Saigon moved to Broadway in April 1991. Salonga subsequently won the Tony, Drama Desk, Outer Critics Circle and the Theatre World Awards for the same role. Between 1993 and 1996, she was asked periodically to play Kim on Broadway to boost ticket sales. In 1999, she was invited back to London to close the musical, and in 2001, at the age of 29 and after doing the Manila run of the musical, Salonga returned to Broadway to close the Broadway production.
SUPPORT INDEPENDENT SOCIAL COMMENTARY!
Subscribe to our Substack community GRP Insider to receive by email our in-depth free weekly newsletter. Opt into a paid subscription and you'll get premium insider briefs and insights from us daily.
Subscribe to our Substack newsletter, GRP Insider!
Learn more
Jessica Sanchez is an American singer from San Diego, California. She was the runner-up on the eleventh season of the reality singing show, American Idol and is currently signed to Interscope Records. She was the first female and fourth recipient of the judges' save and the first recipient of the save to reach the finale. Prior to appearing on American Idol, Sanchez competed in the first season of America's Got Talent at the age of 11. Sanchez was born in Chula Vista, California on August 4, 1995 to parents, Editha (née Bugay) and Gilbert Sanchez. She was raised in Eastlake, Chula Vista, along with two younger brothers. Her father, a Mexican American, originally from Texas, is a US Navy veteran who fought in the Iraq War, served in Afghanistan. Her mother is from Samal, Bataan in the Philippines. Her maternal grandfather, Eddie Bugay, is a retired US Navy sailor.
[NB: Parts of this article were lifted off the Wikipedia.org articles "Lea Salonga" and "Jessica Sanchez" and used in accordance with that site's Creative Commons Attribution-ShareAlike License consistent with the same license applied by Get Real Post to its content.]
benign0 is the Webmaster of GetRealPhilippines.com.