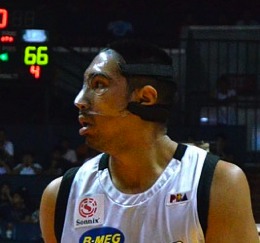 But isn't professional sport inherently rigged? If we are to interpret the response of Philippine Basketball Association (PBA) Commissioner Chito Salud to a tweet fielded by Barako Bull player Don Allado where he expressed his opinion about the way things are in the PBA, you'd think that this original of Filipino pro sport leagues is clean as a whistle…
"I just want to stress to all our fans, (that) this accusation that the league is rigged, fixed and that we control who goes into the semis, finals and becomes the eventual champion, is baseless," said Salud.
Kind of comes across like the Pope assuring us that he is Catholic, doesn't it?
Allado, in a tweet that had since been deleted implied the contrary: "I'm the guy that says what others can't. #PBA games are fixed. They control who is in & who is out. It's a disgrace to be in this league." The question is, does a loud show of indignation from top PBA honchos as well as the hefty fines and sanctions they slapped on Allado (of course they would — because they could) necessarily prove the contrary?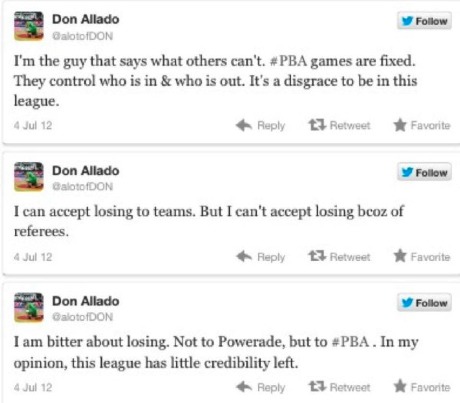 [Image courtesy IamJammed.com.]
Perhaps smoke constitutes reasonable empirical evidence of the existence of a fire.
Recall a while back during the impeachment trial of former Chief Justice Renato Corona how the Philippine Senate had reacted with as much indignation when rumours about its members being on the take to the tune of Php100 million each in exchange for a verdict "preferred" by some parties were highlighted by the defense team in a 12th February 2012 press release. Suffice to say, the honourable Senator-Judges were sent huffing and puffing over the outrage (the humanity!) of such unfair claims.
All the while odinary citizens' eyes simply rolled upwards.
Does the huff and the puff of an "offended" party necessarily prove said party is as honourable as it claims to be? Just recently, boxing champ Manny Pacquiao was himself allegedly (Filipinos insist) the victim of a rigged game after he lost the welterweight title to Timothy Bradley in early June this year. Of course Filipinos will think their "hero" had been cheated out of the victory he was entitled to. It takes one to know one after all.
So is the PBA really as squeaky clean as Salud's "indignation" and punitive action against Allado implies it is?
Abangan ang susunod na kabanata…
benign0 is the Webmaster of GetRealPhilippines.com.