Rodolfo Vera Quizon a.k.a. Dolphy has died aged 83 just short of his birthday on the 25th of July at the intensive care unit of the Makati Medical Center. He was taken there on the 9th of June suffering from chronic obstructive pulmonary disease (COPD) and confined under intensive care since then. Dolphy is survived by his wife singer Zsa Zsa Padilla and 18 children.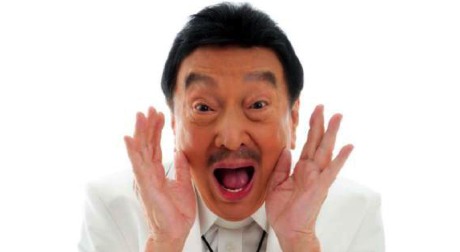 [Photo courtesy Interaksyon.com.]
Dolphy was 19 when he made his first movie with Fernando Poe, Sr. in Dugo at Bayan (I Remember Bataan), billed as Rodolfo Quizon. It was the father of his future friend actor Fernando Poe, Jr., who first paved the way and gave him a break in films playing bit roles as a character actor.
Before that he started as a stage performer during the Japanese occupation of the Philippines. Dolphy was turning 17 when Benny Mack took him in as a chorus dancer, one month at Avenue Theater after which he moved to Lyric Theater. He also appeared in shows at the Orient Theater. Golay was his first stage name. During air raids, they would interrupt the show and run for cover at the air-raid shelter in the orchestra section, together with the audience. If no bombs exploded, the show then resumed.
[NB: Parts of this article were lifted off the Wikipedia.org article "Dolphy" and used in accordance with that site's Creative Commons Attribution-Share Alike License consistent with the same license applied by Get Real Post to its content.]
benign0 is the Webmaster of GetRealPhilippines.com.