A friend of mine shared the following graphic apparently making the rounds on Facebook. It was posted on the Carlos Celdran page along with the caption "Love this map. Northwest Philippines. Haha. Kiss our 98 million asses, China. #China — with John Joey Ramos, Jason Alinsunurin, Jojo Garcia Dula, Michael Judd Rico and Emil Yap."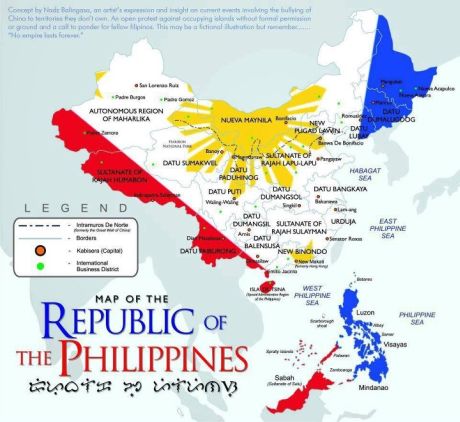 Text embedded within the image reads at its upper left corner reads [NB: Grammar, spelling, and capitalisation all verbatim]:
Concept by Nadz Balingasa, an artist's expression and insight on current events involving the bullying of China to territories they don't own. An open protest against occupying islands without formal permission or ground and a call to ponder for fellow filipinos. This may be a fictional illustration but remember… "No empire lasts forever."
Charles P. "Carlos" Celdran (born November 10, 1972) is a Manila tour guide, cultural activist, and performing artist. He is an activist for HIV/AIDS awareness and reproductive health, organizing and appearing at events to promote HIV/AIDS awareness and reproductive health in the Philippines. On September 30, 2010, Carlos Celdran staged a protest action against Church opposition to the reproductive health bill. Dressed as José Rizal, Celdran entered Manila Cathedral during a mass, carrying a sign and shouting "Stop getting involved in politics!" before he was taken away by the police.
As a result of that stunt, Celdran has gained a large following and, as such, has become quite influential — which makes his endorsement of such thinking and imagery quite notable.
China and the Philippines are currently locked in a territorial dispute over the Spratly Islands and the Scarborough Shoal; small island groups in the middle of the West Philippine Sea off the coast of Palawan. The situation, suffice to say, is not exactly one that offers bright prospects for the Philippines on account of its economic dependence on China and its weak military capability to defend its territory…
Let's face it, when it comes to protecting our sovereignty, our chances of succeeding using our existing military forces is slim. But mind you, this hasn't stopped some overzealous Filipinos from holding protest rallies against China due to the ongoing Scarborough Shoal standoff. These Filipinos might consider what they are doing a show of Filipino patriotism but they are also risking angering China and giving them a reason to retaliate by withdrawing trade deals. That would be bad for the Philippine economy because China is now the Philippines' number one trading partner in imports and exports according to Trade Undersecretary Cristino Panlilio. In fact, in response to the indignation rallies, major Chinese travel agencies have already suspended travel tours to the Philippines and they have warned their citizens already in the country to keep a low profile. Let's just hope that Beijing will not send us a stronger message using their military.
The government of Philippine President Benigno Simeon "BS" Aquino has, for its part, not demonstrated any consistent approach to managing the crisis, often issuing statements that inflamed rather than contained fallout as it stumbled from one development in this affair to another…
Unfortunately, reports say that President Noynoy Aquino is actually supporting the rallies because he wants international attention to the ongoing dispute. According to PNoy, "it is the Philippines' best 'weapon' against China". Here's part of what he said:

"They have relations with other nations around the world which would make other nations think, if we are being treated this way… there might come a time when they would also be treated the same way."

PNoy's decision has unsurprisingly divided the sentiments of Filipinos again. Most rational thinking Filipinos know that antagonizing China is not a wise move. Senators like Antonio Trillanes, Loren Legarda, and Manny Villar also think that the standoff should be resolved through diplomatic means.

We cannot make our problem everyone's problem. We cannot start something that we cannot finish on our own. PNoy may not be thinking straight. He obviously lacks the diplomatic skill to handle such a crisis. Senator Sergio Osmenia even said that the Ambassador to Beijing, Domingo Lee, President Aquino's family friend is "absolutely not qualified" for the position.
Indeed, the Philippines increasingly finds itself in situations that require military responses rather than the half-witted social media campaigns its "patriotic" citizens have instigated from the country's teeming cyber cafes. Yet, in the last several decades, the Philippines has all but failed to build fighting capability commensurate to the length of its coastline, the size of its population, and the hubris of its offshore claims. When one considers the pompous and cocky persona it exhibited back in the early 1990's when twelve senators duly elected by the popular vote (and as such presumably representing the Filipino people's "will") voted to boot the American Military out of Philippine shores, the situation would have been laughable if it weren't for the direness of the situation today…
Thanks to the 12 bozos who voted against US military bases in the Philippines in 1991 — Senate President Jovito Salonga, Sens. Wigberto Tanada, Teofisto Guingona, Rene Saguisag, Victor Ziga, Sotero Laurel, Ernesto Maceda, Agapito Aquino, Juan Ponce Enrile, Joseph Estrada, Orlando Mercado, and Aquilino Pimentel — Filipinos have, right in their faces today, a sad lesson twenty years in the making in what it is like to languish outside the American sphere of what is globally relevant.
Like people like government. The trouble with an inept government is that its constituents tend to take matters into their own hands. But in an intellectually-bankrupt society such as the Philippines, that's never been a good thing. Look back to Philippine history over the last quarter century and try to take stock of any results that match the loud bravado. One is likely to be left scratching his head.
[NB: Parts of this article were lifted from the Wikipedia.org article "Carlos Celdran" in a manner compliant to the terms stipulated in the Creative Commons Attribution-ShareAlike 3.0 Unported License that governs usage of content made available in this site.]
benign0 is the Webmaster of GetRealPhilippines.com.