The Philippines reportedly implemented "tighter security at all shopping malls" in the aftermath of a shooting rampage during a midnight screening of The Dark Knight Rises in Colorado, the United States that resulted in the deaths of 12 cinema patrons on Friday.
No less than Edwin Lacierda, spokesman of Philippine President Benigno Simeon "BS" Aquino III, announced the implementation of security measures around Philippine shopping malls, presumably to assure the safety of the throngs of Filipino shoppers who flock daily to these commercial facilities…
"We are asking mall operators to have security guards thoroughly search bags… in order that we can avoid a similar incident," [Lacierda] said Sunday.
That a top government official would announce what is really a low-level domestic security concern possibly says something about the image problem Malacañang suffers at present. President BS Aquino is a gun enthusiast and counts among his shooting buddies a number of key government officials currently serving in his administration including (among others):
– Department of Justice Secretary Leila De Lima
– Land Transportation Office Chief Virginia Torres
– Presidential Political Adviser Ronald Llamas
– Bureau of Internal Revenue Commissioner Kim Henares
– Department of Interior Undersecretary Rico Puno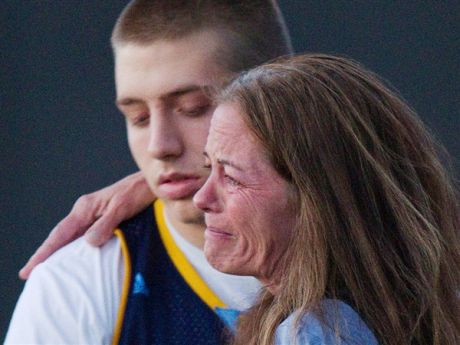 [Photo courtesy U.S.News.]
Recall that Llamas some time ago figured in an embarrassing scandal after an arsenal of high-powered firearms including some bulletproof vests were found in his vehicle after a traffic accident involving two of his staff members.
Suffice to say, when it comes to gun-related violence, Filipinos have more reason to fear politicians and police officers considering their president and his clique of closest cronies are quite the cowboys that they fancy themselves to be. Indeed, in a democracy, elected officials very closely reflect the character of their constituents. Much of the Philippines itself is a tinderbox considering that even on normal days (when massacres half a planet away aren't inducing grandstanding about "safety" at the very top), heavily-armed private security forces patrol or stand guard at most premises — from large shopping malls to the smallest corner convenience stores.
Did we mention, by the way, that the Philippines is a former colony of the United States? Apparently politicians' rhetoric about guns in former colonies also reflect politicians' rhetoric about guns in their former overlords' halls of power — which means similar ironies backdrop the trite statements issued by politicians in the US as well…
The "right to bear arms" crowd, besides calling for people "not to politicize the issue" and having so effectively brainwashed the media that even overseas commentators suggest "now is not the time to have the debate", is sticking with the "if someone had been armed, they could have stopped the shooter" argument. The Century 16 Cinemas in Aurora apparently has a "no guns" policy, even though Colorado, despite having been the setting of the Columbine massacre, assorted other violent rampages, and three of Stephen King's scariest novels (obviously, there is something wrong with the place), has a law which allows the carrying of concealed weapons.
In a society such as the Philippines that famously suffers from a collective narcissistic personality disorder, it really does not take an expert to see that firearms and self-absorbed males together spell trouble. Indeed…
Perhaps this is why a lot of the issues in the Philippines always end up reaching an impasse. Hardly anything gets resolved. This is because most politicians in power have excessive feelings of self-importance and are just preoccupied with "fantasies of success, power, beauty, intelligence" but they don't really have a lot of substance. More importantly, most Filipino politicians pursue selfish goals regardless of how they affect other people.
Unless Filipino men who suffer from narcissistic personality disorder remain undiagnosed and untreated, they will continue to hold positions of power unrestrained, wreaking havoc on Philippine society.
benign0 is the Webmaster of GetRealPhilippines.com.