Over the last several days, I've been getting snippets of news and information lately about a USD 1 billion loan extended by the Philippines to the International Monetary Fund (IMF). The first I heard of it was in a "news" article that came across as a trumpeting of how the Philippines is now a "net creditor nation" which is kind of a badge of honour after having been a debtor nation for the most part of its 66-year history as an independent state.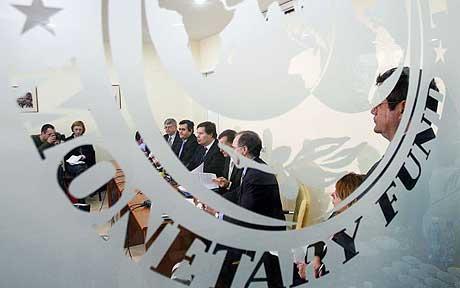 Some people speculated that media mileage given to it is a prelude to the inclusion of the country's "graduation" from a net debtor nation as an "achievement" in President Benigno Simeon "BS" Aquino's coming 3rd Official State of the Nation Address (SONA) to be delivered to Congress July 22, 2012. Note, however, that the loans were reportedly fully paid on December 2006 under the administration of then President Gloria Arroyo.
Following all that came the obvious questions from the usual quarters: How could a wretched country like the Philippines have $1bn to spare the IMF? Disapproval was expressed by some members of Congress…
"Charity must begin at home. The government should prioritize the needs of the country rather than infuse funds to those struggling economically. We have more than enough problems needing those funds," Senate President Pro Tempore Jinggoy Estrada yesterday said.
But aren't some people confusing loaning that money with simply giving it away (as one would do when extending an aid package)? In my simplistic view of things, the IMF is just sort of a bank and that $1bn just a deposit in said bank. Even ordinary people loan money to banks. Depositing one's savings in a bank is, in principle, a loan extended to that bank. Depositors are a bank's creditors in essence. A bank pays said depositors interest on their cash deposits just like a borrower pays interest to her creditor.
In short, Filipinos were not really deprived of $1 billion in the way Senator Estrada implies. It is a deposit for which the Philippine government earns interest. The IMF owes the Philippines $1 billion plus interest as a result of that credit it was extended by the Philippine government.
To banks, loan portfolios are assets. So the thing to understand about being a creditor is that a loan made to another party is an asset — in the sense that assets yield income. In this case — interest income. This is the reason banks scramble over one another to issue credit cards to people and loan money to property buyers and why ordinary people with cash to spare voluntarily deprive themselves use of those funds for a certain period when they make time deposits — because the amount of money they safely lend ends up on the asset side of their balance sheets.
More pointedly, some leaders in the Philippine Left reminded how the IMF imposed what were often criticised (as what was the fashionable thing among activists at the time) as harsh and even crippling "austerity measures" on the Philippines as conditions of the loan packages it extended then.
Again, in my simplistic view of things, what person or institution in their right mind would lend money to a spendthrift? Of course you'd want to see the person — or country — you lend money to observe certain conditions to ensure that they are able to pay back the money you lent them. Recall the condition I mentioned earlier — money safely lent. If the IMF simply lent money without imposing conditions on their debtors, they wouldn't be a safe institution to be lending $1bn to either, won't they? And that is why all this is called a financial system. It is a system of elements that offer safety assurances to one another among other measures to ensure its internal integrity. It doesn't always work in practice but that is the aspiration.
Back to the original point, people should be careful about making a big stink about something they hardly understand. I don't pretend to understand it either. But I apply some really simple stock principles I learned as a 12-year-old making a fifty-peso deposit when I opened my very first bank account.
benign0 is the Webmaster of GetRealPhilippines.com.