The following was snapped by a peeved constituent including as a caption "i'm at a loss for words.. let's go, anti-epal bill!!!". The billboard is a greeting to Quezon City Mayor Herbert Bautista on the occasion of his birthday.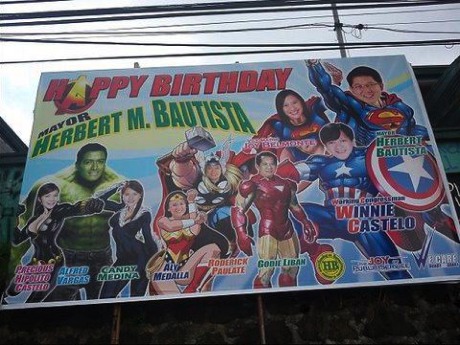 Senator Miriam Santiago is sponsoring a bill dubbed the "Anti-Epal Bill" that aims to penalise politicians who use public funds to exhibit their names and likenesses in public areas. For more information on the Anti-Epal Bill, refer to this Blogwatch.tv article.
SUPPORT INDEPENDENT SOCIAL COMMENTARY!
Subscribe to our Substack community GRP Insider to receive by email our in-depth free weekly newsletter. Opt into a paid subscription and you'll get premium insider briefs and insights from us daily.
Subscribe to our Substack newsletter, GRP Insider!
Learn more
The following names are on the billboard
Herbert Bautista
Precious Hipolito Castillo
Alfred Vargas
Candy Medina
Aly Medalla
Roderick Paulate
Godie Liban
Winnie Castelo
Joy Belmonte
[Photo courtesy Berenice Myvanwy, with thanks to Showbiz Government for sharing.]
benign0 is the Webmaster of GetRealPhilippines.com.