They say it is easy to judge a person's character by the way he treats animals, kids, the elderly and the sick. It's not hard to agree with that statement since animals, kids, the elderly and sick people are the more vulnerable and weaker among us. In the same manner, it is easy to judge Philippine President Benigno Simeon "BS" Aquino by the way he treats his political enemies particularly former President and Pampanga Congresswoman, Gloria Macapagal Arroyo (GMA).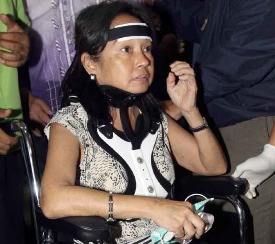 Not only is GMA at a fragile age, she is not in the best of health — which means she is in a very delicate and vulnerable condition at the moment. A close friend of the former President claims that she is in deep pain and cannot eat properly. A report published in May states the following:
Also on Friday, Occidental Mindoro Rep. Ma. Amelita Villarosa, a political ally and close friend of Arroyo, confirmed the Inquirer report, saying the former President and now Pampanga Representative was facing a "life and death" situation.

Villarosa, who visited Arroyo at Makati Medical Center on Thursday, said she saw how Arroyo was in "deep pain."

"She needs medical treatment. She cannot eat because there is a metal blocking her food. She can speak but with great difficulty," she said.

"It's a matter of life and death. When any part of your body is feeling pain, your heart will be under heavy pressure," she said. .
And
A source close to Arroyo told the Inquirer the other day that the results of the examination showed that the choking sensations she had been experiencing was caused by the titanium implant""which had been placed in her body during surgery for a cervical spine ailment in 2011""protruding into her esophagus.
It is interesting to note that the doctors at the Veterans Memorial Medical Center (VMMC) where she has been detained since December 2011 pending her trial for the non-bailable charge of electoral sabotage refused to issue a statement about her condition. It seems, they are being careful about confirming or denying the gravity of GMA's condition. It's as if they are under strict orders from Malacañang not to say anything that would result in her gaining public sympathy. But the fact that the doctors at VMMC cannot outrightly deny the claim that she cannot eat and is only on a liquid diet due to her condition possibly proves that it could be true.
Alarmingly, even in the absence of statements by medical experts, PNoy is adamant that GMA's condition is nothing to worry about. He even thinks that GMA is just pretending to be sick. Referring to her illness, this is what he had to say:
"Now, they are again saying the same. What's the difference between their claims before and their claims now?" Mr. Aquino said in an interview after addressing rural development stakeholders in Mindanao.
It is not an exaggeration therefore when people say that PNoy does not have compassion. Judging by the way he has been treating GMA for the last several months while she is ill, one can be forgiven for thinking that PNoy's set of values does not include showing kindness or benevolence even to a fellow human being — something that an openly religious person like him should be doing. Maybe he was absent when his Catholic school taught the lesson on empathy. It seems PNoy is suffering from tunnel vision and can only focus on pursuing his vendetta for the Supreme Court's decision to distribute his family's Hacienda Luisita, a move that was set in motion by GMA during her term.
You would think that since PNoy's own mother, former President Cory Aquino suffered a terminal illness, he would exercise more compassion, but no. He appears to be more vindictive towards sick people now. Perhaps it could be because his mother passed away still reeling from anger towards GMA. It was said that it was Cory's wishes not to have a state funeral just to spite GMA.
Reading about what GMA is going through brings to mind my own mother. A few weeks ago, she was hospitalized when she suffered a condition called Achalasia. It is a disorder of the esophagus – the tube that carries food from the mouth to the stomach. The tightened muscle in her esophagus affected its ability to move food toward her stomach. She too could not eat because of the gagging feeling she gets when she attempts to put food in her mouth. And because she could not eat, her overall health and wellbeing was getting worse by the day.
Because of her frail condition, everyone in the family agreed that only the best doctors should treat her. Her specialist doctor had to conduct a procedure called dilation that expanded the tightened muscle in her esophagus so she could swallow without vomiting. The doctors spoke of the risk of it collapsing but thank goodness it all went well. My mother's ordeal only lasted a few weeks. But I can just imagine her condition would have gotten worse had we delayed the procedure similar to how long GMA has been suffering. It would have been torture. But perhaps torturing GMA is what PNoy really has in mind.
Surprisingly, quite a number of the Senators who convicted GMA ally, former Supreme Court Chief Justice Renato Corona, are calling on PNoy to show compassion. Senators Jinggoy Estrada, Pia Cayetano, Vicente Sotto III, Gregorio Honasan, Aquilino "Koko" Pimentel III and Francis "Chiz" Escudero echoed the sentiments of Senate President Juan Ponce Enrile:
Senate President Juan Ponce Enrile on Thursday warned the Aquino government against mistreating former President Gloria Macapagal-Arroyo, noting that she has not yet been convicted in the electoral sabotage case filed against her.

"No matter how bad they think about her, she is presumed innocent until she is really convicted," Enrile said in an interview with dwIZ radio.

Placing Arroyo in the company of common criminals would not sit well with the international community, considering that she is a former president, he said.

"What if she dies in jail? How would it look like to the rest of the world when you put a former president in jail together with (common criminals)?" he said
Enrile also reminded everyone that even former President Marcos allowed PNoy's father to seek medical treatment abroad saying "the martyred opposition leader Benigno Aquino Jr., the father of President Aquino, had been allowed to seek medical treatment abroad despite being convicted by a military court during the Marcos regime."
Indeed, mistreating a former head of state would not look good to the rest of the world. PNoy should learn a thing or two from people in sophisticated societies about how to handle compassion. Even former Libyan intelligence officer, Abdel Baset al-Megrahi who was responsible for the death of 270 innocent people was released by Scotland in 2009. He was convicted for his role in blowing up Pan Am Flight 103 on Dec. 21, 1988, over Lockerbie, Scotland but was released in 2009 "on compassionate grounds to let him return home to die after he was diagnosed with terminal cancer." His release caused uproar from some of the relatives of his victims but the Scottish Justice Secretary said that he decided to release the convicted terrorist because his Scottish values dictated to show mercy even though al-Megrahi had not shown compassion to his victims.
If a convicted criminal can be given leniency, what more GMA who hasn't been convicted and whose case is considered by many to be too weak to prosper in a rational court considering the charges of electoral sabotage are based on Norrie Unas's hearsay testimony. Unas also happens to be directly involved in the Maguindanao massacre in which 59 people were murdered. As such he wants to turn state witness by testifying against Arroyo.
The case against GMA might even end up being dismissed in a way similar to how Ombudsman Conchita Carpio-Morales dismissed the bribery charge against GMA during the 2004 Presidential Elections for insufficiency of evidence. Now it can be said that that the bribery allegations against GMA in 2004 are not true.
Yes, you can definitely judge a person by the way he treats animals, kids, the elderly and the sick. Frankly, some people even treat their animals better than the way PNoy treats former President GMA.
In life, things are not always what they seem.