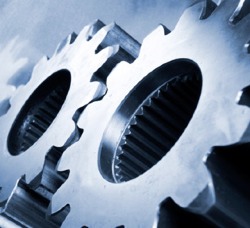 Get Real Post blogger Ilda wrote an article about manufacturing as a potential economic driver for the Philippines. And as it turns out, economists tuned in to the Philippine economy has the same thing in mind.
Filipino chipmakers must graduate to assembling iPads while churning out Oscar-winning animation to generate more jobs and sustain economic growth, according to experts gathered at the 45th Annual Meeting of the Asian Development Bank Board of Governors.

(Source: Link)
It seems that experts see the necessity for our country to start investing on a specific business field; namely, manufacturing. For a while now, the Philippines' internal economy is noticeably dependent on business process outsourcing (BPO) for income. Jeffrey Sachs, director at Columbia University's Earth Institute, suggests that we "diversify" our economy:
"I'm sure for a country with the size and diversity of the Philippines, the need is for a diversified economy. It will not be services or manufacturing. It's gonna have to be services and manufacturing, no question," the economics professor said.
ADB country director for the Philippines, Neeraj Jain supports Sachs in his suggestion. He goes on to point out some interesting solutions if we are to prepare our economy to the manufacturing industry.
"How to increase that value-added? Look at products with value added. Producing iPad 3 in the Philippines, producing cameras, producing printers," Jain said.

To do this, the Philippines must unclog bottlenecks, such as an underdeveloped infrastructure.
Furthermore, Socioeconomic Planning Secretary Cayetano Paderanga tackled the issue of these "clogged bottlenecks."
"We need to integrate the whole market to be able to bring down the cost of production. We need to work on the governance issues and we hope all the efforts that the President is doing will have an impact so that the cost of doing business will come down," he said.
In the course of the talk, experts explained that now is the perfect time for the Philippines to take advantage of the shortcomings in the neighborhood countries, like China and Thailand.
Experts said the Philippines should seize opportunities arising from global developments, such as higher labor costs in China and supply shortages in Thailand.

"As China's wages rise, which is happening now, I think it would be possible and easier a little bit to compete with China, to take some of the jobs, help with the unemployment situation in the Philippines," Sachs said.

In Thailand, a tight labor market is driving away investors, Jain said.
Then again, if we are to pull this off successfully, this brings us back to what actually holds us back as an economy; we must identify the so-called "clogged bottlenecks" that hamper this country's economic growth. What are these clogged bottlenecks, anyway?
Of course one of them has already been mentioned in the article; poor infrastructure. The lack of suitable and usable buildings for business purposes has always been a growing concern for the Philippine economy. This time, according to Business Monitor International, the Philippines has sworn to spend more in infrastructure development.
BMI View: The pledge by the Philippine government to boost infrastructure spending in 2012 and improve monetary conditions suggests that a recovery in construction activity is on the cards. As a result, we are revising up our forecasts for the Philippine construction sector, with real growth expected to reach 6.5% in 2012 (from 5.7%). Beyond 2012, we believe that construction activity in the Philippines could improve further, with real growth for the sector forecast to average 7.5% per annum between 2013 and 2016.

(Source: Link)
Are we covered now? Who knows; but earlier reports state that despite the flashy figures and promises, the Philippines lags behind in terms of infrastructure development.
With scores of 3.4 in quality of overall infrastructure, 3.1 in quality of roads, and 3.4 in the quality of electric supply, the Philippines performed better than Vietnam. However it lagged behind the other South East Asian countries in these areas.

The country was the worst performer in the categories quality of railroad infrastructure (1.7), quality of port infrastructure (3.0), and quality of air transport infrastructure (3.6). It also lagged behind most countries in terms of available airline seats, fixed telephone lines, and mobile telephone subscription.

(Source: Link)
Still, we have but to wait for results about this new strategy of the government. Then again, the problems do not end with just infrastructure.
There are other important examples that deserve everyone's attention, as far as economic growth is concerned. Let me cite a few major ones.
1. Ease of Business
Manufacturing is not just the government's job; in fact it is hardly the government's job. You'll need a market force that is up to the job; that's what infrastructure development is for. The government has to fine-tune the business environment in such a way that it is conducive to unhampered economic growth. An important factor to be fine-tuned is ease of business; just how easy is it to start a business in the Philippines? This is important if we plan to be globally competitive in manufacturing; our business policies should be smooth enough to encourage budding entrepreneurs, which can invest, support and stabilize the manufacturing industry Philippines is conceiving. So, yeah; just how easy is it?
Unfortunately, the Philippines is not doing that well in this category. Doing Business 2012 reported that the Philippines went down by two in the global rankings; from 134th, Philippines sunk to 136th.
As to the specific factors related to ease of business, Philippines' ranks went down in almost every category except electricity (up by 3 ranks), trading across borders (up by 3 ranks) and enforcing contracts (up by 2 ranks). Philippines received the worst blow at getting credit and taxation, going down by ten and nine, respectively.
Moreover, according to the report, the average number of days in starting a business in the Philippines is 35. This is dismal compared to several neighboring Asian countries:
1. Singapore: 3 days
2. Hong Kong: 3 days
3. Malaysia: 6 days
4. South Korea: 7 days
5. Japan: 23 days
6. Thailand: 29 days
This is attributed to the exhausting procedures imposed by the Philippine government in starting a business. The report cited fifteen major steps, which can be read here, together with other relevant figures.
Perhaps the government can pay attention to this clog; in reality, it is pretty difficult for our budding businessmen to start a business to begin with. Perhaps the government can consider revising their policies, amalgamating concerned government entities whenever possible (to minimize fares and maximize energy for businessmen), or abolishing dysfunctional and nonperforming institutions altogether. If it is really the business of the government to establish a business-friendly environment, the registration process itself should be business-friendly too. If you really want people to help, it is only rational that you make it easy for them to help.
2. Openness to Foreign Business/Investment
The government is obliged to think ahead. Providing a sturdy foundation for the Philippine manufacturing industry is not the only important thing; it is equally important to sustain it in the long run. It is advisable to enrich it with investments to pump up the engines and work efficiently. A future concern, however, is the manufacturing industry's cooling down should its growth is not sufficiently met by incoming investments and the quantity of businesses that constitute it, or if the said industry overheats as it fails to meet national and global demand. This is a possibility if the quantity of potential investors and businessmen is lessened by constitutional restrictions. Therefore, it might be a good idea for the government to gauge just how receptive our economy is not just from local investment, but foreign as well.
Unfortunately, things seem gloomy in the case of the Philippines' openness. According to the 2012 Index of Economic Freedom:
The trade weighted average tariff rate is 4.8 percent, and layers of non-tariff barriers further inhibit more dynamic gains in trade. Despite a strong desire to attract longer-term foreign investment, systemic inefficiency exacerbated by heavy bureaucracy discourages dynamic growth in investment. The financial sector, which is gradually modernizing, remains relatively stable and sound.

(Source: Link)
We can more or less breathe a sigh of relief in the financial sector, but our insulated market can be a serious problem for the sustainability of our manufacturing industry.
Maybe, the government should start considering the relaxation of the constitutional restrictions on foreign investment alongside the growth of our new industry. It is advisable that we grant ourselves access to every help we can get. A manufacturing industry is a promising investing site in the global economy; it would be nice if we get hold of every potential investment, while securing more of those to ensure that our industry does not run out of fuel.
The government can do this gradually to minimize shocks in the internal economy; what's important is that we make sure that our manufacturing industry stays alive for the longest time possible.
3. Taxation
Another important factor to consider is if businesses in the Philippines won't get too choked up on taxes. The government should make sure that tax rates are set in such a way that the government can still perform efficiently while businesses are not crippled by them at the same time. This is crucial since high tax rates impede growth, since people end up with less money to utilize, hampering economic activity. At the same time, government becomes bigger with unreasonably high tax revenues, making it more vulnerable to red tape and corruption, which in turn can harm business confidence.
So how is the Philippines faring in terms of taxation?
The top income tax rate is 32 percent, and the top corporate tax rate is 30 percent. Other taxes include a value-added tax (VAT) and an environmental tax, with the overall tax burden amounting to 12.8 percent of total domestic income. Government spending is equivalent to 18.5 percent of GDP. The deficit has been over 3 percent of GDP, and public debt has hovered at around 45 percent of total domestic output.

The Philippines is so-so in terms of taxation, and it can do much, much better, as long as economic prosperity is its priority.
The government can consider slimming down by combining separate agencies to weed out nonperforming institutions. That way, less tax revenue is needed, which means lower tax rates. The government should also pay more attention to proper and precise auditing and practicing sound fiscal policies to maximize government efficiency with minimal taxes.
(You can check out other freedom indicators at Heritage.org to get a vivid picture of what our economy looks like in global trade.)
Actually, manufacturing industry or no, the government bears the responsibility to see these factors through to ensure better Filipino lives. Then again, clogs that pose an obstacle to our dream industry are not confined in pure economics alone. It most certainly has also something to do… with us.
4. The Filipino Culture
Yes, it may be possible that the previous three "clogged bottlenecks" can be unclogged; but what about the most persistent clog of all; our culture? Perhaps this is the most challenging obstacle to unlocking our economy's full potential; our economic structure by itself may be ready, but are we as a society ready for a globally competitive, large-scale manufacturing industry?
Are our workers, who are often out at the streets demanding substantial wage hikes without considering its negative economic effects, ready for economic diversification? Are our workers, many of which are indoctrinated by antiquated ideologies, ready to compete internationally?
Furthermore, are we, a highly consumptive society, really ready to take on the role of major manufacturers? Are we ready to balance our impulses to buy and our responsibility to supply?
Perhaps this is something we Filipinos should really think about. Are we, as a society, ready for something big like this?
A decisive moment has surfaced for our country; economists see the potential in us. They are urging us to unleash our potential as an economic powerhouse, and we do have that potential. The question, and an important question at that, is this; are we up to the challenge?