And so the flames of gossip are alight once more. People got to see for themselves the laughable incident at Ninoy Aquino International Airport (NAIA) involving Ramon Tulfo, Raymart Santiago and Claudine Barretto; what seemed a perfect storm of bad moods and sheer coincidence took place, and we Filipinos once again stood witness to the fact that even celebrity figures with white skin like Claudine Barretto (together with her husband, apparently) are capable of such brutish violence. Philippine society once again got a glimpse past through the prim and respected images projected by our showbiz personnel using the ho-hum local media, and into their morally defunct attitudes. Once again, we got to see just how social screw-ups are not limited to ordinary Filipinos, but to celebrity figures as well.
Speaking of social screw-ups not limited to your average Juan, the same principles applies to machismo and muscle-flexing, whatever you may call it. There is this prevailing instinct among many Filipino men to show just how manly they are by, let's see, drinking alcohol… and making children… and oh, how could we forget trash-talking and inciting fistfights and similar stuff?
Of course we're familiar with the notion "suntukan na lang, ano?" (How about a fistfight?) whenever two men are in a serious argument (usually under the effects of alcohol, or absence of rational thinking). And recent events offered irrefutable proof that even famous faces on television are no exceptions from this way of thinking.
Recently, the three brothers of Ramon Tulfo, Raffy, Erwin and Ben, expressed their utter contempt for the couple whom their brother had a fight with at the airport using their own program at TV5 (a Philippine media channel), T3: Kapatid Sagot Kita!. Having watched the video, it isn't hard to see how hurt their familial ego was, and how they are so eager to flex their muscles to show who's boss. In fact, this seems less of an attempt to console their brother, and more of a vanity project to show the Filipinos just how macho they are.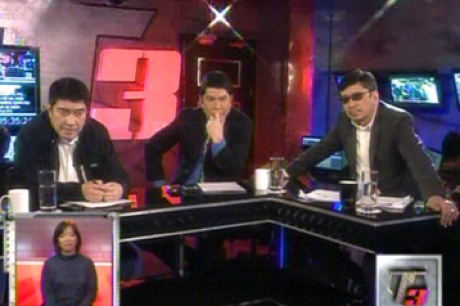 Oh yes, never mind irresponsible journalism; that you use your own program, something that can be watched by Filipino citizens (including children), to show how bloodthirsty you really are, to publicly declare your strength, that you can beat some guy to a pulp. Such trifles seriously cannot get in the way of these alpha-males and their display of mindless bravado, right?
YouTube users posted a video of these three bozos, but got deleted afterwards. If you want to watch the clip, try this Facebook link, courtesy of Facebook group, Petron Blaze Boosters.
Translation (apologies for any inaccuracies):
Ben: Uh dude, This thing… I've already started it, but you haven't faced it for us. And it's easy to talk and our tongues might slip. But in the name of fairness, right, because some people might think that we're using the program T3, because a Tulfo is involved here, we don't want to interview a fellow Tulfo, to a Tulfo about a Tulfo issue. So eh, the name, the word that I should use is—propriety, and at the same time, the ethics we will use that we won't interview although we feel bad about the ones involved—listen to what I have to say—READ MY LIPS. It's not yet done.
Raffy: The only thing I can say is this: um, Raymart, I've said this a while ago, uh, Raymart, Barretto… I said this on the radio a while ago, Balitang Tapat, you're lucky because you have many lackeys, and my brother is alone. Nevertheless, I'm very proud of my brother, some of you got hit. If only my brother is there, doing a one-on-one match with you, your *ss would be on your mouth right now. He'll break your bones, because my brother—everyone knows this—he's a martial arts expert, aikido. You were just lucky because there were many of you. If only one-on-one… I hope we won't meet at a mall, you pray for it you son of a b*tch, that we won't meet at a mall—pray for it, light a candle from now; don't let our paths cross. You b*tch.
Erwin: I can also say one thing about, uh, Raymart Santiago and Claudine Barretto—you know, you just chanced to meet my brother alone. Maybe if we were just together in the plane yesterday… he was just ahead—he came from Davao—my brother just got there first… that will not happen, my friend. There are only two outcomes; either I am being interviewed in jail, or I'm being interviewed right here. But this is my message for you, Mr. Santiago and Ms. Barretto… you two are big, fat liars. You can ask anyone at the airport—people are laughing there—because my brother didn't strike first. Especially to Claudine—Tulfos are not known to hit women. Even if Raffy scolds him, he still doesn't get mad at a woman and just avoids her even when she's wrong. You're utterly full of lies, and you, Mr. Raymart Santiago, you were angsty only because you ganged on our brother. Why, it would be good if we had a four-on-eight; we can hold our ground if there are four of us versus the eight of you—no problem. Raffy said it right; we see each other at the airport. Just pray for it—I advise you, and your wife—don't get out of the country for a while, because if we meet at NAIA Terminal 1, Terminal 2, Terminal 3, you'll get what's coming for you—I don't care—even your wife will get what's coming for her. Just pray that our paths won't cross.
Ben: Well for me, I'll only do one thing; Raymart, listen to what I have to say for you; I clash against criminals, murderers—you're a good person, but if you want a closed warehouse, with ambulances lying in wait outside—last man standing, we'll lock ourselves in—let's see what you got. Keep this in mind.
Erwin: We're not yet done, Raymart, it's not yet done… not yet done. Just wait for it—just wait for the lightning revenge of the Tulfos. Later, someone is available for interview live— (video ends)
It's indeed a serious business if a family member is hurt. However, the Tulfo brothers must recognize their responsibilities; you are journalists, speaking on television, trash-talking about beating someone's wife and fistfighting in a closed warehouse. Is this the kind of attitude we want to impart to our viewers? Eh, so much for journalistic ethics, Ben. Yup, that's Filipino machismo for you. Suntukan na lang, ano?