Bad breeding is at the heart of most issues that plague Philippine society and its culture of dysfunction. It is endemic at the macro level and ingrained at the micro levels — at the very threads that are woven into the very fabric of the national soul. This is evident in the manner with which manifestations of bad breeding amongst Filipinos transcends class, profession, and age. Certainly media personalities Raymart Santiago, Claudine Barretto, and Ramon Tulfo were not above succumbing to the condition.
Ramon Tulfo is an aging populist crusader known best for his slogan "Isumbong mo kay Tulfo" ("tell Tulfo what's bugging you") and a television show he hosts that sports the phrase as its title. He is also a columnist for the Inquirer.net. Raymart Santiago and Claudine Barretto are a husband-and-wife celebrity couple who were at their prime in the mid- to late-1990s.
Considering all involved parties' respective affiliations to various media conglomerates, the stories in "news" reports may vary depending on corporate bias. But the gist can be summarised in a few bullet points:
(1) Claudine and Raymart are at arrival area of the Ninoy Aquino International Airport (NAIA) Terminal 3 just off a flight from Boracay while Tulfo had also reportedly arrived in a flight from Davao. All parties were patrons of Cebu Pacific Air.
(2) Tulfo spots Claudine loudly verbally abusing ground personnel over "mishandled" baggage.
(3) Tulfo starts recording a video snapping photos of the spectacle with his mobile phone.
(4) Raymart gets mad and attempts to take the phone from Tulfo.
(5) Fists start flying.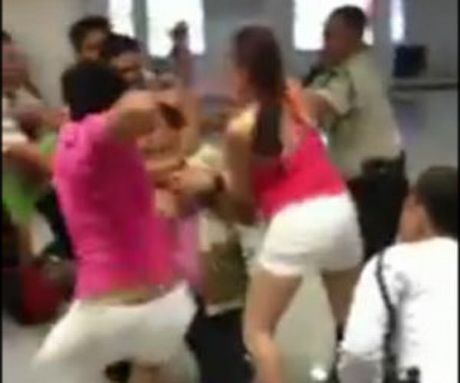 Interestingly, Cebu Pacific seems to be a common denominator underlying bad and tasteless behaviour in da Pinas. Perhaps it has something to do with a really simple formula: Cheapskates flying Cebu Pacific + mediocre service + crappy airport = bad attitudes and hot tempers on landing. It seems, conditions are always quite in alignment for this sort of thing to happen in a land of oppressively hot and humid weather inhabited by tribes of self-important people. Of course, what makes this particular incident excellent media fodder is its illustrious cast of characters: has-been artista couple brawling with an aging populist crusader.
Considering the plight of former A-List celebrities struggling to remain relevant in today's far more fast-paced media landscape of reality show products and viral stars, one can argue that Claudine and Raymart are victims too – they were caught flatfooted on video flying on a budget and then complaining about bad service.
Sayaw Pinoy, sayaw.
Speaking of which, isn't Cebu Pacific famous for dancing flight attendants?
There you go.
Abangan ang susunod na kabanata. Until then, isumbong niyo kay Tulfo.
benign0 is the Webmaster of GetRealPhilippines.com.