The challenge of "moving on" needs to be substantiated. I keep hearing that challenge in the context of the recently-concluded trial and conviction of Philippine Supreme Court Chief Justice Renato Corona. That circus took up no less than six months of the already meagre attention span of Philippine society and, as most circuses do, it had the effect of enclosing the national consciousness into a square even tinier than the already small square that defines the national "debate".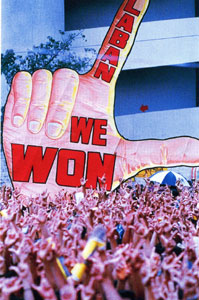 As I pointed out in my previous article, a strong and extensive tradition of political circuses — whether their outcomes involved the fall of men and women of stature, or the perceived liberation of men and women of ordinary stature from some perceived bogeyman — have exhibited hardly any evidence of any effect on the fortunes of Filipinos both at a micro level (pagpag is likely to remain a key feature of Filipino cuisine 12 or even 36 months from now) or at a macro level (the Philippines will likely still be but a mere footnote in East Asian politics and economics 12 or even 36 months from now).
The hard question therefore remains:
Move on to what exactly?
To answer that question with mere platitudes will simply make us no better than the politicians who manufacture said platitudes. "Unite in our fight" is one such platitude. What exactly does such a call mean? We can't find meaning in a phrase that simply begs more questions — Unite around what exactly? Fight for what exactly? Is there even a "fight" to begin with? If so, are people actually "fighting" in the real sense?
Back in the old days, fights were won or lost on the battlefield. Ground was taken. Blood was spilt. The spirits of the beaten were ruthlessly crushed by the winners. Flags were raised on top of the losers' fathers' and sons' corpses. New orders were established. There were clear victors who effected a complete and absolute implementation of their way of life upon the people they had subdued and re-wrote history according to how they see it had "actually" transpired.
In short there is no "let's all get along" after a big trophy head is served on a platter, and certainly there is no waffling around the notion of "moving on" when a battle is finished. America and Australia were built upon the ruins of native American and Aboriginal "nations" respectively. Modern Europe and Arabia are the results of a ruthless cultural cleansing that saw an almost complete eradication of old pagan and animist traditions by Christian and Islamic armies. Southeast Asia is largely defined by borders and "national" identities that are legacies of imperial Euopean edict and trade treaties.
Indeed, conquest of a people does not end with military victory. For the victors, "moving on" almost always means an indefinite and focused occupation of the conquered lands to ensure the locals not only get it in their heads that they had been beaten but start sincerely believing in their hearts what their new masters tell them to believe. Japan is an example of such a successful occupation as it is now, post World War II, a nation that as a matter of policy finds shame in its otherwise proud tradition and talent for warfare.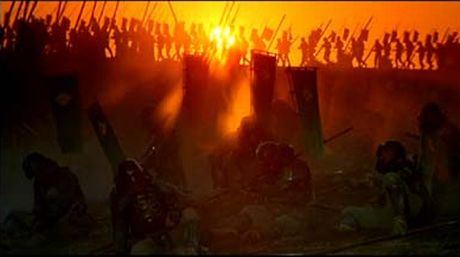 In the context of current events today in the Philippines, to move on in the real sense does not, of course, involve hacking one's neighbour to death with a machette just because they flew a different coloured flag during the now-concluded "battle". There is no "fight" here — not in the last half century as some political blocs would like to lead our emo sentiments to believe.
But for the victory of Malacañang to be complete, the new order — the New Society the government and its people envision — needs to be implemented with precise consistency. The conviction of the Chief Justice this week and the process with which this was executed had given us the following premises upon which the tools can be crafted to make good on this new order:
(1) Understating wealth held in both local and foreign currency on the hallowed pages of the Statement of Assets Liabilities and Net Worth (SALN) has been clarified beyond further debatability as an absolute violation of the law.
(2) The attempt made by the prosecution team to introduce information on Corona's dollar-denominated bank accounts as evidence in the trial and then to get the Senate impeachment court to go as far as to actually debate the possibility of bypassing Section 8 of Republic Act 6426 ("Foreign Currency Deposit Act of the Philippines") to allow the use of this information in the trial implies a clear legislative agenda over the next several years to repeal what are now evidently outdated bank secrecy laws in the Philippines.
(3) Information routinely gathered and tracked by the Anti Money Laundering Council of the Philippines (AMLC) can be employed by the Ombudsman to investigate government officials when banking activity and movement of funds that can be interpreted as suspicious are detected.
(4) Police action can be mounted and criminal charges filed on the basis of evidence gathered by investigations conducted by the newly-strengthened partnership of the Ombudsman and the AMLC.
The above four premises are nothing new. Indeed, the only hard and long journey required of us is to see the legislative agenda to reform the country's bank secrecy laws through — a big challenge indeed for a famously forgetful people whose ningas-cogon tradition routinely dooms them to chronic mediocrity and flaccidity of purpose.
But the tools we now have coming out of Corona's half-year trial gives us unprecedented clarity of what needs to be done next. It is also clear that bank secrecy reform (Point 2) is essential if we truly want to be serious about giving teeth to the imperatives described in Points 3 and 4. Indeed, it is quite the usual irony that Senator Miriam Santiago who voted to acquit Corona spelt out the simple and obvious call to action post-trial:
"God, please give me one more life so I can investigate all of them in Senate and Congress, including myself," Santiago said.
Seems like people's marching orders are now a lot clearer than they had ever been in recent memory: (a) there is now a clear legislative agenda to be expected of the 188 congressmen and 20 Senators who convicted Corona — reform of the Philippines' antiquated bank secrecy laws, and (b) there is now a clear mandate on Ombudsman Conchita Carpio-Morales and the AMLC to implement the New Order.
And that, Filipinos, is what "moving on" really means.
[Photo of 'Laban we won!' courtesty PCIJ.org.]
benign0 is the Webmaster of GetRealPhilippines.com.