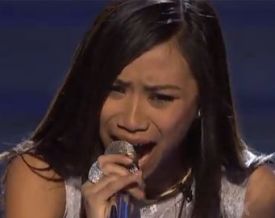 Indeed, American Idol Filipino-Mexican-American contestant Jessica Sanchez is a gifted singer. At just sixteen years old, she can belt out soulful with the power of a seasoned vocalist. Of course, she may never know what it is like to earn real stripes as an artist — the old-fashioned way — considering she has the backing of a big network that virtually guarantees her an express lane that bypasses the bumpy road taken by all the rest.
Ask AI judge Steven Tyler, and he'll tell you what the long road to the top is really like if you want to rock 'n roll, having slogged through the nightclub circuit as part of a yet unknown but edgy up and coming band in the 1970s — and then as the frontman of Aerosmith. Many artists work hard and tour hard before they get noticed (if at all) by record company executives. Even the Beatles were said to have racked up more than 10,000 live playing hours in Frankfurt and other European cities before they could become the seasoned performers that would go on to conquer the world. They played without the benefit of a corporate backer much less a guarantee that something would come out of their investment in time and emotion on their craft. They did it for the love of the craft — almost just for the sake of it.
While many struggling artists explore, experiment, risk, and invest in various styles and variations before they find their artistic sweet spot, indentured talent like Sanchez "benefits" from a team of coaches and managers who help point her in the "right" style and artistic direction. Is her performance inspired, or is it merely engineered? Perhaps it is perspired, but I doubt if true inspiration underlies an act that is molded by commercial enterprise.
The frenzy created by AI specially in the Philippines and within Filipino communities all over the world demonstrates the brilliance of Simon Cowell's franchise. Which came first, the frenzy or the hype? It doesn't even matter. The frenzy is the point by and of itself. Viewership drives ratings, which drive advertising dollars for News Corp, owner of the Idol franchise. Add the weekly dollars made for every SMS "vote" sent in by eager "supporters" of whoever AI talent, and one can't help behold the money machine.
Regardless of whoever wins the "contest", News Corp wins as it is likely that handsome entitlements are baked into whatever contracts AI talents will be signing after this season wraps up. But winning for Big Corporate is not enough. They have to win bigger in every instalment. Which means that the future of AI may be in question…
"American Idol" reportedly makes more than $7 million per 30 minutes, by far the most of any television show. That translates into roughly $730 million or so in annual advertising revenue. It's not a cheap program to put on. The judges and host Ryan Seacrest are probably making more than $10 million each. Seacrest's future at "American Idol" came into question after he recently signed a contract with Comcast's (CMCSA) NBC Universal that enables him to contribute to Super Bowl, Olympics and presidential election coverage.

In the coming months, [News Corp. COO Chase] Carey and his boss, Rupert Murdoch, are going to have to decide how much longer News Corp. can squeeze money out of "American Idol." The show is dragging down ratings of the entire network, which, season to date, has attracted an average viewership among people age 18 to age 49 of 3.24 million, down 13% from a year earlier. That is still the most among the broadcast networks, Media Post says.

"American Idol" will survive for now because it is the least painful option available to News Corp.
As usual, the enormous number of Filipinos who get suckered by the visual opium of television entertainment are being put to good use. Around the most recent product of this industry — Jessica Sanchez — they rally under the name of ethnic and national "solidarity" and in doing so, marshall an awesome force that will go on to SMS millions of dollars straight into Simon Cowell's fat pockets. Ironic, isn't it? Consider that the very idea of being a "nationalist" — a makabayan — had traditionally been one monopolised by the very elements in Filipino society most associated with anti-American sentiment.
And all the while I thought it was all about "talent".
[Photo of Jessica Sanchez courtesy Behind the Mic.]
benign0 is the Webmaster of GetRealPhilippines.com.