What did League of Filipino Students (LFS) "activists" hope to accomplish by burning the American flag and defacing the United States embassy facade today (the 16th April)? Did they actually think that they could send whatever noble "message" they imagine their quaint movement to possess to the powers-that-be of what is still the planet's mightiest nation by throwing paint all over the gates of one of their Third World outposts?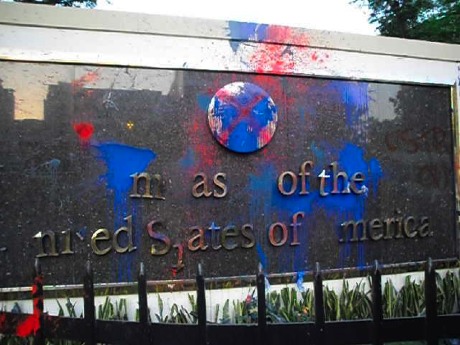 [Photo courtesy PinoyExchange.com.]
Consider how, back in 1991, no less than the Senate of the Philippines dealt what it thought was a mighty blow to the United States by booting them out of their vast military bases in Subic Bay and Clark Field among others. Undoubtedly, that act of Philippine Congress utterly dwarfs any sort of protest gesture that a riffraff student movement may make. One would think that big boot wielded by the Philippine Senate would really matter in the long run. And perhaps it did as the US lost a leasehold on infrastructure it had poured billions into developing for just a couple decades shy of a century. But the more important question is, did this act which the "activists" of the time pitched as a symbolic assertion of sovereignty and a so-called milestone in our aspirations for "true independence" live up to the nationalist rhetoric surrounding it?
Very doubtful, considering that the Philippines today remains the same sniveling panhandling excuse for a modern "state" that it had always been for the greater part of its "independence" from Uncle Sam.
In the context of that epic fail, LFS conscripts throwing paint on an embassy facade comes across as no more than a pathetic tantrum. Indeed, the Commie-infiltrated organisation Center for People Empowerment in Governance (CenPEG) routinely articulates "analyses" and "statements" that are consistently built upon a one-dimensional belief surrounding the nature of the Philippines' modern relationship with its former colonial master — that of exploiter and exploitee. More recently, in light of the current dynamics now shaping the region, the leftist rhetoric is built around three basic postulates:
(1) Philippines is being used as a "pawn" of an American plan of "containment and encirclement of China".
(2) US appetite for war is fuelled by America's armaments industry which is seen to be a significant source of employment in its depressed economy.
(3) Philippine government "ties" with America are "exclusivist", have a "superior-subordinate bondage" nature, and "deprive" Filipinos of a "sovereign right to self-determination".
As such, any move by any ruling administration in the Philippines to affirm ties with the United States will always be seen to be an affront to the commie "revolution". And as such, there will always be convenient excuses and occasions to throw paint bombs at American embassies and burn American flags.
But none of that noise addresses the fundamental issue of the Philippines' renowned heritage of smallness and its strong tradition of military ineptness — weaknesses in fundamentals that is at the root of its consistent low low standing in the global order. As such, what I wrote a while back still applies…
America's influence fills a vacuum that exists in the intellectual landscape of Philippine society much the same way as another legacy of American presence — the jeepney — fills a void in our country's mass transport capability.

We as a people lack a cohesive agenda and vision that is bigger than the petty politics that frames our politicians' posturings. Here then is what is real: Whether we like it or not, American influence gives us a place (pathetic as it may be) in global geopolitics. It is a choice between that and the laughable small-mindedness of Pinoy thinking that will determine and govern that place.

And even more realistically;

If America withdraws its influence on Philippine internal affairs, some other global power will simply step in to fill the void.

So tough luck. Unless we as a people grow a bigger collective brain, we will be subject to the bigger agendas of bigger global players.
We can readily observe how far more blatant offenses against Philippine sovereignty effected by the Chinese navy seems to conveniently escape the wrath of these commie activists. Perhaps it is because China, like the United States, is also a big global player that possibly employs its own band of local minions to effect its mega-agenda in the region. US-backed or Chinese-backed, they are all the same. And the Philippines, either way, will never be the "independent" nation it imagines itself to be.
benign0 is the Webmaster of GetRealPhilippines.com.