President Noynoy Aquino still has until 2016 before he steps down from his post. That seems like a really long time for him to remain in office and have photos of him taken while "working" bandied around as evidence of "achievement". It would seem even longer, like an eternity, to Filipinos who have lost their trust in his capacity to lead the nation. Whether or not his popularity ratings remain strong by the end of his term is not really important. When the result of a popularity or satisfaction survey is favorable to him, PNoy is more than happy to ride the wave of "support" from the public. But if the result is unfavorable to him however, PNoy just shrugs it off and ignores it — which is precisely why publishing these surveys and making a big deal out of them is essentially pointless.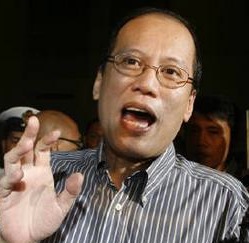 Considering that it is going to be a few more years before the next Presidential election, we need to ask ourselves: Are Filipinos doomed to a mediocre existence until then? The answer is: Only if they allow it to remain that way. But what can ordinary citizens do to uplift their conditions? The answer is: a lot more than they would normally imagine. In short, we need to be a bit more clever in the way we regard our future.
I guess one can say that those who do not trust PNoy or the government to do the right thing are lucky. They are lucky because they see beyond the story told to them by the Establishment. As a result, they are not only more critical of PNoy, they also actively participate in politics than those who trust him; they can take radical and concrete steps to do something to improve their own lives without waiting for the government to do it for them.
Just think about it. After each change of government or People Power revolution in the past, most Filipinos simply go back to their apathetic ways and let the newly installed government run the country without bothering to check if the right things are being done. It is like a cycle and this is part of the reason why public servants get away with not doing their jobs properly.
Most Filipinos become dissatisfied and act only after the term of the incumbent President is almost over – when they have had enough of the "corrupt" activities or when the lack of progress is undeniable. This is evident in how they would rather mount street revolutions to remove the incumbent President than guide him by being more vocal or involved in the crafting of government policies from the very beginning. In other words, prevention is better than the cure. And being more critical of whoever is the sitting President can prevent corruption and help progress along.
By putting pressure on the government to shape up, ordinary Filipinos will have a better chance of making their public servants work harder. The fact that Malacañang's communications team was compelled to show photos of the President supposedly working after activists branded him lazy is proof that criticism is an important input into a successful democracy.
A recent study also showed that being involved in politics can make people happy:
Democracy depends on the time, energy, and engagement of ordinary people. But it remains quite difficult to motivate average citizens even to vote, much less to engage in the more intensive forms of political activism needed to counteract powerful forces that work against rule by the people.

Statistical analyses showed that after controlling for demographic factors like age, race, political orientation, and education, study participants who scored higher in political activism also reported higher levels of personal well-being. Specifically, political activism scores were associated with feeling more pleasant emotions, reporting greater life satisfaction, and having more experiences of freedom, competence, and connection to others. Our application of past research on "psychological thriving" further showed that 28 percent of the politically active adults had reached this highest level of well-being, compared to 18 percent of the community sample.

Politicians and activists typically attempt to motivate ordinary citizens to participate in democracy on the basis of moral appeals or attempts to fix a problem. Our results suggest that it might also be worthwhile to highlight the internal rewards citizens can obtain from being politically engaged: A sense of satisfaction, the experience of pleasant emotions and of connection with others, and a feeling of aliveness.
While we are criticizing our government, we should also work on improving our own personal welfare. Since we know that we cannot rely on the government for handouts, we need to take stock of what we can do to make ourselves more financially stable. Working as an employee is fine as long as we take pride in what we do and do it well. After all, not everyone is born with an aptitude for entrepreneurship. Having a fixed income can mean that we can only dedicate a small percentage of our salary for partying or splurging on ourselves, which is probably why Filipinos need to think less about such indulgences. The idea of saving or foregoing instant gratification might be an alien concept to some Filipinos especially since we are known for our penchant for organizing fiestas. We should, instead, consider radically changing our outlook towards how we view partying. There is so much work to be done to reach our goal of becoming financially independent. We can learn new skills or increase our knowledge of the world and the environment. We must resist the temptation to engage in activities that give us only fleeting moments of happiness because it will only lead to regret and sadness in the long term.
If each of us worked harder at elevating our status and aim for no less than first-class, only then can the nation have a fair shot at taking its place among the first-class societies of the world sometime in the future. As the saying goes, "Quality is never an accident. It is always the result of high intention, sincere effort, intelligent direction, and skillful execution. It represents the wise choice of many alternatives".
It may take a while before PNoy steps down from his post but we can do a lot to make the most out of the long wait ahead. Asking him to step down is also one of them.
In life, things are not always what they seem.