It seems even the "experts" on women's issues got it wrong as far as what could've been the whole point of commemorating International Women's Day celebrated today, the 8th of March. Quite ironic that the most visible group that claims to be fighting for "women's issues" takes their name from Filipino folk hero Gabriela Silang, wife of the Ilocano insurgent leader, Diego Silang. Following Diego's assassination in 1763, she led the group for four months before she was captured and executed. Unfortunately modern-day "women's group" Gabriela like most other political entities in the Philippines now merely insults both the memory of their 18th Century namesake as well as the intelligence of Filipinos today with statements like "We will continue to criticize government policies that make the lives of Filipino women and their families poor."
And so in their latest "protest" action, this year against oil price hikes, an official statement issued by the radical group goes like this:
The women mainly forego their share of the food [so] that her husband and children could eat. This is why it is in the interest of the women to protest and fight against the increasing prices of oil and staple goods that has brought further burden to Filipino families.
Hokayyyy. So it is International Women's Day today and there happened to be a hike in the price of oil that coincided with it. And so some genius within the Gabriela politburo constructs a pseudo-logical link between the two situations and comes up with the above protest rationale.
Classy.
And creative too. By virtue of this laughable logical construct, Gabriela managed to turn oil price hikes into a woman's issue as well. Goes to show that these professional protest mavens are not above the same sort of marketing trickery that their capitalist arch-rivals have turned into a lucrative science.
The international passport to smoking pleasure
Those of us who are old enough to remember that moronic tagline in the bluish-themed ads of Peter Stuyvesant cigarettes that used to be a regular on the back cover of most editions of TIME Magazine in the 1970s will get what I mean.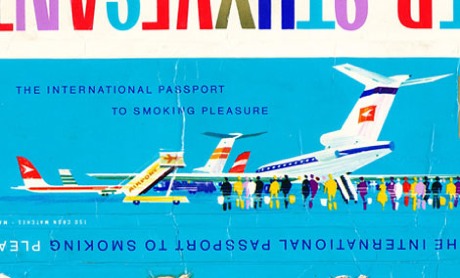 You just gotta give a bit of credit to the people who make a career out of engineering stupidity into cool.
But this is the 21st Century where the advent of "social media" technology is being touted as the big silver bullet that will supposedly kill Filipino mass ignorance as it sweeps the globe and fattens its "timelines" with our private artifacts. Yet here we continue to see self-styled "champions of the oppressed" like Gabriela continuing the tradition of the banal stupidity that Filipinos have come to be renowned for.
Fact is, there are lots of issues specific to the plight of women that Gabriela can back more robustly if it weren't too fixated on its commie agenda. Reproductive Health is one of them. It so happens that the biggest roadblock to the implementation of a scientifically-sound modern reproductive health program in the Philippines is a religious organisation ruled exclusively by men.
Gabriela got it wrong. Oil price hikes are a men's issue — because most jeepney drivers are men. And I'd call that a far more logical rationale for tsupers to rally than making protests against Big Oil the main commemorative event on International Women's Day.
benign0 is the Webmaster of GetRealPhilippines.com.