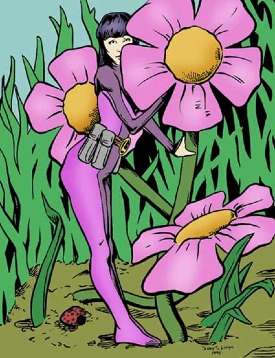 Word hit the streets the other night that renowned "investigative journalist" Raissa Robles could be the "small lady" referred to by Oriental Mindoro Rep. Rey Umali as the "anonymous source" of an envelope allegedly filled with bank documents. We'll get to that in a while. Do recall first how on the 7th of Feb the Senate court presiding over the impeachment trial of Chief Justice Renato Corona issued a summons to Philippine Savings Bank (PSBank) for it to present details of Corona's deposit accounts to the court. That summons was based on a request submitted by former lead prosecutor Niel Tupas Jr to which were attached those bank documents that Small Lady provided to Umali.
Even before that, "social news network" Rappler.com had already revealed to the public both the amount and account number of one of Corona's dollar deposits in PSBank…
The $[bleep] deposited in account number [bleep] is supposedly just one of 14 accounts that the Chief Justice and his wife Cristina individually and jointly own with daughter Carla Castillo and her husband Constantino III. Prosecution wants the branch manager of PSBank Katipunan branch to appear before the court and bring the bank documents on February 7, Tuesday.
So one can imagine the disappointment of the prosecution team when the smoking gun they thought they had found wasn't validated by PSBank president Pascual Garcia III who took the witness stand yesterday (the 8th February). Garcia instead, cited Section 8 of Republic Act 6426 which states that "no instance shall foreign currency deposits be examined, inquired or looked into by any person, government official, bureau or office whether judicial or administrative or legislative, or any other entity whether public or private".
Which leads us to the question I posed earlier: Could Umali, Tupas, 'small lady', and Rappler.com be all chargeable for serious violation of Philippine bank secrecy laws?
And which brings us back to "investigative journalist" Raissa Robles.
If we take the Blogwatch.tv article "Day 14 Highlights #CoronaTrial #CJontrial" as one of the more reliable repositories of these sketchy factoids surrounding Robles's alleged pivotal role in the spotlighting of the hapless PSBank, then the following text lifted by its author Wilfred Avila from the Web can be used as an arbitrary baseline from which we can attempt to draw some input from our readership…
Just in: Raissa Robles, Justice Carpio's girl friday, moonlighting as a journalist, is the short lady who handed the envelop to Cong. Umali. Isusubpoena na yan ng senado. It was Annabelle Tiongson, branch manager of PS Bank, who told Gigi Sawit, who in turn gave the documents to Raissa Robles. The public should know.

At ngayon, naguumpisa na ang bank run sa PS Bank. Marami pang kaso ang susunod laban sa banko at sa mga taong kasali sa gulong ito. [Last sentence translated: "And now, a bank run on PS Bank is starting. There are lots more cases that will follow against the bank and the people who are involved in this fiasco."]
True or false?
According to Robles herself, the above is all false noting the following exchange on her blog:
Darwin says:
February 8, 2012 at 7:12 pm
is it true you are the "small lady" who handed the Corona bank documents caught on cctv?

raissa says:
February 8, 2012 at 9:20 pm
Thank you for asking.

No.

But I will reply at length tomorrow.
Well, ok. Nagtatanong lang naman. But then, we are of course dealing with a person whose business it is ("investigative reporter", right?) not to take anyone's word at face value.
[NB: Robles also responds in full to these allegations here.]
Whoever Small Lady is, the more important question is: How many "small ladies" infest the Philippine banking system?
Senator Miriam Santiago offers some intriguing insight on the implications of what is most likely an obvious answer to the above question…
At a press conference away from the impeachment court, Santiago said that breaking the Bank Secrecy Law and exposing Corona's bank accounts in a public trial could spell trouble for the country's economy.

"The danger I see is that potential bank investors in the Philippines will withdraw their deposits and transfer them to Singapore, which is now beginning to be known as the Switzerland of Asia, because their security procedures are so airtight that there is almost absolute confidentiality about accounts," Santiago said.

She said the foreign currency law had an absolute prohibition against the disclosure of public records.

"And there is only one exception-that is, when there is consent by the depositor. And clearly there is no consent," she said.
In today's highly automated and highly securitised financial landscape, money has become a very abstract thing. It has long been disambiguated from the precious metals that once lent substance to its face value. Indeed, money is now more a function of trust than of a quantity of, say, gold ingots held in a bank vault. This means two things: (1) money can be moved a lot more easily from one place to another and from one country to another, and (2) money will fly from low-trust economies and alight in high-trust economies.
In spectacularly rapid succession in the Philippines, we are seeing the degeneration of the very core essence upon which the value of society rests — trust. We had the House of Representatives first violate that trust with its wholesale endorsement of a sloppily-written impeachment complaint against no less than the Chief Justice of the Supreme Court, and now we are seeing the Upper House do an encore in the way it finds itself lending full endorsement for a subpoena built upon unlawfully obtained "evidence".
Not only has the administration of President Benigno "Noynoy" Aquino III neglected the economic future of the nation, he is in the process of destroying it.
benign0 is the Webmaster of GetRealPhilippines.com.