As the circus that is the impeachment trial of Supreme Court Chief Justice Renato Corona drags on, there is much collateral damage being wrought upon the already fraying society of the Philippines. One is the spectre of a constitutional crisis now casting a pall over the nation's hallowed institutions. The other is the undermining of the already shaky collective trust that props up the fragile banking system of the country. The third one is long overdue: the shake up of the little girls' club that is Philippine "journalism".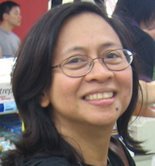 The most recent buzz going around is the word on the street that famed "investigative journalist" Raissa Robles is the "small lady" referred to by Oriental Mindoro Rep. Rey Umali as the "anonymous source" of an envelope allegedly filled with bank documents that he handed over to lead impeachment prosecutor Niel Tupas Jr. The documents were subsequently used as a key basis for a summons the Senate trial court issued requiring the Philippine Savings Bank (PSBank) and the Bank of the Philippine Islands (BPI) to reveal details of Corona's deposits with them. Robles has so far issued many denials that she is the enigmatic "small lady" that could be in serious violation of Philippine bank secrecy laws. Aside from her first statement on the matter on Twitter, she also issued similar denials last Friday on a comment and a post on her blog, then today (12th of Feb) on what is her second post on the issue where she details a phone interview she conducted with Tribune columnist Ninez Cacho-Olivares who also wrote about Robles's "small lady" links.
The thing that is the more remarkable thing to note is how this rather quaint episode highlighted how so many people actually wouldn't put it past Robles to actually be Umali's "small lady" — which explains the monumental effort Robles now takes to "clear" her hallowed name. Robles is known to have fielded many stories that seemingly sought to demonise Chief Justice Renato Corona, taking many approaches ranging from an attempt to discredit the notion of the Rule of Law (a notion which tended to work in favour of Corona's position), to dragging Corona's wife Ms Cristina Corona into the quagmire by digging up dirt about her that is largely irrelevant to the case.
Interestingly, beyond Robles's published denials that she is not "small lady", no other information that supports this denial can be found. Though many in Robles's community of commenters on her blog (who refer to the forum as "Our Plaza Miranda") have expressed their support and extended their "prayers" for her well-being there has been no further insight on Robles's side of the story from any third or disaffected party. Quite a poetic situation to be in for a person whose business it is to routinely not take people's word at face value. "Investigative journalist", right?
So in short, it is Robles's word against that of a Web-empowered public — a public whose once solid reliance on and beholdenness to mainstream Philippine "journalism" as a source of "reliable" information is fast being eroded in light of recent events. Indeed, that the Raissa Robles = Small Lady rumour spread to begin with and persisted stubbornly despite Robles's initial "clarifications" indicates the evidently diminished standing Philippine journalism now holds in Philippine society.
It will be a hard slog for apologists of the embattled clique of Filipino "journalists" that once made like they were "heroes" of some sort of "revolution". Within the span of less than a decade, Filipino "journalists" had figured in one astounding spectacle of irresponsibility after another, first openly supporting renegade soldiers in 2006, then fatally undermining efforts to negotiate a hostage situation that resulted in the deaths of eight foreign tourists in 2010.
And now, much to the consternation of the Philippine banking industry, a new breed of "online journalists" now make it a standard practice to publish unauthorised details of foreign currency bank accounts, as Magtanggol de la Cruz and Carmela Fonbuena of "social news network" site Rappler.com did when they published the balance and account number of one of Corona's foreign currency deposits with PSBank.
Collateral damage is a bitch, isn't it? History is pretty much the story of unintended consequences that were outcomes of ideas that seemed like a good thing at the time they were conceived.
benign0 is the Webmaster of GetRealPhilippines.com.