Southeast Asia's biggest budget airline is set to open its Philippine operations following the recent approval of its air operator certificate (AOC) by the Civil Aviation Authority of the Philippines (CAAP). AirAsia Philippines will be operating out of the Diosdado Macapagal International Airport in the former United States Air Force base in Clark Field, Angeles City in Pampanga and will serve a number of domestic and international routes…
AirAsia Philippines is also looking forward to fly in Palawan and Kalibo, Aklan from Clark.

AirAsia Philippines earlier secured 1,260 weekly seat entitlements for flights from Clark to Kuala Lumpur.

AirAsia's first Airbus A320 aircraft arrived in August last year at the Diosdado Macapagal International Airport for use in flights to Singapore, Macau and Hong Kong.
AirAsia was established in 1993 and began operations on 18 November 1996. It was originally founded by a government-owned conglomerate, DRB-Hicom. On 2 December 2001 the heavily-indebted airline was bought by former Time Warner executive Tony Fernandes's company Tune Air Sdn Bhd for the token sum of one ringgit (about USD 0.26 at the time) with USD 11 million (MYR 40 million) worth of debts. Fernandes turned the company around, producing a profit in 2002 and launching new routes from its hub in Kuala Lumpur, undercutting former monopoly operator Malaysia Airlines with promotional fares as low as MYR 1 (USD 0.27).
In 2003, AirAsia opened a second hub at Senai International Airport in Johor Bahru near Singapore and launched its first international flight to Bangkok. AirAsia has since started a Thai subsidiary, added Singapore itself to the destination list, and started flights to Indonesia. Flights to Macau began in June 2004, and flights to mainland China (Xiamen) and the Philippines (Manila) in April 2005. Flights to Vietnam and Cambodia followed later in 2005 and to Brunei and Myanmar in 2006, the latter by Thai AirAsia.
Notable in the way AirAsia does business is how it revived an old marketing tradition of the airline industry (long purged from the politically-correct societies of the West) in the way it makes liberal use of what has been described as "tawdry" and "sexist" images in its advertising.
…just look at the legroom. If that isn't misleading I don't know what is.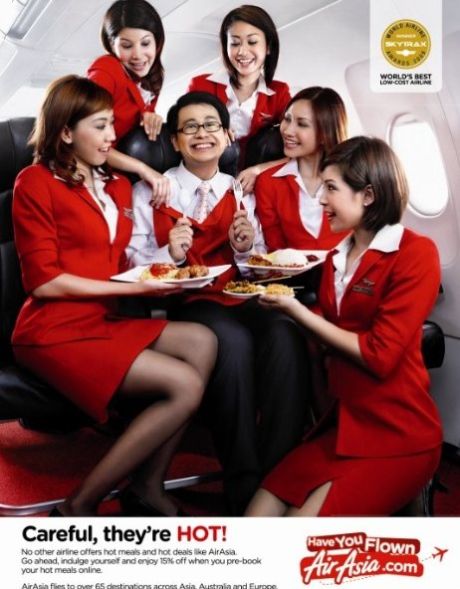 Many months earlier, Philippine domestic budget carrier Cebu Pacific Air itself made waves as videos taken by passengers of its "bouncy" flight attendants performing their aircraft safety demonstration while dancing to the tune of Lady Gaga's "Just Dance" went viral over the Net.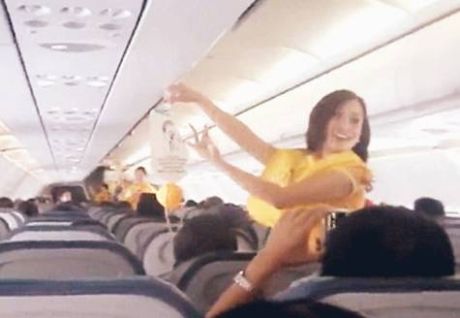 East Asia remains a lucrative but competitive market for a new breed of ultra-efficient low-cost air services even as weakening European and North American economies make their markets less attractive to these carriers. Earlier this month, AirAsia had announced a shut down of its "unprofitable" routes to Europe so that it may "focus resources" on the Australasian and Northeast Asian services.
[NB: Parts of this article were lifted from the Wikipedia.org article "AirAsia" in a manner compliant to the terms stipulated in the Creative Commons Attribution-ShareAlike 3.0 Unported License that governs usage of content made available in this site.]
benign0 is the Webmaster of GetRealPhilippines.com.