She is charismatic and animated. Perhaps she is the only child of the late national "hero" Benigno "Ninoy" Aquino Jr who actually took after him. Indeed, she not only stands out among her dowdy, dull, and uninspiring siblings, she outshines celebrities that are far more glamorous in her industry.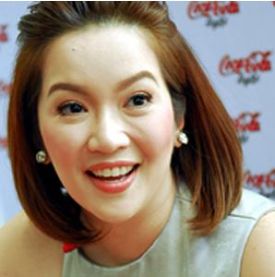 Kris Aquino was the face of the Aquino family in the rough-and-tumble "revolutionary" days of 1980's Philippine politics. Even then she'd be photographed and captured on video wearing her heart on her sleeve — crying openly when sad and laughing out loud when happy. She was a contrast to the reserved and snobbish demeanour of her brother and sisters — the result of the gated subdivision and private school breeding that one can expect to have been ingrained into the scions of the country's most powerful feudal clans.
Unlike her siblings, Kris chose the showbiz path. And she went into it full throttle — not like the way her other showbiz cousin, local equestrian champ Mikee Cojuangco went about it while trying to maintain her sosyal image in a sea of kajologan. Like Aussie Michelle Van Eimeren, Kris Aquino plunged into the world at the other side of the proverbial tracks and embraced the way of life over there without reservation.
In short Kris Aquino isn't conscious.
I use the word "conscious" in the context of the way Filipinos do things in a half-baked manner because they are conscious of being perceived to be too into something. This is a bizarre cornerstone of the world-renowned Filipino Condition that fatally hinders Filipinos from achieveing world-class excellence. By unconsciously being "conscious" while doing something that is "out there", Filipinos unconsciously protect themselves from the risk of mapahiya (being shamed for failure).
You can see this pa-conscious mannerism in, say, the way third-rate celebrities perform those dance numbers they are made to do by their managers on one or the other of those Filipino noontime variety shows that infest the airwaves. They look like they are going through all the motions, but their faces betray an I-don't-normally-do-this-sort-of-thing-so-cut-me-some-slack appeal to the viewer.
Conscious ba.
So, perhaps Kris may be bakya. But I see nowhere in her manner that shows that she acts she is so while trying to make people believe she really isn't so.
On the other hand, Kris's brother current Philippine President Benigno "Noynoy" Aquino III is doing such at a national scale. He is going about the motions of being President and doing presidential stuff, but really, we can all see that he really means to keep reminding us that "folks, I never really wanted to be President so give me a break…"
But Kris Aquino for President?
The thought does send a sharp chill up my private-school-straightened spine and offends my village-kid sensibilities. But after taking stock of the banal hypocrisy exhibited by priest-and-nun-educated Atenistas and Assumptionistas, perhaps re-evaluating what it means to be real could involve a lot more than engaging in an orgy of mutual high-fives amongst an inbred clique over a digital space accessed using electronic fashion accessories that each cost the entire annual budget for food of a small Sagada town.
While the notion that one person may be "better" than the other has always been a subjective call and the epicentre of endless debate (and the kernel of the dogma of vast religions), how real a person is (whether that person may be real good or real bad) seems to be a call we are able to make instinctively at a very primal level.
The nature of Kris's popularity it seems is fundamentally different from — and independent of — the engineered "popularity" that Noynoy Aquino surfed upon straight onto his comfy seat in Malacañang. What draws people to Kris Aquino is primal. What draws people to her brother Noynoy, on the other hand, is just plain stupidity.
benign0 is the Webmaster of GetRealPhilippines.com.