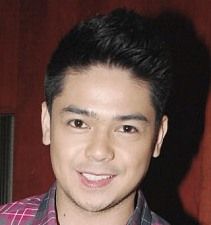 Rising Filipino actor Tyron Perez was reportedly found dead in a vehicle parked on a service road along the North Luzon Espressway in Valenzuela. Police are exploring the possibility of suicide as the cause of death…
Police said Perez died of a gunshot wound on the right side of his head from a caliber .22 firearm.

The gun was found beside the victim's body.
A later report indicated that Perez "had mentioned suicide shortly before Thursday night's incident".
Perez is one of the original products of the Philippines' GMA Network television talent competition StarStruck which debuted back in 2003. Included in his batch are starlets Katrina Halili and Cristine Reyes. The show discovers new celebrities in the country through a series of nationwide auditions. The Filipino public votes for the outcomes of the later stages through text voting and half of the results are from the judges (more popularly known as council). The judges give critiques of the contestants performances depending on the challenges that are being given to the contestants.
The popular Filipino gossip site Pep.ph published an article on Perez in mid 2009 that included an unconfirmed report that Perez sought work in the gambling enclave of Macau along with "a number of unemployed sexy actors" [translated from the report which was written in Tagalog].
Perez is the second StarStruck alumnus who died at a young age. In December 2008, another StarStruck "talent" Marky Cielo was reported to have "died in his sleep" in his bedroom. He was 20 years old.
There was speculation that Cielo's death was a sucide as well. The "Best Answer" in a Yahoo! Answers query three years ago as of this writing was an account of a "reliable source" that claimed that Cielo "didn't die a natural death" and that he had "[hanged] himself".
Reality talent searches are win-win propositions for big television networks. They offer an efficient way to refresh their talent pools with young blood — an exercise which they then regurgitate into a low-cost, low-risk, high return production.
[NB: Some parts of the above article were lifted from the Wikipedia.org article StarStruck (Philippine TV series) in a manner that complies with the Creative Commons Attribution-ShareAlike 3.0 Unported License which also governs use of Get Real Post content.]
benign0 is the Webmaster of GetRealPhilippines.com.