Indeed, as Inquirer.net columnist Randy David opined in his 19th November 2011 article, perhaps during her time, former President Gloria Macapagal-Arroyo "deftly manipulated the legal system" to suit her agenda. He was, of course, referring to the "midnight appointment" of key justices in the Philippines' Supreme Court who are supposedly loyal to her and, as David and other Aquinoists imply, now exercise this loyalty in the dispensation of their duties in the high court.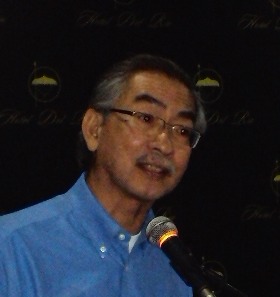 But see, deftly is the key word here. Arroyo did things deftly. Perhaps her agendas and her means were not as, shall we say, "ethical" as some crybabies would like things to be. But then what politician is truly ethical to begin with?
SUPPORT INDEPENDENT SOCIAL COMMENTARY!
Subscribe to our Substack community GRP Insider to receive by email our in-depth free weekly newsletter. Opt into a paid subscription and you'll get premium insider briefs and insights from us daily.
Subscribe to our Substack newsletter, GRP Insider!
Learn more
The alleged questionable loyalties of the Supreme Court justices forms the cornerstone of the argument of those who gnash their teeth and stomp their feet in indignation over the behaviour of the Supreme Court and justify the rightness of defying the orders it issues. While the alleged loyalties of SC justices are speculative at best, the gross irresponsibility that Justice Secretary Leila De Lima exhibited when she baldly defied a Supreme Court Order to suspend a travel ban on Arroyo who requested that she be allowed to seek medical treatment abroad is very real in comparison. Unfortunately for these crybabies, personal and individual loyalties lie beyond the reach of the Law and due processes designed to evaluate information surrounding the cases these are applied to. The dispensation of court orders in a manner consistent with the Law can only be debated within the legal framework.
Arroyo, perhaps because she is an eloquent statesman and a shrewd politician who happened to be at the right place at the right time most times, was deft in the way she worked within the legal framework. And even outside of it. In her ascent to power under the second "people power" "revolution" she secured the blessings not just of the millions of hollowheads who trooped into the streets of EDSA in 2001 to support the ouster of then President Joseph "Erap" Estrada, but also that of the country's top king-makers — the lieutenants of the country's Roman Catholic Church and the generals of the Armed Forces of the Philippines. Sweetest of all for her, she was sworn in by then Chief Justice of the Supreme Court Hilario Davide, Jr.
The eminent Randy David makes being deft sound like a bad thing. Filipinos who find themselves in the losing end of a circumstance have a word to describe people who put them there deftly: garapal (loosely translated: "without scruples"). And that, it seems, is the only crime Arroyo could be charged with — being garapal: in the way "she caused the humiliating arrest and detention of [Erap Estrada,] the duly-elected president she had just deposed" , in the way she allegedly "named the palace gardener and her personal manicurist to government boards just before she stepped down from office in mindless disregard of their qualifications", and lest we miss this one, the way she "insisted on exercising the prerogative to name the new chief justice of the Supreme Court in the last weeks of her presidency, when, out of civility or courtesy, she should have left this choice to her successor who had already been elected".
If no one had noticed yet, none of the three heinous "crimes" David lists above involves a violation of any law. They were all, perhaps, acts that involved spectacular displays of lack of civility and courtesy, and therefor that makes Arroyo, by definition, garapal.
So sue her for being garapal then honourable attorneys.
Apparently nabbing her for something that can be prosecuted in a court of law seems to be beyond the reach of the evidently limited intellect of the best legal minds employed by those who seek to crush her. Despite the viral spread of what is supposed to be a long list of crimes Arroyo can be charged for, the only case filed against her at the eleventh hour of an embarrassingly bungled scramble to keep her within the borders of this sad nation revolves around sketchy allegations of "electoral sabotage" made by model citizen former Maguindanao governor Andal S. Ampatuan, Sr that supposedly implicated Arroyo.
Escudero suddenly found a "renewed allegation of poll fraud" made by former Autonomous Region of Muslim Mindanao (ARMM) Gov. Zaldy Ampatuan and election officer Lintang Bedol who is also implicating Arroyo in the alleged electoral fraud in the 2007 election in Mindanao.
Perhaps the allegation of electoral fraud surrounding the higher profile "Hello Garci" scandal of 2004 may be a no-go-zone for Aquino's legal eagles considering that Aquino, at the time a young representative of Tarlac was one of the congressmen who voted against playing of the incriminating recordings from which the cheating scandal exploded…
On June 30, 2005, Tarlac Representative Noynoy Aquino was one of the congressmen who voted against playing the Hello Garci tapes in Congress. The day before, the Philippine Star reported that Aquino called Arroyo's televised apology (for calling an election official) a "good start" for her administration, and said Arroyo should be commended for admitting her mistake.

Soon after Congress voted on the Garci tapes, Anakpawis Representative Rafael Mariano described Aquino's vote as "political payback" to protect Arroyo, saying she was the "most powerful and influential patron" of the Cojuangco-Aquinos in the Hacienda Luisita dispute.
The noteworthy thing here is the astounding ineptitude exhibited by Malacañang officials in the lead up to this anti-climactic charge, with the highlight of that story being the profound damage to institutional governance sustained by the state and the spectre of constitutional crisis raised as a result of Justice Secretary De Lima's desperation to prevent Arroyo from leaving the country.
Arroyo may be guilty of being garapal. But then what politician isn't to begin with? Indeed, David's citing of Arroyo's illegal power grab in 2001 begs the question of Aquino's recent toying with the notion of "revolutionary government" to restore order in the Philippines in light of the constitutional crisis created by his own henchmen. To David's citing of Arroyo manicurists and gardeners being appointed to key positions in government, we can point out Noynoy's very own Kamaganak Inc and Kabarkada Inc who, if we recall, includes the infamous Department of Interior and Local Government Undersecretary Rico Puno who played a key role in the bungling of a hostage rescue operation that resulted in the deaths of nine Hong Kong tourists…
If the President really wanted to prove that he is a real man and a statesman, he needs to rid his team of his friend. Without secretaries that only serve to weigh down his administration, P-Noy can then concentrate on the business of improving living conditions in the Philippines and not on trivial matters. If he does this, the Filipino people's Kapalaran might even start to change for the better.

In Puno's defense, P-Noy stated that his friend's involvement in the illegal gambling game jueteng and his bungling of the Mendoza crisis are still under investigation. As quoted from the man himself: "So, we have a process. We should give the same process given to our enemies to our friends and allies too. They should also undergo a process. I cannot hang him just because some people asked me to. I don't think that is right," he said.
And last but not least, to David's citing of Arroyo's garapal "midnight appointments" to the Supreme Court that Aquino threw a tantrum about when he first warmed his seat in Malacañang, well, what do you think he would have done given the chance to appoint justices to the Supreme Court. Perhaps he would not have done so at the eleventh hour of his administration (though that remains to be seen). But what President does not want a Supreme Court made a bit more "cooperative" by a few pals?
Justice is blind, as the cliche goes, and it is blind to what popular sentiment says. So if we are going to hold Arroyo accountable for her alleged "crimes", let us not do it in the spirit of what is popular, but in the spirit of what is objectively evident. And perhaps we might take the time to speculate (I am Pinoy, after all) on where David's axe to grind with Arroyo might be coming from. Might it be that dare to run against Arroyo in Pampanga that he shrunk away from in 2009 that continues to niggle at him to this day?
Speaker Prospero Nograles said he was surprised by David's reason for diving into politics.

"I respect Randy David's decision to run for congressman in Pampanga. Except I got surprised that it's only because he disliked PGMA [Arroyo] and not the usual reason for running, which is for public service. Anyway the very big question is, if at all he ever wins a seat, he will have a first-hand experience inside the halls of Congress and may suddenly find out that some of his public criticisms might not be correct or justified at all. At any rate, good luck to Randy," said Nograles in a text message.
Just saying.
benign0 is the Webmaster of GetRealPhilippines.com.