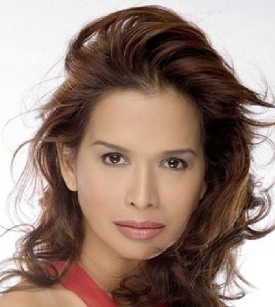 According to Miss International 1979 title holder Melanie Marquez, she will "support" Miss Philippines-Universe candidate Shamcey Supsup if she will speak in Tagalog in the coming Miss Universe 2011 beauty pageant to be held in Brazil on the 12th of September this year. Tagalog is a southern Luzon dialect that was branded as the Philippines' "national language" during its late Commonwealth and early Independence years.
Rather than speak in English, which most Filipinos are generally proficient in, Marquez encourages Supsup to "be natural" during the pageant. Implying that part of being "natural" is to speak in Tagalog, she suggests that Supsup avail of the services of an interpreter if possible…
According to Marquez, the competition will be a great opportunity for Supsup to showcase the beauty of the Filipino language in front of an international audience.

"Mas maganda [kung gagamitin niya ang Filipino language] para at least malaman ng iba na mahal talaga natin ang kultura natin," [translated: "It is better if [Supsup uses the Filipino language] so that others will know how much we love our culture"] she explained.
Tagalog is a language long considered to be short on tools to support an ability in its speakers to articulate intellectual and scientific concepts. Its continued taking up of classroom time in Philippine schools is seen to be one of the contributing factors to Philippine society's inability to build an ethic of technological achievement and intellectual pursuit…
Many "cause-oriented" groups trumpet the practicality of the Tagalog language as a key ingredient for progress and nationalism. Yet they fail to provide any solutions to the dearth of knowledge material to lift Philippine society out of its intellectual bankruptcy. Are we going to continue denying the poor basic access to what the elites of Philippine society already monopolise — a monopoly they use to further their dominance over the dynamism of our society that all Filipinos are entitled to?

Let's not waste valuable classroom time with a language that gets us nowhere. When was the last time you've seen a job ad that read "Tagalog-proficiency will be highly-regarded"? Tagalog is at best a quaint medium for expressing emotion — something that Filipinos are already world-class at. The objective future, however, is written and expressed in English. Given the whole point of education being an investment in the future and the meager resources of the Philippine Education System, it would be in our best interests to put these resources where they will yield real results.
Simple economics. Simple sense.
benign0 is the Webmaster of GetRealPhilippines.com.