I've seen more than enough. I'm passing my judgment.
I don't like President Aquino.
But that is actually secondary to the point I want to make here, so bear with me as I attempt to find a straightforward way to explain it.
For an outsider like me, comparisons between the country of my birth and the country that will, in all likelihood, eventually see the end of me are invidious. But the study of culture teaches us (provided one embraces a relativist view) that societies are best judged on their own merits or deficiencies; whether the results are evidently satisfactory and effective or not for a culture, according to its specific needs and objectives and in its own unique circumstances, is the only basis for drawing a conclusion as to whether the culture is "good," "productive," "effective," or "sound," or whether it is "bad," "destructive," "ineffectual," or "damaged." American values work – or not – for America; whether or not Filipino values work for the Philippines is not something that can be determined by comparing what America has that the Philippines does not, but only by whether or not the results of those Filipino values are manifested in an acceptable state of things here.
And the state of things here, clearly, is not acceptable. To get rid of the social inefficiencies brought about by too much self-interest and petty indolence, you have to build a core integrity. In this country with its strong executive, top-down culture and form of governance, that is the job of the President. And it is a job that he is failing miserably at.
"Marching squarely for principle" is not building, not when one is willing to quickly discard principle for reasons of questionable worth. Having "a good sense of what corruption looks like" is not building, not when one only chooses to recognize it in political enemies and not in the people with whom one surrounds himself. Assuring everyone that he "has a fundamental grasp of right versus wrong" by making a statement about it is not building, not when one follows up that statement by demonstrating a basic lack of respect for the legal principles underlying contracts.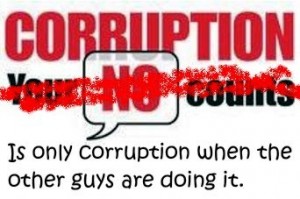 The example of values that President Aquino is giving to his people is a terrible one. Use your position to lash out at your enemies and coddle your friends. Eschew planning and sustained effort in favor of the superficial quick fix. Substitute piety for righteousness. Noynoy Aquino is, at least from what it looks like to this outsider, the badly-drawn portrait of everything that is fundamentally wrong with Filipino culture. He is truly the son of his calculating, opportunistic father and image-conscious, vindictive mother – Noynoy Aquino IS the Philippines, and his parents would have been very proud.
But another outsider, looking at the same picture, sees something entirely different in it, and now, a few hundred words down the page from where I promised I had a point to make, we come to it: Two Americans, both in the same country for some number of years, both enjoying the peculiar challenges of a cross-cultural domestic life, both reasonably well-educated, and both having roughly the same volume of information and ability to process it at their disposal, and yet, they are led to draw diametrically opposite conclusions.
But if you recall what I said earlier about culture, this difference of opinion shouldn't actually happen. Two observers with identical information and a reasonably equal ability to think logically should, ideally, reach comparable conclusions. If you were to ask the two of us, Joe America and I, why we have such different opinions about the same person, we could answer you in a couple ways. I might say I think Joe America is letting his American ideals bias his thinking, and he would in turn perhaps say that I am letting the fact that I have absolutely detested Noynoy Aquino from the moment I first saw this campaign poster: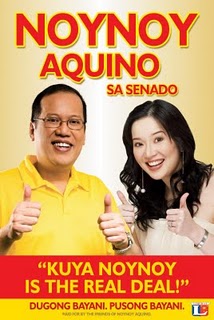 bias mine. Or we could be nice about it, and simply say that each of us are focusing on different priorities and metrics in what we think makes a good leader. Â Undoubtedly both of us believe that we have arrived at our respective conclusions in a rational way, and are more correct in our conclusions than the other. Real relativism, it seems, is impossible; any observer, whether it is one of us figuratively looking in from the outside or one who is reflecting on his own culture cannot help but see things through his own lens. Our individual ways of communicating, our value systems, our individual experiences, and our own personal needs and desires all affect the way we see things, and in turn, how we relate them to others.
All of which is a somewhat convoluted way of saying that blindly accepting any message is perhaps the biggest disservice anyone could do to himself. What you think of any issue is unique, and relevant only to you.  All I, or any of my colleagues with whom I share this page, or Joe America, or for that matter the Church, the media, random celebrities, your parents, or the guys you drink with can offer you is something else for you to think about, to view through your own lens and draw your own conclusions. Once you surrender the ability and privilege to do that – something that clearly many Pinoys have already done, which in my opinion is probably the greatest flaw in your culture – your life is but a pawn in someone else's game.
Want to improve yourself, and your country, and your culture? Read. Watch. Listen. Ask questions. Think. And stop waiting for all the answers. Because actually, they're waiting for you.
I write a column for The Manila Times on Tuesdays, Thursdays, and Saturdays. Most of the energy sector and the heads of several government agencies probably wish I didn't.