My dear countrymen, members of Congress, honourable House Speaker, Senate President, and Chief Justice, ladies and gentlemen of the diplomatic corps:
Today I stand before you, this 25th day of July 2011 to do three things: (1) report on what we had achieved in the last twelve months, (2) give you a summary of the challenges that lie ahead in the next year, and (3) brief you on the plan to navigate these challenges and face an uncertain future.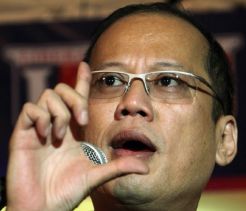 I am here not to make excuses for any perceived deficit in my government's achievements to date, not to attempt to use the challenges I outline as caveats to what I am expected to deliver in the coming year, and certainly not to cloud my plan to face uncertainty by purposely using ambiguous words, tired slogans, and quaint euphemisms.
My aim today is to highlight reality and provide clarity using simple words.
Before I go into our achievements, I will need to account for my government's failures. To face one's failures is to acknowledge the lessons learnt from said failures with courage — for to find the courage to do so makes the task of finding it to face the future a bit easier.
The rallying cry of my presidential campaign remains consistent with the core principle that guides the singular goal of my administration today — to fight corruption under the premise that to eliminate it is to eliminate the grinding poverty that has long defined the Filipino.
Kung walang corrupt, walang mahirap.
It is a simple yet powerful principle. Unfortunately, I have realised only now that it requires more than twelve months to fulfill a promise to eliminate corruption. As such, I hereby report today that as of the twelfth month of my term as your President, I have so far failed to deliver on that campaign promise.
But that does not mean I have taken my eye off the ball. My goal to rid this country of corruption and pave the way for prosperity remains squarely in my sights. It is this intensified resolve to succeed in this endeavour garnered over the last 12 months that I present to you today as my greatest achievement to date.
As the most recent modern-day crusader of the free world once said: Make no mistake. Ours is a society that is closed because opportunity is not universally accessible, inefficient because everything is made unnecessarily hard, and complicated because nothing is ever as simple as it is made out to be.
And I am aware of what specifically is at work that results in a society that is closed, inefficient, and complicated. It is these specific things that stand in the way of our march towards a corruption-free society: the vested interests of the few and the favoured, a snail-paced justice system, a selective application of the Law, outdated and convoluted regulatory frameworks and processes, and lack of transparency.
My aim therefore in the coming months — leading down the road to the rest of the five years I will serve you as President is quite simple. I plan to dismantle the monopoly this favoured few have over the bounty of our country's opportunity to prosper, dismantle the mechanisms that enable them to manage around personal interests not in line with the common good, streamline the justice system to assure us that doing the right thing works, apply the Law to all with no exception so that everyone is acountable, modernise our frameworks that guide regulation and procedure so that we as a national economy can compete, and make information freely accessible and available to all Filipinos who wish to partake in it so that there are less surprises and circuses.
I will be working with my Cabinet and peers in Congress and the Supreme Court to ensure that we develop a detailed plan around these six pillars of prosperity I described — opportunity, the common good, making things work, accountability, competitiveness, and transparency — and stick to it over the next five years.
This I assure you, ladies and gentlemen: together, we will make prosperity happen.
Thank you.
[Above is an unsolicited draft of the second State of the Nation Address to be delivered by Philippine President Benigno "Noynoy" Aquino III before joint sessions of Congress on July 25, 2011, respectfully submitted for consideration by the author of this blog.]
benign0 is the Webmaster of GetRealPhilippines.com.