So we want more foreign investment, do we? Stop to think. How much of it have we already received? Look around and take stock of what exactly it is about "the Philippines" that is of any consequence to anyone that is indigenous in origin. Indeed, the Philippines is one big foreign investment.
Much if not all of the Philippines' asset base was developed by foreigners and foreign money.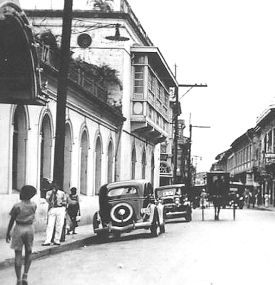 Our country's identity as a political unit, state religion, and much of the cultural capital applied to selling it as a tourist destination was a product of Spanish investment in its former colony. The cultural centre of Manila is not Makati, Cubao, Ortigas Centre, or the CCP Complex. No. It is the old Spanish walled city of Intramuros, and this is evident in how Intramuros scenery dominates content bandied by tourist brochures that pimp out Manila to the rest of the world. Even the name of the country — the "Republic" of the Philippines — is derived from that of a Spanish king (one who happened to had presided over one of history's most horrific orgies of religious persecution). More than one hundred years since the "independence" we pretend we "won" in 1898, and Spain still props up the country's cultural value proposition to the world.
America for its part presided over Philippine history's biggest and most intensive foreign investment sprees, one that lasted over most of the first half of the 20th Century. Over that period, the "free" world's favourite system of government was established, as was a world-class public education system, deep water ports, the country's "summer capital," a vast naval and military air base, a long-distance train line, and a new national language that was well on its way to becoming the lingua franca of science and technology. Manila had a plan that stretched all the way out to the mosquito-infested swamps that were still to become "Metro Manila." The city also had a really nice electric car system for public transport. It was, at the time, the jewel of the Pacific.
What America left the Philippines in 1946 is, collectively, the mother of all foreign investments.
Manila was, of course, bombed to smithereens during "Liberation." But so was much of the industrial heartlands of Japan and Germany. Let's not even go into much detail over what South Korea had to work with as recently as the 1950s. Or Vietnam, for that matter in the 1970s. Indeed, despite Manila flattened beyond recognition in 1945, the Philippines still reigned as the pin-up girl (often literally) of Western-style prosperity over much of the 1950s. For a while, it looked like Filipinos were running gracefully for the goal carrying in their arms the result of a brilliant forward pass. And then the renowned Filipino Condition set in. And the rest is history — Philippine history over the last 60 years, that is.
Four hundred years of Spanish cultural capital infusion and fifty years of American infrastructure development — we received a whopping five hundred years in all of broad and deep foreign investment, if we count the foreign aid, preferential trade, and military protection extended to us over the most recent period of "independence" we imagine ourselves to have enjoyed.
Where are the results?
It is a question that Filipinos struggle to answer to this day.
And yet, now, we want more foreign investment.
What do we plan to do with any more foreign investment that we feel we are entitled to on top of what we have already received and squandered? Do we have any semblance of a plan around how we might run with any new capital tossed our way? Have we so far proven to be a society that is fertile ground for long-term returns?
As the ABS "Cojuangco Broadcasting Network" CBN say:
Abangan ang susunod na kabanata.
benign0 is the Webmaster of GetRealPhilippines.com.