I am undoubtedly seen as a determined critic of the administration of Philippine President Benigno "Noynoy" Aquino III. But that is only because the man generally personifies much of the underbelly of the Filipino psyche that I've made it a personal online career to highlight over the last several years. In short his character just happened to have a large region of interesection with many of the distasteful aspects of the Filipino archetype that we've explored and, as a result, put him squarely within our crosshairs over the last year or two.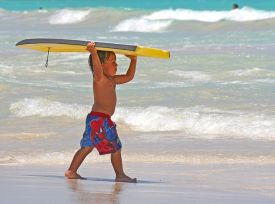 When it comes to economics, however, I believe that the factors at work that shape performance are too broad in scope, too many in number, and too complex in its dynamics to pin on any one administration, much less one person. And so even as "debate" rages around which President achieved what or who is at fault over which degeneration as far as comparisons in the way the Philippine economy performed, the truth is that no one can presume to know the true nature of the causal relationships at work between who is President and how the economy performs. An Aquino Arroyo word war may entertain the vacuous masses and send the chattering classes along their merry ways tapping away tweets and Facebook updates on this "important" matter, but beyond being a form of non-value-added entertainment, pinning down which is the better President using economic indicators as a scorecard is no more than one big balloon of non sequitur ("does not follow") statements. The best we can do when such a balloon is inflated is to cut it loose and allow it to float away to the heavens never to be seen again.
Way back in 2008, I wrote the seminal piece Who cares if Gloria is president after 2010? where I issued a challenge to answer this question:
Is there some kind of evidence or at least some kind of logical construct that convincingly describes some kind of causal relationship between (A) the character or even identity of the President of the Philippines and (B) the prospects of the Philippines achieving some semblance of sustainable prosperity?
Back then the political activist's tagline of choice was simple enough for morons to internalise (as with most successful slogans)…
A Gloria Arroyo presidency beyond 2010 will spell disaster for the Philippines.
… and therefore …
Patalsikin na, NOW na! ("Oust her right now!")
But, see, the premise of the above "call to action" of the politically passionate folks of 2008 would ideally have been underpinned by thinking around the following conceptual framework that is an expansion of the question I posed above:
Can we, infer from a value of A [who the President is], what the probability distribution for a set of values of B [how the economy performs] might be?

For example, what many people claim to be a certainty can be expressed like this (using the conventions I loosely spelled out above):

IF A = GMA and Year > 2010,
THEN B = Disaster for the Philippines

or, for that matter;

IF A is NOT equal to GMA and Year > 2010,
THEN B = Prosperity for the Philippines

My question is this: Is there an A=>B relationship?
Despite the above question remaining unanswered, many Filipinos ate up the "activist" tagline hook line and sinker. And so here we are now under the leadership of the Second Aquino Administration — well past the Year 2010, the Patalsikin Na Now Na crowd victorious.
Yet the question of whether or not we have a better economy much less a better Philippines today remains debatable. And the debate will rage on, perhaps coming out of the Year 2016 (the end of Aquino's term as President) utterly unresolved. In fact, as I pointed out above, it is unresolvable. In short, "debate" on this matter is a waste of time.
One thing's for sure though, Filipinos remain hooked on the notion that "foreign direct investment" (FDI) is the silver bullet that will cure their country of its self-diagnosed economic cancer (thanks largely to the lazy and sloppy thinking of many of our self-proclaimed "experts"). And in this most recent nonsensical "debate" around who is the "better" Philippine President, the change in its flow into the Philippines is being used as the scorecard. Unfortunately for Aquino, the anti-Arroyo personified, even that measure is working against him. According the investment tracking of Inquirer.net columnist Cielito F. Habito, FDI inflow into the Philippine economy plummeted by 17 percent under Aquino's watch. Fortunately, Habito provided the bigger picture and noted an important aspect in the numbers…
I had made the observation that in spite of these [drops in FDI flow and government spending on capital works], aggregate investment was still recorded to have jumped 37 percent. One need not be a math wizard to infer from this that the remaining component—domestic investments from the private sector—must have grown by far more than that, to have led to such a high growth rate when all three [including government construction expenditure] are combined.
And from that perspective, I feel there is now reason to harbour a bit of hope. I believe economic "hope" should be pinned on our ability as a people to become more capital self-sufficient. And if the detail on the nature of these private sector domestic investments provided by Habito are right, then perhaps it could be tentatively said that we as an economy are headed down the right path…
What have the private domestic investors been investing in? Indicative data are available on this from the same National Income Accounts that gave the GDP growth figures. The data reveal that the 16.7 percent rise in durable equipment investments went to things like pulp and paper machineries, farm machineries, textile machineries, metal working machineries, air conditioners and refrigeration equipment, mining and construction machineries, pumps and compressors, railway transport equipment, road vehicles, and other industrial equipment—all of which rose by double- up to triple-digit growth rates. In other words, real investments were growing almost all across the board. New factories are being built, or existing factories are being expanded. Even farms are seeing a surge in new investments at a rate not seen for many years.
Habito can be forgiven for using the above to prop up (as he does in the source of the above snippets) the "performance" of the Second Aquino Administration against the "arguments" lobbed onto it by Arroyo die-hards that her numbers were a lot better looking. Scorpions, after all, can't help but sting just as ducks can't help but quack. Nonetheless, whoever or whatever accounts for this domestic investment spree is irrelevant, only that it is the right way to go.
benign0 is the Webmaster of GetRealPhilippines.com.