Jinkee Pacquiao gaining her husband Manny's "loyalty" and Ruffa Gutierrez's sob story about the lawlaw (loose) skin on her tummy following her pregnancy. It's a news report written by a certain Alex Y. Vergara for the "Wellness" section of the Inquirer.net that comes across like a mashup of celebrity endorsements for a cosmetic surgery product offered by the Belo Medical Group (BMG).
But is Vergara's story a news report or an informercial?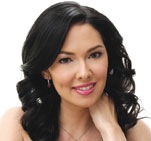 The product that is the subject of this wellness "report" is "BodyTite", supposedly "an [sic] Isreali technology" touted as a superior alternative to a conventional "tummy tuck". Most tummy tucks are done with the relatively "invasive" liposuction procedure which, according to Gutierrez, is the subject of her fear.
The BodyTite procedure, on the other hand, is described as one that "sucks out excess fat as it tightens loose skin". Happily, according to Vergara's report, Jinkee Pacquiao's assurances relayed via Gutierrez's mother Annabelle Rama helped Gutierrez overcome her fears and push through with Belo's BodyTite procedure.
Vergara further "reports" on this happy ending…
Gutierrez has managed to retain her figure after the procedure, as she slipped into one bikini after another for publicity shots for BodyTite. And she hastened to add that photographer Mark Nicdao didn't resort to Photoshop to enhance her figure.
What's up with that?
Is the Inquirer.net in the business of informing? Or is it merely just another channel for informercials? Is the Inquirer.net "Wellness" section editor in "Doctor" Vicki Belo's payroll? Abangan ang susunod na kabanata…
benign0 is the Webmaster of GetRealPhilippines.com.