When asked by reporters what he was going to do about the dip in his administration's approval ratings (which slipped several points to 75 percent in the latest survey), Philippine President Benigno "Noynoy" Aquino's reply was a classic: he said he would further intensify — and be even more "aggressive" with — trumpeting his "achievements". In short, Noynoy's solution to arrest the decline of his much-cherished popularity is to beef up propaganda. And indeed this, it seems, is the official strategy of to be executed by his grandstanding machine: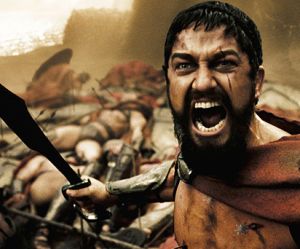 […] deputy presidential spokesperson Abigail Valte said Mr. Aquino had given his communication team the go-signal "to be more aggressive in promoting the good news from the administration."
Valte even vowed to shed all semblance of the very humility that Noynoy noisily promised during his campaign and to pursue a "thick-faced" approach to pushing these messages of "good news" into Filipinos' faces…
P-Noy said that sometimes we are too shy because people might say we are tooting our own horn (baka sabihin nagbubuhat ng sariling bangko)," Valte, speaking in Filipino, said Sunday on state radio dzRB.

"So bear with us if we will now be thick-faced about it (kung kakapal ang mukha namin)," she said.
But most ominous-sounding of all is how certain "resources" at the disposal of the Government will be brought to bear in the all-the-President's-men effort to battle what is seen to be a public assault on the President's image…
Valte said the Palace communicators would "maximize the use of all our resources, not only government television and radio … We will be maximizing all resources available to us."
What exactly is meant by maximising "use of all our resources" remains to be seen. But it does not take a rocket scientist to foresee exactly how the Presidential propaganda team may be planning to pull this off. Recent history abounds with accounts of how Noynoy and his Yellow Army made use of cronies and family members in the Media to drum up momentum around what was essentially a vacuous campaign. Indeed, these gaping voids in substance in the campaign were masked by glossy eye candy and underpinned by nebulous concepts given sexy terms such as the "magic of Edsa" and "institutionalised People Power"…
So now take the case of how "people power" (an arguably legitimate 1986 phenomenon) was turned into a monstrous lie and propagated over the two and a half decades subsequent to the original one. One of the terms that can be likened to those nonsensical combination of otherwise legitimate terms […] is "institutionalized People Power" – a favourite pseudo-philosophical construct of Filipino politicians. In his Inquirer.net article "Yes, he might", Conrado de Quiros provides us with an excellent example of its perverted use (my boldface applied):

Noynoy, like his mother, has the power to tap into People Power. That is the one huge ally he would need to fight corruption. That is the one huge ally that will be there to fight corruption.

Cory formally institutionalized People Power – it's a provision in the Constitution – but never really used it in the course of her term. The provision was left for the politicians to pervert, not least Arroyo who used it to oust Grace Padaca and Ed Panlilio and to try to change the Constitution. Noynoy holds the key to it. If he discovers it, he will raise, like Aragorn who conscripted the dead kings and their legions in "Lord of the Rings," an army mightier than any of his enemies can muster.

Indeed de Quiros is spot on in his allusion to the mysticism of a fantasy tale such as The Lord of the Rings. An invocation of "people power" is indeed comparable to the "conscription" of airy-fairy "dead kings and their legions" that a fantasy piece such as this entertains us with. In fiction of the fantasy genre, anything can be explained away or resolved with arbitrary introduction of magical concepts that do not require logical explanation.
Moreover, in the early months when Noynoy's bum was only beginning to warm his seat in Malacanang, lots of noise was already being sent out by his already bloated "Communications Group" about the most trivial things. From his being "above" motorcading around town with "wang-wangs" (police sirens) blaring, to his use of Tagalog in his speeches as "evidence" of his trumped-up "humility", Noynoy and his team milked it all of every ounce of their PR worth. This went on at such a fever pitch for six months, perhaps fueled even more by the desperation of having to gloss over a multitude of gaffes, preventable tragedies, and other public relations snafus (many of them exacerbated by the ineptness of Noynoy's very own Communications "experts"). All this, culminated in his family newsletter crowning Noynoy "Filipino of the Year" in January of this year.
So if all that does not already constitute an "aggressive" and "thick-faced" tooting of one's own horn on Malacanang's part, it would be interesting to see what this new PR extravaganza that Malacanang is set to launch is going to look like. Needless to say, some people are going to be making a lot of money out of this renewed drive to "inform" the Filipino public.
Even long before the 2009-2010 presidential campaign, the foundation for the awesome propaganda infrastructure of the Aquino-Cojuangco clan had already been lain. When the dust cleared in the aftermath of the 1986 "People Power" Edsa "Revolution", the embryos of what are now two of the largest media outlets in the country — the monolithic ABS-CBN Network and the Aquino family newsletter, the Philippine Daily Inquirer — stood tall as "heroes" and went on to become the biggest beneficiaries of this "revolution". Its owners continue laughing all the way to the bank — not a bad deal in exchange for the small utang-ng-loob (debt of gratitude) they owe to the Aquino-Cojuangco feudal clan.
And this is perhaps what Noynoy's henchmen were referring to as the "resources" at their disposal when they raised their swords and issued their battle cry against those dark forces that seek to undermine his hard-earned popularity.
benign0 is the Webmaster of GetRealPhilippines.com.