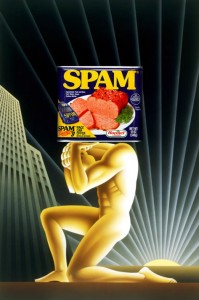 After reading a quick note on the ARCHN blog that suggested the long-awaited movie adaptation of Ayn Rand's pedestrian opus Atlas Shrugged is proving to be something a bit less than a runaway box office hit, I decided I'd better take a look at what the critics were saying about it. The following are some of the summaries posted on Rotten Tomatoes (where the movie so far has a one-star rating):
Richard Brody, The New Yorker: "This comically tasteless and flavorless adaptation of Ayn Rand's bombastic magnum opus delivers her simplistic nostrums with smug self-satisfaction."
Peter Travers, Rolling Stone: "Ayn Rand's monumental 1,168-page, 1957 novel gets the low-budget, no-talent treatment and sits there flapping on screen like a bludgeoned seal."
Mark Jenkins, Washington Post: "The first in a proposed trilogy, 'Atlas Shrugged: Part 1' is nearly as stilted, didactic and simplistic as Rand's free-market fable."
Mick LaSalle, San Francisco Chronicle: "A low-budget film with more than a whiff of amateurism in its writing and direction."
Loren King, Boston Globe: "About to lose his long-held rights to Ayn Rand's novel, and perhaps to cash in on apparent Tea Party interest and support, producer John Aglialoro … rushed this film into a low-budget production and it shows in every frame."
Carrie Rickey, Philadelphia Inquirer: "Atlas Shrugged. I arched eyebrow, scrunched forehead, yawned."
Michael Phillips, Chicago Tribune: "This movie is crushingly ordinary in every way, which with Rand I wouldn't have thought possible."
Roger Ebert, Chicago Sun-Times: "Let's say you know the novel, you agree with Ayn Rand, you're an objectivist or a libertarian, and you've been waiting eagerly for this movie. Man, are you going to get a letdown."
And just so you don't think all the mainstream critics hated it, Kyle Smith of The New York Post offers this endorsement: "Though a bit stiff in the joints and acted by an undistinguished cast amid TV-movie trappings, this low-budget adaptation of Ayn Rand's novel nevertheless contains a fire and a fury that makes it more compelling than the average mass-produced studio item."
Eh, movie critics. They're probably all Communists anyway.
I write a column for The Manila Times on Tuesdays, Thursdays, and Saturdays. Most of the energy sector and the heads of several government agencies probably wish I didn't.