In recent days, there's been a clamor for sponsors of the popular game show Willing Willie to "take action" in the aftermath of the alleged abuse of a six year old boy by host Willie Revillame in that show. The behaviour of Revillame in the offending show segment has the potential of making the network that airs it, TV-5, criminally liable for child abuse by virtue of Republic Act No. 7610 which stipulates in Article V…
Section 9. Obscene Publications and Indecent Shows. – Any person who shall hire, employ, use, persuade, induce or coerce a child to perform in obscene exhibitions and indecent shows, whether live or in video, or model in obscene publications or pornographic materials or to sell or distribute the said materials shall suffer the penalty of prision mayor in its medium period.

If the child used as a performer, subject or seller/distributor is below twelve (12) years of age, the penalty shall be imposed in its maximum period.

Any ascendant, guardian, or person entrusted in any capacity with the care of a child who shall cause and/or allow such child to be employed or to participate in an obscene play, scene, act, movie or show or in any other acts covered by this section shall suffer the penalty of prision mayor in its medium period.
So far the following agencies are involved in an investigation of the incident to evaluate the nature of possible legal actions to be taken:
– Department of Social Welfare and Development
– Movie and Television Review and Classification Board
– Commission on Human Rights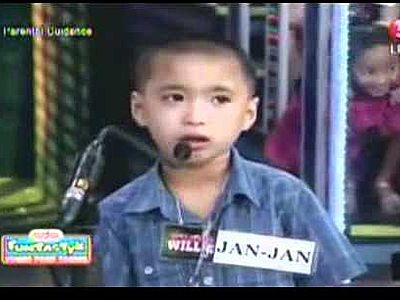 Last year in October 2010, what looks to be the program Web site www.TV5WillingWillie.com boasted how the show was getting the "full attention of the Big advertisers":
They certainly have.
benign0 is the Webmaster of GetRealPhilippines.com.