During former President Gloria Arroyo's (GMA) term, we referred to Overseas Foreign Workers (OFW) as our "Bagong Bayani" or "Our new heroes." Earlier in the year, some economists gave OFWs credit for boosting growth in the economy due to their "higher remittances" the country received from the millions of Filipinos working abroad. The question is, where do the OFWs get the money that they send back to the Philippines?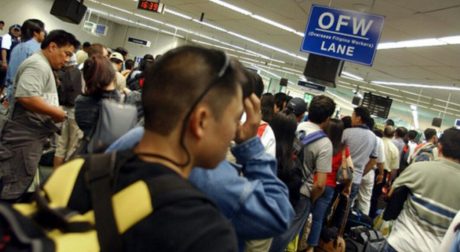 I know most Filipinos have legitimate contracts in various industries abroad but I ask the question simply because according to a recent news report, there are currently 630 suspected Filipino drug mules worldwide. Is being a drug courier now becoming a lucrative trade for Filipinos who are desperately trying to earn a quick buck? It is beginning to look like it because I am sure that there are many more people — not just Filipinos — who carry and hide illegal drugs in one form or another and make it through the customs gate undetected.
I guess you can say that the 630 Filipinos languishing in jail overseas were just those unlucky enough to get caught. The fact that there are so many drug syndicates luring people into this kind of activity is proof that there are more successes than failures in transferring drugs from one country to another using drug mules.
According to Derrick Arnold Carreon, public information director of the Philippine Drug Enforcement Agency (PDEA), in China alone there are 250 Filipinos being detained in different prisons in the country. And out of the 250 Filipinos, 75 are already on death row. The sentences of three Filipinos on death row will actually be carried out soon and the Philippine government is in a race against time to save their lives.
Unfortunately, it seems no amount of government or divine intercession can stop the Chinese government from carrying out the death sentences. These Filipinos broke the law on foreign soil so the law of the land must be applied to them. It is as simple as that. Besides, I do not understand why the Philippine government had to wait until the last hour before they appealed for leniency.
Why did President Noynoy Aquino (PNoy) think of sending an envoy with his signed letter of appeal only now? It goes to show how inclined PNoy is towards taking a reactive rather than a proactive approach to doing things. He acts just like an IT support person whose only solution is to recommend switching your computer off and on again every time you call them for help. He always gives his instruction too without leaving his desk or without enough show of concern.
PNoy's idea of sending Vice President Jejomar Binay to Beijing as a last ditch effort to save the lives of the three Filipinos is at best an effort that is too late and at worst, too uncoordinated. It is so annoyingly naïve of this current administration to think that an emotional appeal would be enough to reverse the decision handed down to those who break the law especially in a country where laws are taken seriously. What were they thinking?!? The Chinese authorities are the last people who would want to be seen as flip-floppers. And we all know that the thought of spending time in jail does not deter stupid Filipinos from doing illegal activities. Their mentality is usually along the lines of: as long as you are not caught, it is ok. They can't even think beyond themselves.
Too bad for PNoy that his efforts to appease China by boycotting the awarding of the Nobel Peace Prize to jailed Chinese dissident Liu Xiaobo in Oslo did not work in helping the situation.
The message from China was quite simple. No amount of prayer can change their mind particularly since they don't believe in pleas for help using compassionate grounds:
In a press statement, the [Chinese] embassy said, "The death sentence on the three Filipino drug traffickers is the final verdict by the Chinese judicial authorities in accordance with law. As criminals of death penalty, their legitimate rights and interests have been protected in accordance with law."

The embassy said, "The Chinese side has informed the Philippine side of the SPC's decision through diplomatic channels."

"The Chinese law prescribes that any person, no matter that he or she is a Chinese citizen or a foreigner, who commits crime shall be brought to justice in strict accordance with law. No one is privileged to transcend law," the embassy said.

The embassy said drug-related crimes are "bitterly detested by the international community, China and the Philippines included."

"China follows strict judicial procedures in applying death penalty. A death sentence should be meted after two-tier trial and subject to review and approval by the SPC," the embassy explained.
The Philippine government could actually learn from the Chinese government. The minute we impose harsh sentences on convicted criminals, the better our society will become. Of course this is in supposing that we actually have a competent and reliable judicial system.
I am not suggesting that we bring back the death penalty. I am just saying that the whole impunity culture should be wiped out from our mentality. We can be so forgiving to high profile criminals in our society that regular folk emulate their behavior with the thought that they too can also get away from doing time when they do the crime. It is why most Filipinos who languish in Philippine jails are the ones who don't have enough money or resources to keep themselves out of jail.
Filipinos who commit such crimes as drug trafficking in other countries are worse than pathetic. Not only do they risk ruining their own lives and their family's lives, they also ruin the entire Filipino people's reputation abroad. The more Filipinos caught smuggling drugs, the faster our reputation for being drug mules will get around. Customs officers will learn to look at Filipinos with suspicion at airports and other entry points because of our penchant for always looking for ways to make a quick buck. Aside from being known as the "world's domestic helpers," Filipinos will now be known as "drug mules."
They say that most of those who fall prey to drug syndicates are those who come from poor families. It does not make any sense though for these people to ruin the last chance they have of uplifting their status by working as drug couriers. It does not help that Filipinos belonging to this socio-economic class are too gullible for their own good. They would rather believe in get-rich-quick schemes instead of working hard to achieve economic stability.
I wonder how PNoy and his minions are going to solve this problem involving the OFWs? It seems that similar to the past administration, PNoy is also relying heavily on them to keep the economy afloat. Never mind that most of the Filipinos who go abroad as domestic helpers are abused and preyed upon by opportunists — sometimes even by their own kababayans — who also scam them off their hard earned dollars.
Unfortunately for OFWs, PNoy's government has demonstrated far too many times in less than a year that they are the worst administration in Philippine history when it comes to handling diplomatic relations where OFWs are involved. PNoy even has a penchant for offending members of the Asian region with a string of gaffes committed to Hong Kong, Taiwanese and now Mainland China.
Who can forget PNoy's bungling of the relationship with Hong Kong's Chief Executive, Donald Tsang during the Mendoza hostage crisis last August 2010? And more recently, PNoy has managed to offend Taiwanese officials by deportating of 14 Taiwanese nationals to China, a move that prompted the Taiwanese government to threaten to send home Filipino OFWs working in Taiwan.
The situation in the country now is no way better than the situation during GMA's term. More and more Filipinos find themselves in desperate times to the point of having to accept "deals" from people who promise them richness the way PNoy promised everyone that "Kung walang corrupt, walang mahirap."
The condition of the poor during PNoy's term will most definitely not improve since he has not introduced any new economic reforms that will create more jobs for the people who need it most. His term will just be another waste of time and waste of taxpayer's money.
In light of what is happening to our reputation abroad, is it still appropriate for the government to insist that the OFWs are the "bagong bayani" of the Philippines? If you ask PNoy he might just refer to them as "bagong Kabuwisitan."
In life, things are not always what they seem.