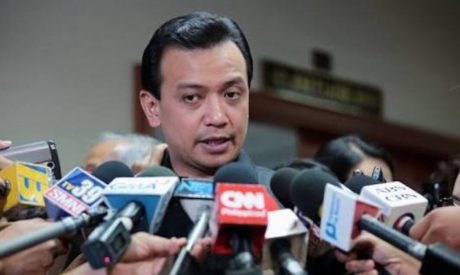 Former Secretary and retired General Angelo Reyes was instrumental in driving the final nail into the coffin of former President Joseph "Erap" Estrada in the 2001 "Edsa 2" "Revolution". He was also instrumental in having mutineer-turned-"senator" Antonio Trillanes jailed for seven years for his alleged role in various rebellions against the Philippine Government between 2003 and 2007. And while Trillanes, Danilo Lim and their mob of putschists may have been busy stewing in their grievances over the way the Armed Forces of the Philippines conducted its business, Reyes delivered MILF headquarters Camp Abubakar to his Commander-in-Chief on a silver platter back in 2000.
We can see now where it gets personal (in contrast with typical politicians' "we're-doing-this-for-the-benefit-of-the-Filipino-people" number) for Senator Jinggoy Estrada and, particularly, "Senator" Antonio Trillanes when it comes to the alleged involvement of Angelo Reyes in the Senate "inquiry" on corruption in the Philippine military. Reyes was originally invited to appear at the Senate "inquiry" as a resource person. And for his trouble, he gets (1) a "star" whistleblower in the form of Retired Lt. Col. George Rabusa suddenly coming out of the woodwork to accuse him of stealing public money and (2) a vicious pit bull attack from Trillanes — one of such ferocity as to be widely seen as a factor that led to his subsequent suicide.
It almost seems like a pre-meditated set-up to hang Reyes out to dry in the Senate "inquiry". There was personal motive and there was opportunity. On Trillanes's part, perhaps it could be a quaint case of professional jealousy — a chance to grind his axe against a man who embodied the aspirations of a little wannabe like himself: sack a major MILF stronghold and bag a plum government position after a successful coup. Who knows? This is all speculation of course.
It is, however, important to highlight here that Congressional inquiries are not the appropriate channels for catching the bad guys nor are Senators and House Representatives within their rights to act as prosecutors and judges with regard to the guilt or innocence of anyone invited to these "inquiries". Yet Trillanes did make his flawed understanding of the purpose of these inquiries quite evident. Indeed, in the aftermath of Reyes's suicide…
Trilanes [sic] said that he and the Senate won't "back down." "No, that will not happen.. We'll keep on digging into this thing until we catch those who stole from the nation's coffers," he said.

Trillanes wants to "catch" people. But catching people is the job of the police, and prosecuting them is the job of the Department of Justice. Legislators on the other hand make Laws. And as such, it is quite apparent that Trillanes fails to grasp the point of such exercises, articulated spot-on by a PinoyExchange.com Netizen in his post dated the 10th Feb 2011…

Parang OGAG. Doesn't even know that they are investigating in aid of legislation, not to catch thieves. That's the work of the PNP and the NBI.
Unfortunately for Trillanes it is beginning to look like it is he who is looking like the chump coming out of all this. Acting arrogantly and then being shown to be wrong about said arrogance is a terrible combination of stains to be walking around with in the game of public relations.
His biggest fan in the Media, the venerable Ellen Tordesillas, not surprisingly was among the first to step up to try to salvage this pathetic situation that Trillanes finds himself in…
O ano, ngayun kung mayabang. Hindi naman nagnakaw. [Translated: "So what if he is arrogant, he did not steal, did he?"]
How sure are you that former Secretary and retired General Angelo Reyes, stole, Ms Tordesillas? Even a Senator of the Republic is not authorised to make that sort of call.
For Filipinos, perceptions of kayabangan (arrogance) and being mapagkumbaba (humility) spell a world of difference. President Benigno "Noynoy" Aquino III, in fact, won the presidency on a platform of "humility". For Trillanes, getting out of jail seems to be the worst thing that happened to his political career. Perhaps it is the reason why he's been hanging out with the Queen of Filipino Showbiz Mother Lily lately…
[Mother Lily's] special guest [at a dinner for the Chinese new year [she hosted] at Imperial Palace] was Sen. Antonio Trillanes whose candidacy she supported then, calling him her newest Regal Baby as he can be an actor. But Sen. Trillanes says he's not "wired" to be an actor. "I'm flattered to be considered by Mother Lily, kaya lang, hindi po talaga natin linya yan. I can't even sing dahil pumipiyok po ako or dance dahil dalawang kaliwa po ang paa ko," he said.
Perhaps, "Senator" Trillanes, you should re-consider and start taking singing and dancing lessons. The way things are going, you might actually need a change of career someday.
benign0 is the Webmaster of GetRealPhilippines.com.