Something really weird is happening in the Philippines. For one thing, the result of the latest approval rating conducted by Social Weather Station (SWS) revealed that the Aquino administration has reached a record high. According to presidential spokesman Edwin Lacierda "73 percent of respondents said they approve of the Aquino administration's performance".
It would have been easier for me to believe the result if the SWS survey was actually called "ranking for the highest level of incompetence and mediocrity" instead. I wish somebody could give us an award for "the society that enjoys its public servants' mediocrity." We have to at least get a consolation prize for such a distinction.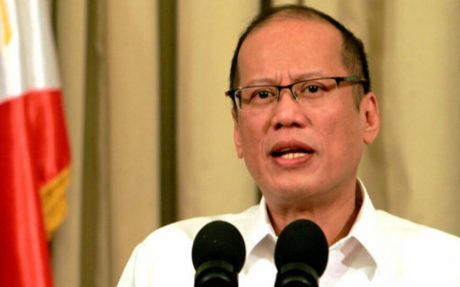 Another thing that got me feeling odder than usual was an article in the Manila Bulletin online site Mb.com.ph that had a headline that reads: "Aquino likened to Singapore's Lee". Apparently, a group of Filipino-Chinese businessmen belonging to a certain Anvil Business Club thinks that President Noynoy Aquino (P-Noy) is like former Singapore Prime Minister Lee Kuan Yew. I know, I know, I almost choked on something too. Unless I am missing something, P-Noy does not even share anything that remotely resembles the former Prime Minister's vision, determination and statesmanship. I just fail to see the similarity.
Unfortunately, the article was not long on any elaboration on any rationale for such a comparison — a big logical gap, considering Elder Statesman Lee is credited wth the immense achievement of bringing Singapore From Third World to First World. The Anvil Business Club insists, though, that P-Noy is like Lee because he is "incorruptible". They had me convinced — for all but a split second. For his sake, I hope that Mr. Lee Kuan Yew will not come across this news. The guy is already in his 80s. Goodness knows what a travesty such as this could do to him given his fragile state.
I've been seeing the word "incorruptible" being associated with P-Noy so often lately that I'm beginning to think that P-Noy's supporters have given the word a new definition. Even disgraced advertising agent and staunch P-Noy supporter, Yoly Villanueva-Ong, used the word to describe her idol when she said that she will "always be on the side of an honest and incorruptible President" despite accepting that he is an "incompetent, weak and indecisive leader" in the same paragraph. Such are the ironies that escape P-Noy's supporters! One does wonder too why P-Noy supporters like her do not even exhibit the same virtues that they keep insisting they see in their idol.
The word incorruptible as defined by the online dictionary means "1. incapable of being corrupted; honest; just 2. not subject to decay or decomposition". Again, I fail to see any of the definition applicable to P-Noy or any of his aides.
Isn't nepotism a form of corruption too? Survey firm SWS conducting the approval rating is already enough evidence to show that nepotism is rife in the second Aquino administration. The firm is owned by P-Noy's family and friends just in case some Filipinos still didn't know.
P-Noy may not be (blatantly) siphoning public funds but he did hire some of his close friends. Everyone knows that Department of Interior and Local Government (DILG) undersecretary Rico Puno is his close confidant and shooting buddy. Let us not forget speechwriter Mai "the wine sucks" Mislang is also P-Noy's drinking buddy.
Not only did he hire them, P-Noy has also been very protective of them during their very public displays of incompetence — with Puno's involvement in the Mendoza hostage fiasco and jueteng scandal, and, likewise, with Mislang's glib insults directed at the Vietnamese people. But apparently, if we are to believe the SWS survey, only a minority of the respondents thinks that nepotism is a form of corruption. Our society has definitely entered a new low in consistent flawed thinking.
I can't help but think that a lot of businessmen are giving P-Noy top marks because they enjoy the status quo. Before he was elected, P-Noy delivered a speech before the Makati Business Club, Management Association of the Philippines, and Financial Executives of the Philippines. Not surprisingly, these members of the Philippine "elite" gave their thumbs up to the former non-performing Senator.
Could it be that the country's businessmen want to ensure that protectionism remain entrenched in the country? Because by supporting the son of the former President who was instrumental in forging the protectionism clause in the Philippine constitution in 1987, they may have guaranteed benefiting from monopolizing the Philippine market even with their low quality products and services because of limited foreign competition.
It is understandable that the business owners would rather keep the market to themselves by retaining the protectionism clause because it means that only a select few will continue to enjoy a decent quality of life in the country. As Jesse Ang, country representative of the World Bank's private sector arm International Finance Corp, said in a recent article, "Philippine gov't asked to end protectionism":
"The country should "open up" more, as many of its neighbors were doing that and in an aggressive manner."

"We really need to open up. If the gates are open, then we should take advantage of it," he said in a recent forum. "We as a country have used protectionist policies for far too long. That's why our industries are not competitive. We should join the bigger market. This is the way the world's going. We really need to learn to compete."
From the same article it was mentioned;
Asian Institute of Management Policy Center associate director Lai-Lynn Barcenas added that the country also needed a "cohesive industrial development, trade and competition policy."

To boost the country's competitiveness, she said concrete steps would have to be taken to improve the country's energy infrastructure, road networks, and other infrastructure needed to do business.
I wonder if the members of the Anvil Business Club or the Makati Business Club will agree with that considering it will be the end of their monopoly?
Philstar.com columnist Carmen Pedrosa in a recent essay, also wrote about how certain groups in Philippine society are benefiting from the status quo:
The economic agenda of Kamag-anak, Inc. (KG) and The Kapamilya, Inc. (KP) is to ensure that local consumers remain the captive market of local monopolists. This is done by protecting Filipino business interests against potential foreign competitors in strategic industries. The protectionist measures ordinarily come in the form of constitutional or statutory prohibitions against the entry of competing foreign investors. For example, the 1987 Constitution requires a minimum 60% Filipino equity requirement for public utilities# and agricultural land,# and a full 100% Filipino equity for mass media.#

With these protectionist clauses in mind, did you ever ask yourself how many among the 90 million Filipinos are financially capable of owning 60% of a public utility (like Meralco, PLDT and Globe), or 100% of a television and radio network or broadsheet (like ABS-CBN, DZMM, PDI and Philstar)?

Incidentally, the 1987 Constitution also requires a minimum 70% Filipino equity for advertising companies.# I could not understand why the so-called Cory-Bernas Constitution then would digress from previous constitutions and henceforth treat advertising as a strategic industry. I always thought advertising was mainly for commercial and non-political purposes. It would be totally different however if what the framers had in mind was advertising for political and non-commercial purposes. Ad agencies here can work to mold public opinion for or against elective candidates, destabilize government administrations, influence government policies and muddle national issues.

In passing, they probably forgot to impose Filipino equity requirements on survey firms (like SWS and Pulse Asia). As we now know, survey firms are also powerful tools in molding public opinion, when used in conjunction with mass media, under the over-all direction of an ad agency.

In both state and private universities, professors (who do not know any better) implant in the minds of their students the concept that Filipino business interest is synonymous with national interest. This is of course foolish.

In reality the opposite is true. By preventing the entry of foreign investors into the local economy, you actually prevent the creation of jobs, as well as the supply of competing goods. These protectionist measures ironically deprive Filipino workers and consumers, of alternative job opportunities and of lower priced or better quality goods.
Further evidence that the result of the SWS survey is way out of touch with reality can be found in the recent protests from thousands of unhappy students and teachers for the alleged cuts in the budget of more than 100 State universities and colleges (SUC) all over the country. It was even reported in the news that "In Quezon City, protesters booed and blocked the convoy of President Benigno Aquino III from entering the University of the Philippines-Ayala Technohub on Commonwealth Avenue before 1 p.m. Anti-riot police clashed with the demonstrators who were forced to fall back."
But as usual, P-Noy apologist, William "The Chair Wrecker" Esposo of Philstar.com dismissed the rallies as a brainchild of the leftists. To quote the Wrecker:
A top intelligence official of the P-Noy administration had revealed to your Chair Wrecker recently that the agenda of the Left is to demonize the President and erode his public support. At a certain point the Left is hoping that the Opposition will be encouraged to join their destabilization activities.
Esposo even claims that "in the proposed 2011 budget of the P-Noy administration, the education budget actually increased. Not only that – the percentage share of education in the 2011 national budget is the highest in years.". His statement contradicts a statement released by Budget Secretary Florencio Abad who confirmed in another article published by ABSCBNnews.com that "The government had to slash funding for State Universities and Colleges (SUCs) to give way to other pressing socioeconomic needs amid the swelling budget deficit" and that:
"If only our fiscal situation was better, we could provide additional support for SUCs. We ask for understanding that because our resources are lacking, we had to prioritize other more urgent needs, such as in basic education where more poor students will benefit from."
He further clarified "the allocation for the country's SUCs in the 2011 national budget has been reduced to P23.4 billion from P23.8 billion this year. No funds were earmarked for purchase of new equipment or maintenance of facilities. […] Abad clarified that some P2.8 billion in last year's budget for the SUCs were actually Congressional Initiatives (CIs)".
Frankly, we should be used to P-Noy's minions contradicting themselves by now but it's still amazing how one staunch supporter can get his figures wrong with his overzealousness.
I can't help but compare what our current government is doing to our public education system to that of China's plan to invest more on human capital. Beijing has set about doing a massive expansion of their education. It's been said that they have nearly tripled the share of GDP devoted to it. To quote from an article from TIME magazine (October 7, 2010 Edition):
[…] the number of colleges in China has doubled and the number of students quintupled, going from 1 million in 1997 to 5.5 million in 2007. China has identified its nine top universities and singled them out as its version of the Ivy League. At a time when universities in Europe and state universities in the U.S. are crumbling from the impact of massive budget cuts, China is moving in exactly the opposite direction. In a speech earlier this year, Yale president Richard Levin pointed out, "This expansion in capacity is without precedent. China has built the largest higher-education sector in the world in merely a decade's time. In fact, the increase in China's postsecondary enrollment since the turn of the millennium exceeds the total postsecondary enrollment in the United States.
Obviously, China appreciates the importance of education. Contrast this with how the Philippine government saw an opportunity to nip and tuck more funds from the budget of our education sector. This is what we get from a government that is anti-intellectual.
Something really weird is happening in the Philippines. P-Noy's government is still too preoccupied with their popularity, a product of the "hard work" of its army of spin doctors.
In life, things are not always what they seem.