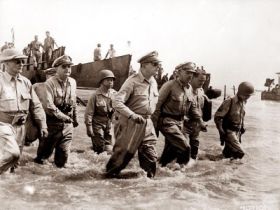 Don't look now, but some people are getting a bit defensive soon after the Inquirer.net published reports of "high level visits" by American officials to meet with Subic Bay Metropolitan Authority (SBMA) and Olongapo City officials. Specifically US Senators Daniel Inouye and Thad Cochran who respectively chair and officiate the US Senate appropriations committee reportedly expressed (1) interest in "the possibility of an increased presence of the US military in the [Philippines]" and (2) "curiosity" around "the reception in the country of an [increased presence of the US military]." This raised the possibility that Americans may soon be back in Subic Bay and Olongapo City.
As of this writing, no less than six of the top headlines of the Inquirer.net have to do with this Empire Strikes Back topic! Holy full broadside Batman!
SUPPORT INDEPENDENT SOCIAL COMMENTARY!
Subscribe to our Substack community GRP Insider where you can opt to receive by email our more comprehensive and in-depth free weekly newsletter GRP Mail. Consider also supporting our efforts to remain an independent channel for social commentary and insight by sponsoring us through a small donation or a monthly paid subscription.
Subscribe to our Substack newsletter, GRP Insider!
Learn more
Philippine Department of Foreign Affairs (DFA) spokesperson Eduardo Malaya quickly pointed out today that a "return of American military bases in the Philippines is 'not possible' under the Visiting Forces Agreement (VFA) with the United States" and that the VFA only allows "temporary US presence in the Philippines, as long as pre-approved by the Philippine government." According to Malaya also, the US had "repeatedly stated it is not interested in establishing military bases in the Philippines."
For their part, the US Government through its embassy press attaché Rebecca Thompson chimed in echoing the message: "The US has no plans to reestablish military bases there or anywhere in the Philippines."
I suppose a bit of applause is in order for the rather contrived song-and-dance there.
Perhaps that is what the US and Philippine governments say for now. But the real question is, whether what they say is what they actually mean.
All this comes in the wake of mounting delays around the transfer of 8,000 US Marines personnel and 9,000 of their dependents to a facility in the US territory of Guam whose infrastructure remains insufficient for supporting the additional residents. Nonetheless, Guam is supposedly seen to be an essential alternative base for maintaining US military presence in the Asia-Pacific.
But then the US naval base in Subic Bay at its peak was capable of supporting 9,000 military personnel and was home to the US Navy Seventh Fleet back in the good 'ol days. Furthermore, the US military presence there and in other parts of the Philippines contributed at least $1 billion to the national economy per annum. The Philippines also sits smack within vital sea lanes that serve most of East Asia, specifically the Straits of Malacca which is one of the world's busiest and most important shipping lanes. According to Nazery Khalid, a Senior Research Fellow at the Maritime Institute of Malaysia in his study "Security in the Straits of Malacca",
The Straits is a sea lane of immense strategic, political and economic importance not only to the littoral states but also to the international community. Such keen attention is underlined by US hints that it might send its naval forces to unilaterally patrol the Straits should it feel that the littoral states were not up to the task.
Important to the US and even more important to regional economic dynamos China and Japan this sea lane is…
Regional economic powerhouses such as China, Japan and Korea view security in the Straits, through which much of its trade and oil imports flow, from a strategic standpoint. China for example, depends on the Straits to carry 90% of its trade through the waterways, and more than 80% of its energy imports. These and other countries have a vital stake in keeping the Straits secure and safe.
To underscore how big a deal the Straits of Malacca is, Khalid in another article called the Straits of Malacca "Asia's Suez" in reference to the Suez Canal which serves as a vital maritime transport link between the Persian Gulf and the Mediterranean Sea and itself is also a major flash point for the global powers that rely on it.
To summarise:
(1) The Philippines is important to the US not because of its beautiful beaches, not because of its "shared history" with its former colonial master, not because of any imagined "special friendship" with them, not because of its "friendly" people nor their "renowned" hospitality, and certainly not because of its "promising" economy.
(2) The Philippines is important to the US because it is located near the Straits of Malacca, is within missile and airstrike shot of one notably belligerent Korean regime, and is a more convenient staging platform for any sort of strategic "deterrence" position America aspires to taking in the next several years to balance military power in a region surrounded by the emerging might of China and India.
Add to this, the increasing pressure on Japan (coming both internally and externally) to exhibit a level of defense self-sufficiency and level of contribution to responsibility over security in the region commensurate to its own economic stature, and we can begin to understand how infinitessimally tiny the concerns being raised from Filipinos' perspectives over the question of US military presence in the Philippine Islands actually are.
So Angeles City Mayor Edgar Pamintuan can keep saying "Never again" (referring to the prospects of America's triumphant return to the Philippines) literally to the Marines. Who's gonna care? Filipinos? Do Filipinos care about anything beyond their small-minded fixation on Willing Willie, condoms sold in Alabang, and their empty stomachs? On that note, consider the quaint grandstanding on the matter of a couple of Congressional bozos…
[Senator Sergio] Osmeña [III] vowed to oppose any such move and reminded the government that the Senate had made a firm decision to "throw out the bases" two decades ago and he saw no reason to host them again.

"Why do we need to increase US troops when we already kicked out the bases? So we are doing them a favor? Yeah but when we threw them out, they did not want to be thrown out either," he told reporters.

"If I were the US, yes I would want bases everywhere. But is it to our benefit? We have already made our big debate in [1991] when the Senate voted to throw out the bases. But nothing has happened since then to make us change our mind," he added.

[…]

[Senator Gregorio Honasan II], for his part, said the government should tread cautiously on a matter that would have far-reaching implications on the country's foreign and security policies.

"This is foreign policy and security policy that the Senate must carefully and deliberately discuss. At the end of line, if it will result in a mutual benefit, then we should seriously consider it, but only after a very careful deliberation because of our painful experience in the past. That's why we abrogated the military bases agreement 20 years ago," he said in an interview.
What a laugh.
Where America locates its bases will be answered more by bigger geopolitical realities than by the sort of "issues" that make Philippine headlines, keep the chattering classes tweeting, and/or occupy the little pointed heads of the average Filipino politician.
benign0 is the Webmaster of GetRealPhilippines.com.