Ormoc City Mayor Richard "Goma" Gomez sure didn't waste time exposing his inability to provide good governance to the people who elected him in 2016.
A paper from the United Nation Economic and Social Commission for Asia and the Pacific says, "Good governance has 8 major characteristics. It is participatory, consensus oriented, accountable, transparent, responsive, effective and efficient, equitable and inclusive and follows the rule of law. It assures that corruption is minimized, the views of minorities are taken into account and that the voices of the most vulnerable in society are heard in decision-making. It is also responsive to the present and future needs of society."
By these international standards for good governance  and according to personal accounts of residents of Ormoc city, Gomez' regime appears to be headed towards catastrophic failure and the people of Ormoc are bound to suffer greatly from his bungling attempts at leading their city's government.
SUPPORT INDEPENDENT SOCIAL COMMENTARY!
Subscribe to our Substack community GRP Insider to receive by email our in-depth free weekly newsletter. Opt into a paid subscription and you'll get premium insider briefs and insights from us daily.
Subscribe to our Substack newsletter, GRP Insider!
Learn more
But how could he govern his city when people from Ormoc City tell me that he scarcely reports for work at the City Hall?
The ongoing joke amount Ormoc City people is that Monday is "No Paper Day", Tuesday is "No Plastics Day", and Wednesday to Sunday is "No Mayor Richard Gomez Days".
People whom I am not even friends with on Facebook messaged me that both Mayor Gomez and wife Congresswoman Lucy don't reside in Ormoc. The couple are said to live in San Juan most of the time and the longest stretch of time that Mayor Gomez was in Ormoc was for the shoot of his movie with Sharon Cuneta — a period that barely lasted three weeks.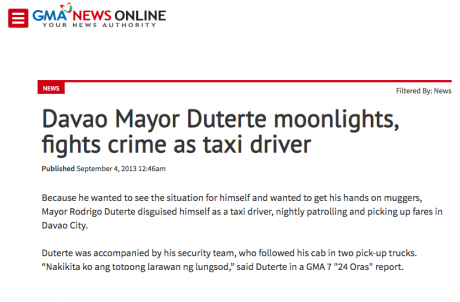 Gomez' absenteeism is the complete opposite of the leadership shown by President Rodrigo Roa Duterte who, even during his off hours, patrolled his city's streets disguised as a taxi driver.
Moreover, let me also mention that Senator Richard Gordon, when he was mayor of Olongapo City, was so hands on in delivering good governance to his people that he was known to sweep the streets of Olongapo along with his people.
Both Duterte and Gordon, at least for me, have set a standard for leadership and good local governance that all local government officials should aspire to. Sadly, for the people of Ormoc, their Mayor Gomez seems to be unable to even manage having a project done without committing
As I have pointed out in the post before this, only weeks after assuming office as Mayor, Gomez drove his city treasurer out of Ormoc after she refused his orders to release payment for a P10 million dancing fountain project that was completed without the required public bidding.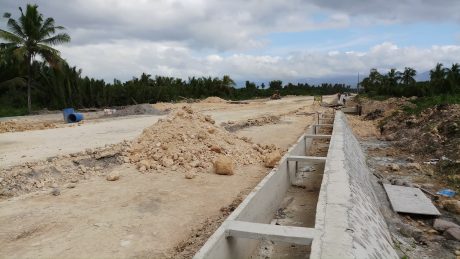 Months away from ending his first term, Gomez committed another blunder when he allowed the destruction of part of the Naungan mangrove forest to make way for a P137 million by-pass diversion road.
Not only did the construction of this road destroy part of a mangrove forest that protects inland residents from storm surges and waves, word is that the project was done at the behest of Congresswoman Lucy Torres Gomez (the wife of Ormoc City Mayor Gomez) and the contractor, Macbuilders enjoys preferential treatment from the Gomezes similar to the treatment given to the company CT Leoncio whose owners are allegedly related to Budget Secretary Benjamin Diokno.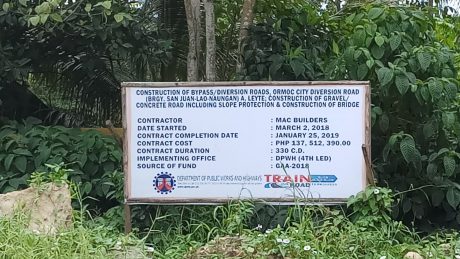 Even worse! The gravel and concrete road project was still all dirt and mud when I saw it, less than a week away from its completion date.
When I wrote about how Gomez maltreated his city treasurer after advising him against issuing a P10 million check for an anomalous project and when I called out this apparently environmentally disastrous road project, I didn't expect Mayor Gomez himself to start calling me a "paid hack" and protector of drug lords.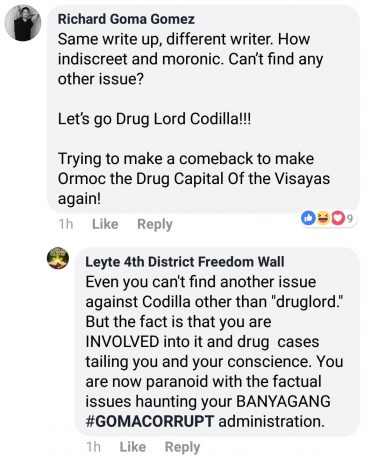 Even thought I am still skeptical that the Facebook account Richard Goma Gomez that engaged me in the comment section of a post on Leyte 4th District Freedom Wall really belongs to Gomez and that it was really him engaging me, a casual check on the account's wall shows that it is friends with a couple of reporters whom I know and this to me is a strong indication that it is indeed Gomez's Facebook account.
Although it boggles me why he would choose to lob bare accusations in a post on Leyte 4th District Freedom Wall like a stupid yellowtard instead of using his official Facebook page to address the issues I raised against him in a decent, sober manner befitting a mayor.
Perhaps his social media managers (and I know he has social media managers as well as trolls in his employ) should keep him from damaging his own reputation by behaving like a common buffoon.
He should be warned, at the very least, that writing libelous comments such as "Drug Lord Codilla" could earn him sued.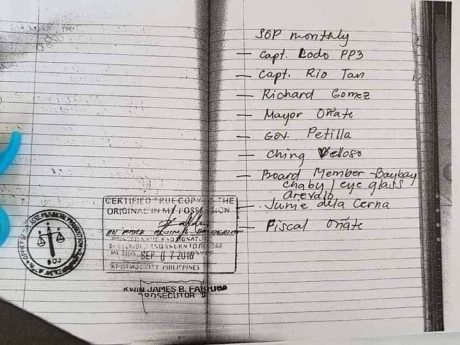 Since he brought up the issue of drug lords, as far as I can remember it was Gomez' name and not Codilla that was uttered in a Senate investigation on the so blue book of slain Albuera Mayor Rolando Espinosa.
What follows is a transcription of part of the Senate hearing presided by Senator Tito Sotto:
Sen. Sotto: Sino yung mayor ng Ormoc?
Police: Aah… Richard Gomez, your honor.
Sen. Sotto: Based on your information, all of them are involved in the Espinosa group?
Police: That the statement of mayor Espinosa himself your honor.
As of this writing, I was told by my contacts in Ormoc that Gomez has rounded up his social media operators and even called punong barangays to a meeting.
For a "cheap writer" such as Mayor Gomez calls me, what I wrote here on Get Real Post sure caused a lot of damage to his fragile pinoy artista ego.