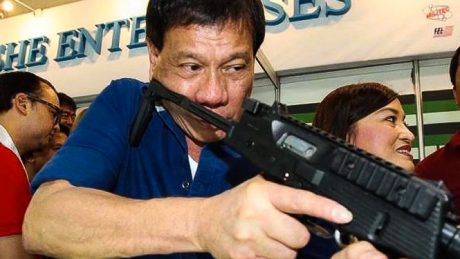 Here's the elephant in the room the Yellow Camp seems to be ignoring. For all the complaining and criticism they lob onto the government of President Rodrigo Duterte, none of them seem to be considering that much of what makes up the challenges being faced by the newborn administration today are problems either created or that festered under previous governments. In the case of the highest-profile issue these days — Duterte's "war on drugs" — there is no denying, even from among the most rabid members of the Yellow Camp, that the drug menace reached critical proportions under the watch of former President Benigno Simeon 'BS' Aquino III.
Indeed, it is common knowledge nowadays that Aquino's key people who were in the best position to control that problem were duds. The Department of Interior and Local Government (DILG) under then Secretary Mar Roxas seems to have been snoozing while tens of millions of pesos worth of drugs exchanged hands under the noses of his police generals. Roxas himself did not know the whereabouts of his own elite police troops — not even until after 44 of them were massacred by Islamic terrorists in Mamasapano. The Department of Justice (DOJ) under then Secretary Leila de Lima was worse than useless. Its chief was alleged to have actually contributed to the problem, allowing Bilibid Prisons, the national penitentiary in Muntinlupa City, to be used as a comfy bastion of the drug lords themselves.
SUPPORT INDEPENDENT SOCIAL COMMENTARY!
Subscribe to our Substack community GRP Insider to receive by email our in-depth free weekly newsletter. Opt into a paid subscription and you'll get premium insider briefs and insights from us daily.
Subscribe to our Substack newsletter, GRP Insider!
Learn more
Yet despite all that, Duterte looks forward, rather than backward. This is in stark contrast with Aquino who spent the better part of his term blaming his predecessor, former President Gloria Macapagal-Arroyo, reminding Filipinos of the evvviiiilll of the Martial Law regime of former President Ferdinand Marcos, and citing the heroism of his parents Cory and Ninoy. Duterte, on the other hand, is all about the future and proves this by holding himself accountable for the tough objectives he had set for himself. With objectives like these, there is no time for vendetta, no time for video games, no time for ancestor worship, and, yes, no time for Noynoying.
More importantly, it seems Duterte reportedly has no time to make friends with both local and foreign media either…
"Media, wala akong pakielam, [kahit] unpopular sa international press [I don't care even if I am unpopular with the international press," Duterte told reporters after visiting the wake of a cop killed in an ant-narcotics operation.

The president also cursed foreign media, as he emphasized that he needs to crush the drug problem in the Philippines.

"Wala akong pakielam, p*******a ninyo. May problema ako sa bayan ko [I don't care, son of a b*tch. I have problems in my country]," Duterte said.
It all makes sense. After all, popularity counts when you are in the midst of an election campaign. But Duterte is now President, and presidents make unpopular decisions if necessary. Then again, what is unpopular to corporate news media does not necessarily spell unpopularity amongst the Filipino masses. Outside the self-styled "human rights" activism that pervades Philippine society's mainstream journalism circles and liberal social media cliques, it seems people no longer buy the emotionalist softly-softly of the Yellow Camp. Evidently, Filipinos now have a big appetite for giving badass a chance.
The important thing, then, is that Duterte not squander the immense political capital he currently enjoys. He's the James Bond president, a man with a license to kill issued by the Filipino people. And why not? The irony that flies over the chattering heads of the Yellow Camp is that this is the very principle they held dear for 30 years, that the power of the people trumps all else — so much so that when called to the streets in big enough members, "people power" could unseat a president extra-constitutionally. Duterte's license to kill, in principle, draws from the very same concept held as sacred dogma by the Yellow Camp.
Like most licenses, of course, this one can be revoked. Duterte has to ensure that he uses it well and delivers results. Wars against formidable enemies exact a huge toll on the societies that wage them. Duterte's "war on drugs" is one such war. The challenge is to prove the long-term benefits far outweigh these costs — before the license expires.
benign0 is the Webmaster of GetRealPhilippines.com.